National 4-H Week
October 1, 2023 - October 7, 2023
---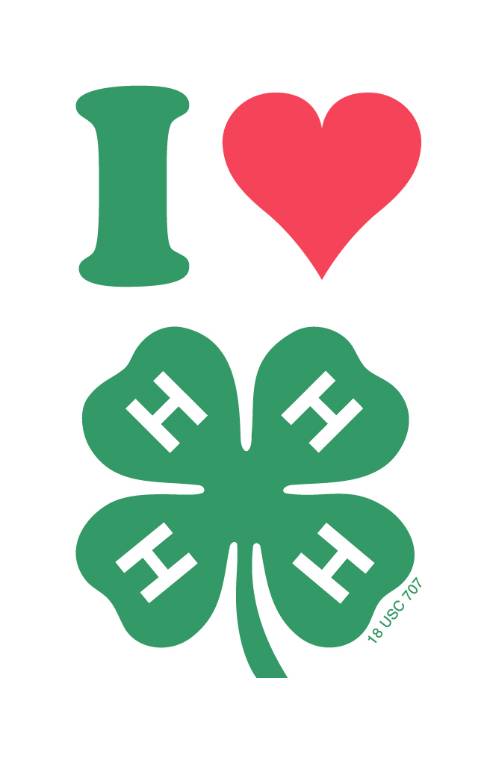 For more than 100 years, 4-H has inspired families, shaped careers, and impacted communities. From October 1-7, we will celebrate the impact of 4‑H during National 4‑H Week. The theme of this year's National 4-H Week is "I 💚 4‑H." As you plan ahead for how you will mark National 4-H Week in your community, here are some ideas of you can celebrate 4-H and show all the ways you 💚 4‑H !
Wear Your 4‑H Gear — Nothing says 4‑H pride like a 4‑H tee! Dress yourself (or the entire family – pets included!) in 4‑H green and clover gear.
Shout-Out a 4‑H'er — Recognize the hard work and dedication of 4‑H'ers by shouting out one youth or an entire club on social media, in a local newspaper or other media.
Storefront Displays/Information Booths — In some communities, you can ask local businesses to display 4‑H posters, flyers, showcase the work of 4-H'ers, or host a table to share information about your local 4‑H program.
Become a 4‑H Volunteer —If you are a 4‑H alum, parent or recent 4-H 'graduate', you might be looking for ways to connect with 4‑H. Consider giving your time to a local 4‑H program by becoming a volunteer.
Share Your 4‑H Story — Take to social media to share a 4‑H memory, express how 4‑H shaped who you are today, describe what 4‑H means to you, post an old 4‑H photo, or shout-out your 4‑H club.
Have a 4‑H Reunion — Gather your old 4‑H friends and spend some time together reminiscing on your 4‑H experience or recreate a 4‑H project together!
Send a 4‑H 'Thank You' — We all have a reason to thank our local 4‑H staff, leaders and supporters. To show your appreciation, send a handwritten 'thank you' note to someone who has supported youth and made a difference.
Raise Awareness – On October 4, Michigan 4-H and MSU Extension will be hosting the first Michigan 4-H Day at the Capitol. Join this exciting education and awareness event to help elevate knowledge of Michigan 4-H and share the impact of its programming across Michigan. Learn more online.
Give Back — Local programs are always looking for resources to continue growing 4-H for the future. Help programs thrive by making a donation that can help support your county 4-H program.
Adapted from National 4-H Council.
---