RIPPLE Exotic Fish Surrender Event
August 10, 2023 7:00PM - 9:00PM
30140 Van Dyke Ave Warren, MI 48093
---
Contact: Paige Filice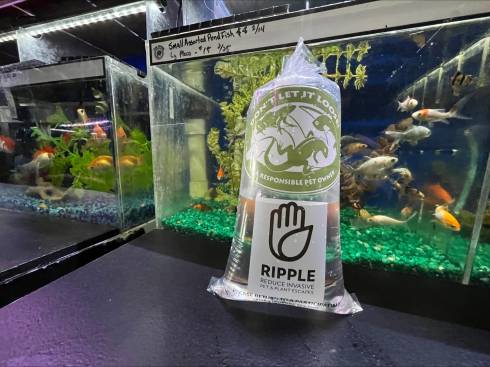 Do you have aquarium or water garden pets you can no longer care for?
It is never safe to release water garden or aquarium plants and animals into the natural environment, even if they appear to be dead.
At the RIPPLE Exotic Fish Surrender Event we will be accepting common aquarium and water garden species including freshwater fish, plants, crayfish and snails. No other species will be accepted (dogs, cats, birds, small mammals, reptiles or amphibians). The surrendered plants and animals will be donated.
RIPPLE Exotic Fish Surrender Event
August 10, 2023 7:00PM - 9:00PM
30140 Van Dyke Ave Warren, MI 48093
This event is being hosted by the Reduce Invasive Pet and Plant Escapes (RIPPLE) program in partnership with Motor City Aquarium Society, Fishy Bizz, and Chris's Pet Shop.
Many plants and animals that we use in aquariums and backyard ponds have been imported from other parts of the world. While they are excellent to enjoy, they may be harmful to Michigan's native ecosystems if they are released into the wild. Although Michigan's winter temperatures stop some exotic species from reproducing in our lakes and streams, this is not always the case. Some species survive and thrive, negatively impacting the environment, decreasing recreational opportunities and causing severe economic consequences.
Questions about what can be accepted? Contact Paige Filice at filicepa@msu.edu
---
RIPPLE offers information to aquarium and water gardener professionals, retailers and hobbyists about what to do with unwanted plants and animals so they are not introduced into Michigan's lakes and streams. RIPPLE's education initiatives are coordinated by Michigan State University Extension in partnership with the Michigan Department of Environment, Great Lakes and Energy, Michigan Department of Natural Resources and the Michigan Department of Agriculture and Rural Development. RIPPLE is funded by the Michigan Invasive Species Grant Program.
Get Directions
Related People
---