Wild Spartans: October 2023
October 10, 2023 6:30PM - 7:30PM
---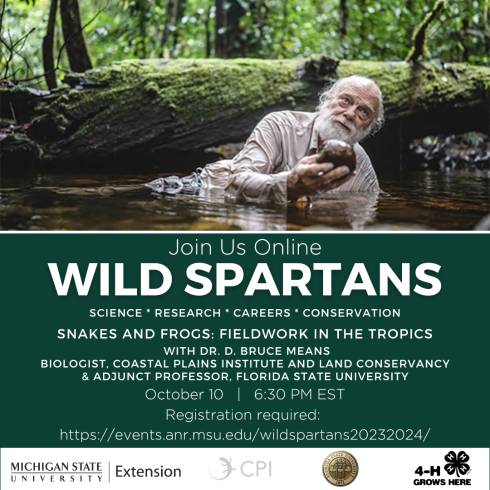 Join 4-H staff as we take a look into life working with fisheries and wildlife! This month's 4-H Wild Spartans Series will climb through the mist on a tropical expedition searching for new and rare species of amphibians and reptiles.
Join us to explore biological hotspots on Tuesday, October 10th, 2023 at 6:30pm EST for "Snakes and Frogs: Fieldwork in the Tropics." You will meet Dr. D. Bruce Means, biologist with the Coastal Plains Institute and Land Conservancy & Adjunct Professor at Florida State University. He was recently featured in a National Geographic magazine cover story and documentary 'The Last Tepui'. You'll learn about his field work, and the education and career path he followed to get there.
Youth will be encouraged to ask questions to learn more through a live Q&A. This free series is open to 4-H and non-4-H youth ages 12-19 years. Monthly sessions will be held on the 2nd Tuesday of the month at 6:30pm EST.
Pre-registration is required: https://events.anr.msu.edu/wildspartans20232024/
---