Environmental Assurance
Michigan Agriculture Environmental Assurance Program (MAEAP)
MAEAP'S Greenhouse System is based on an environmental risk assessment tool suited to the unique aspect of greenhouse production. Greenhouse*A*Syst is a single, integrated risk assessment that includes both the farmstead and cropping systems, and addresses the following environmental risk areas:
Site/soil evaluation
Water well condition and siting
Pesticide and fertilizer management
Petroleum product storage
Waste management
Irrigation management
Outdoor container management
Soil and water conservation practices
The Greenhouse*A*Syst risk assessment document can be downloaded directly at here (in pdf format).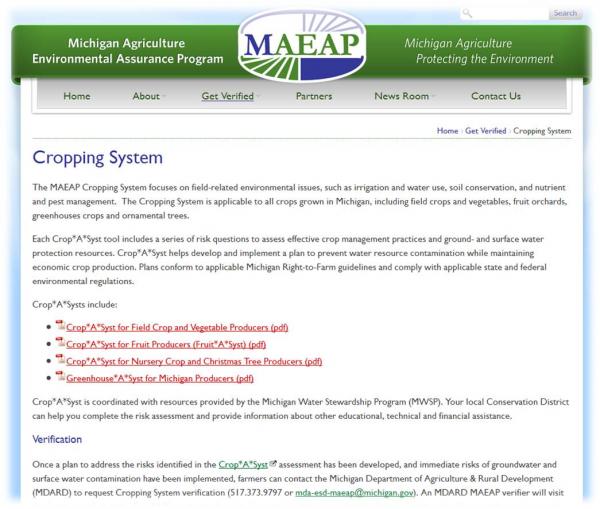 Some of the MAEAP-verified greenhouses include Twixwood Nursery, Romence Gardens, The Flower Farm, Matthes Farm, Avalon Farms, Sklarczyk Seed Farm, Sandy Ridge Farms, Sandy View Farm, Native Plant Nursery, Provenance Wildflower Farm, Sawyer Nursery, CBI's Giving Tree Farm, John Gernaat & Sons Greenhouses, Countryside Greenhouse, Greendoor Greenhouses, and Nash Greenhouse.