Project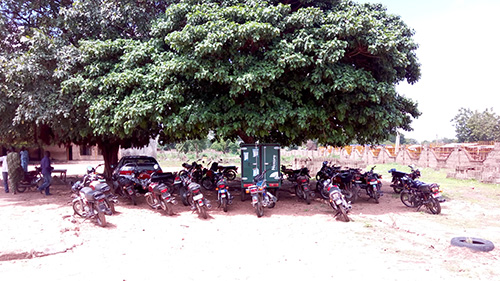 FSP Nigeria Agricultural Policy Project has three core objectives:
To strengthen the national capacity for greater evidence based policy processes in agriculture by increasing the capacity of Nigerian analysts to undertake and make widely available relevant evidence‐based policy analysis.
To promote and foster informed policy dialogue among all stakeholders in the agricultural sector through an inclusive, transparent, and sustainable process at the country level, building blocks for a well‐integrated and developed national policy system.
To help federal and state governments improve their capacities to plan and implement effective policy analyses and programs, and demand and absorb policy research in their policy process.


The project is implemented by Michigan State University (MSU) in partnership with the International Food Policy Research Institute (IFPRI).
The project supports capacity building through training and outreach, targeting a broad group of stakeholders in the Nigerian policy process. This includes students and faculty at Nigerian institutions of higher education and research institutes. The project supports Nigerian graduate students to study at MSU, with a visit of their Nigerian Supervisors (see Visiting Scholars Program). The project also offers training and information workshops to Ministry of Agriculture's staff and policy makers within the government at national and regional levels (see State Policy Notes series).
The policy driven collaborative research and analysis is a key feature of the project. All research questions conducted by the project are driven by stakeholder needs and conducted through research teams. The teams are composed of MSU faculty or IFPRI researchers, working with faculty at Nigerian institutions of higher learning (or research institutes) and their graduate students. This approach is intended to directly support the knowledge needs of the policy process in a sustainable manner and can be sub‐divided into a research and a policy analysis component.
The program addresses policy impact through increased and targeted policy communications. Strategies include: directly contributing to the donor‐government policy dialogue on agricultural policy; launching a policy brief series for the project, promoting a "think tank" culture within the agricultural policy process.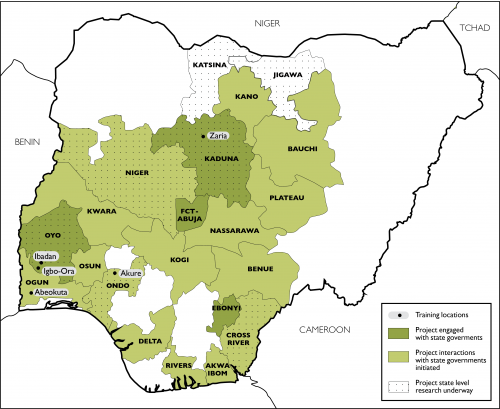 Locations where Nigeria Agricultural Policy Project is involved.
Photo: Farmers' motocycles (credit: Wale Tunji)