Green June beetle
Insect
Green June beetle
Cotinis nítida L.
Coleoptera: Scarabaeidae
Distribution: CT and southeastern NY south to FL, and west beyond the Mississippi.
---
Photos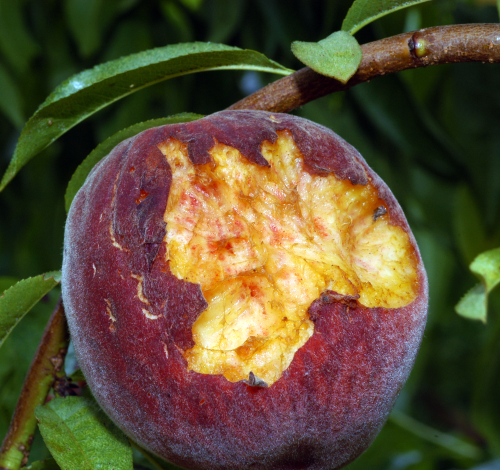 Adults feed in groups on the surface of ripe fruit, causing large gouges. Peter Shearer, Rutgers Univ.
B
The adult is velvet green dorsally with yellow-orange margins on the elytra (A). Ventrally it is a shiny metallic green mixed with orangish yellow. The larva is a large, C-shaped grub that lives in the soil and is not found in the trees. some blue is also evident in newly emerged specimens (A). The larva is pinkish white with a dark head and an anal comb (B).