Master Gardener Program
Master Gardeners, "Helping People Grow"
The Master Gardener program is available to all citizens of Michigan and is designed to develop a cadre of volunteers trained in horticulture. Their knowledge and skills related to basic plant science and home gardening enables these volunteers to improve quality of life in their communities. This is accomplished by increasing people's appreciation for and use of plants and by providing them with instruction on growing plants using environmentally sound practices.
Check back periodically for our next Master Gardener Training Program!

To learn more about the Master Gardener program, visit the Master Gardener website
Master Gardeners in Northwest Michigan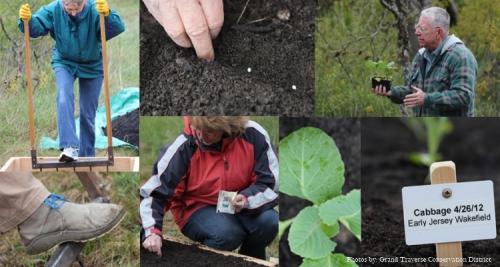 Master gardeners contribute enormously to communities across northwest Michigan. Learn more about their impacts by visiting the Master Gardener Association of Northwest Michigan, MGANM
Members of the public are invited to attend monthly educational opportunities hosted by MGANM. Advance your knowledge, join others in service, and receive encouragement to improve your practices.
How Can I Become A Master Gardener?
Starting in 2023, we will have a completely NEW process for becoming an MSU Extension Master Gardener Volunteer.
STEPS TO BECOMING AN MSU Extension Master Gardener:
Enroll in Foundations of Gardening, complete the course, and receive a certificate of completion.
Check local areas below to see if there are volunteer openings in your area.
Apply to become an MSU EMG (instructions coming soon), which will require a Foundations of Gardening Certificate.
Complete an MSUE Volunteer Screening Process.
Enroll and complete an MSU EMG Onboarding Course in your local area (course info coming soon; no cost to those who are accepted).
Engage in 40 hours of volunteer service within one year of completing the Onboarding Course on an MSU EMG approved project.
Contact
If you're interested in Master Gardener activities in northwest Michigan, contact:
Nate Walton
Michigan State University Extension
Consumer Horticulture Program Instructor
231-256-9888
waltonn2@msu.edu
Resources