Environment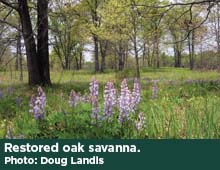 Native plants already provide services in natural and semi-natural areas, but those services may be compromised by non-native invasive species. Managing natural areas to bring back the plant and animal communities that lived in them before extensive human disturbance is called ecological restoration. Natural and semi-natural lands play an important role in supporting ecosystem services that we benefit from in communities and in agriculture.
Semi-natural and natural landscapes
Semi-natural areas include farm woodlots, wetlands, old fields and local parks, as well as larger areas like nature preserves, state parks, recreation areas or forests. These areas can also benefit from restoring or enhancing their native plant communities. Land managers often seek to restore these habitats to as natural a state as possible, by removing invasive plants and planting native species.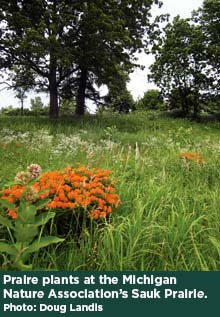 These large-scale projects require careful consideration of long-term goals and objectives, especially when considering seed and plant sources.
For more information on: