Publications
These publications from MSU Extension are helpful in planning native plant habitats that support beneficial species.
Publications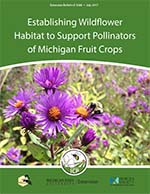 NEW: Establishing Wildflower Habitat to Support Pollinators of Michigan Fruit Crops
This guide provides step-by-step instructions for establishing a perennial wildflower planting to support pollinators of Michigan perennial fruit crops.
Bees of the Great Lakes Region and Wildflowers to Support Them
This pocket-sized, 110-page guide introduces bees of the Great Lakes region and their favored native plants – wildflowers. The spiral-bound book's photos and descriptions will help farmers and gardeners identify the many species of bees inhabiting Michigan and surrounding states, and the native plants that can be grown to provide pollen and nectar. Order E3282 from MSU Extension Bookstore.
Growing milkweeds for monarch butterflies
This two-page tip sheet includes colorful pictures of milkweeds and explains how you can support the survival of monarch butterflies by growing milkweeds in your home landscape or garden.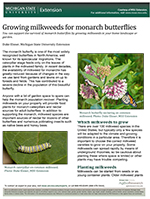 Native Plants and Ecosystem Services
A bright, six-page summary of the information at this website about native plants and their role in ecosystem services. Suitable for use in classrooms or other educational opportunities. Order E3167 from MSU Extension Bookstore.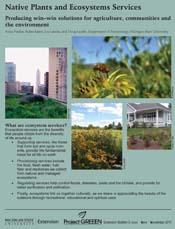 Attracting Beneficial Insects with Native Flowering Plants
A colorful, 5-page summary with plants ranked for ability to attract beneficial insects. Order E2973 from MSU Extension Bookstore.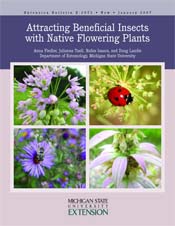 Identifying Natural Enemies in Crops and Landscapes
A handy pocket-sized reference for use outside. Although originally written for field crop farmers, it is appropriate for use with other crops, and in caring for your yard and garden. The content for this 46-page guide is contained in the website Identifying Natural Enemies. Order E2949 from MSU Extension Bookstore.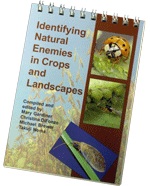 Conserving Native Bees on Farmland
Another colorful, four-page fact sheet for farmers of insect-pollinated crops. Includes native bee biology with practical advice for increasing native bee abundance on farms. Order E2985 from MSU Extension Bookstore.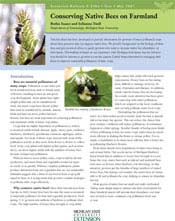 Two-sided bookmarks perfect for distribute at meetings. Each side describes benefits for establishing native plant areas around the home or farm. Includes this web's address. Purchase in packs of 100 bookmarks ($2 each) at MSU Extension Bookstore. Bulletin number E3046.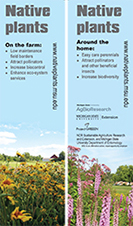 Ecologically Based Farming Systems
This 140-page book from MSU Extension aims to support farm productivity while benefiting the environment and the people who live in the community. Chapters cover community-based food systems, agricultural landscapes and IPM benefits of managing field borders and other non-crop vegetation. Additional chapters on holistic approaches for field crops, potatoes, tart cherries and managed, intensive-grazing look at new ways to manage farms. A chapter on organic farming highlights two Michigan farmers' organic practices and their families farm experience. Order E2983 from MSUE Bookstore.