2016 Peach and plum variety showcase
You are invited to see and taste the newest, traditional and unusual peach and plum varieties and experimental selections on Aug. 23, 2016, in Benton Harbor, Michigan.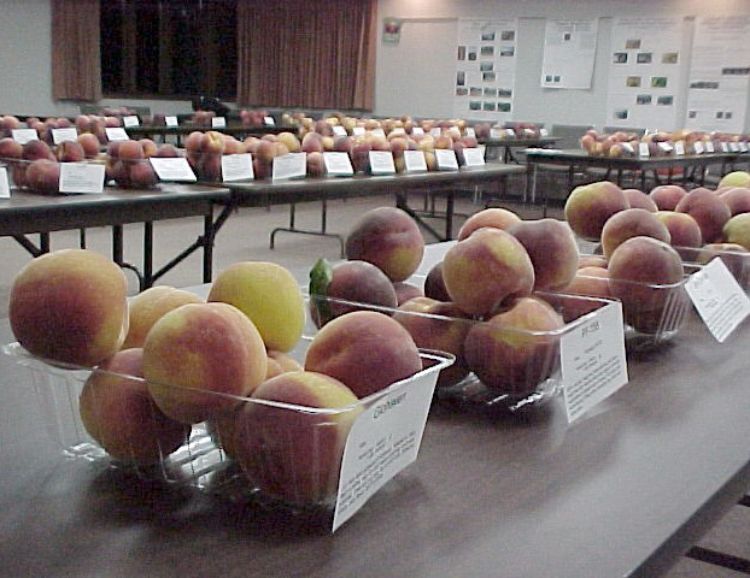 Peach and plum growers are invited to the 2016 Peach and Plum Variety Showcase from 4-7 p.m. on Aug. 23, 2016, at the Southwest Michigan Research and Extension Center, 1791 Hillandale Rd., Benton Harbor, MI 49022.This extensive stone fruit display will be assembled from samples contributed by commercial growers, nurseries and university breeding programs across Michigan and elsewhere. Fruit on display will include yellow and white fleshed peaches and nectarines, donut, aprium and plumcot types. Attendees will see new varieties and experimental selections from the Stellar, Flamin' Fury, Rutgers University, University of Wisconsin, Cornell University and Michigan State University breeding programs. Breeders, commercial nursery, growers and university researchers will share their experiences and recommendations with these new varieties.
The schedule is as follows:
4 p.m. – Fruit variety displays open for viewing and tasting
4:30 p.m. – Fruit variety discussions
6 p.m. – Supper
There is no charge. Supper is provided courtesy of International Plant Management and Summit Sales in Lawrence, Michigan. For questions or more information, contact MSU Extension tree fruit specialist Bill Shane at 269-208-1652 or shane@msu.edu.
You are welcome to bring samples of new, unusual, and experimental peaches and plums varieties to add to the display. The SW Research and Extension Center will be open for self-guided tours to see over 60 projects on fruit and vegetables including high tunnel production, grapes, hops, peach training systems, variety trials, and peach breeding.
This showcase is organized by the Michigan Peach Sponsors, Summit Sales, International Plant Management and MSU Extension.