2018 Michigan 4-H Animal Science Sportsmanship winner announced
Meet the 2018 Michigan 4-H Animal Science Sportsperson of the Year winner from Shiawassee County, Kaddi Gewirtz.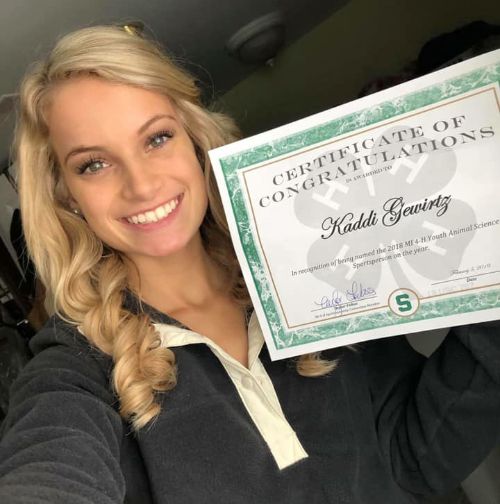 Michigan 4-H Youth Development is excited to announce the 2018 Michigan 4-H Animal Science Sportsperson of the Year is Kaddi Gewirtz of Shiawassee County. Gewirtz joins an elite group of Sportsmanship winners from years past.
This year's selection committee had the difficult task of narrowing down one winner from a pool of impressive nominations. Gewirtz's nominator and 4-H leader Louri Miller shared that Gewirtz is not only committed to her own 4-H project but to helping those around her with their 4-H projects, both their struggles and successes.
When Gewirtz learned she was selected as the 2018 winner, she shared with us her excitement. "I definitely felt surprised! I've always known about this award but I never thought I'd be nominated for it, let alone win. It, without a doubt, made my day! I quickly texted my nominator, Louri, and thanked her."
Congratulates, Kaddi Gewirtz! We're proud to have individuals like her representing our programs.
Know someone who deserves to be recognized for their sportsmanship? The Michigan 4-H Animal Science Sportsmanship Award is given out annually, and we accept nominations throughout the year. Simply fill out the nomination form and include required support materials by Oct. 1.
Looking to incorporate sportsmanship into your 4-H activities? Visit Michigan 4-H's Sportsmanship and Competitive Event Resources website where you'll find an interactive Sportsmanship Activity series, a webinar on sportsmanship and example questions judges can use to help evaluate sportsmanship as it relates to a 4-H project. Also, check out this Michigan State University Extension article on the four ways parents can model good sportsmanship at shows.