4-H dad shares his Slow Spokes and 4-H Exploration Days experiences with his kids
A 4-H dad makes a difference for his kids by sharing his Slow Spokes and 4-H Exploration Days experiences with them.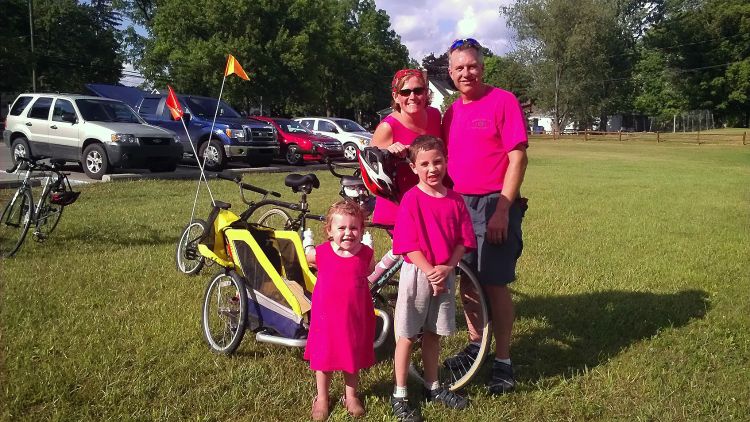 For many, Father's Day is spent grilling in the backyard or eating at a favorite restaurant, but for the Wiesler family, Father's Day has a different tradition thanks to their involvement in the Monroe County 4-H Program.
For the past 38 Father's Days, Scott Wiesler has loaded bikes, packed bags and printed maps. All this in preparation for Slow Spokes, a three-day, 107-mile bicycle trip, which begins on Father's Day every year. Each year, approximately 80 Monroe County 4-H'ers challenge themselves by bicycling from Maybee, Michigan, to East Lansing for the pre-college program 4-H Exploration Days.
For the past ten years, Scott, along with dedicated volunteers, has organized their overnight locations and created the route the bikers take. Scott got involved in Slow Spokes long before he became a father himself. He started pedaling the route as a teenager, making this his 38th consecutive trip.
His participation in Slow Spokes is where he was introduced to Pat Timiney, an active 4-H father who served as the Slow Spokes coordinator and Monroe County Horse Board president. Every year on Father's Day, Timiney was found coordinating and biking on the Slow Spokes trip, but one of his children always made sure to be there to bike alongside him for the first day of Slow Spokes.
"Pat Timiney and his kids are why my kids riding with me on Father's Day became such a big deal, even before I had kids," said Scott. "Although Pat's kids were 4-H volunteers that lived in various places, they would always make an effort to spend the day with him. I knew I wanted my kids to do that someday as well."
With Scott dedicating himself to 4-H early in his life, once he had kids of his own, they were participating in these activities as soon as they were able to. Stephen Wiesler, Scott's 13-year-old son, experienced his first Slow Spokes trip as a kid, progressing from the sidecar trailer to a tag-along to a tandem as he grew up. Stephen now rides on his own beside his dad as a full 4-H member during the Slow Spokes trip. Lilly, Stephen's 8-year-old sister, has had the same experiences.
"For me, Father's Day is about my kids riding with me," said Scott. "I don't care about anything else."
Scott finds a lot of value in Slow Spokes beyond just the time he gets to spend with his kids during their trip together. Through this cherished program, the three Wieslers have met new friends and had experiences they were unlikely to have on a typical Father's Day weekend.
"Slow Spokes gets kids around each other, not plugged in, and just being outside and together," said Scott. "Because of the different speeds you ride, you often have no other choice but to meet new people and with 107 miles ahead of you, you have a lot of time to get to know somebody. Once you have done it once, you have such a sense of accomplishment and camaraderie with the people you went with, they become friends that last a lifetime."
After arriving in East Lansing on the Wednesday of Slow Spokes, Scott changes roles from Slow Spokes coordinator to County Conference assistant and 4-H Exploration Days instructor. 4-H Exploration Days takes place on Michigan State University's campus. Youth ages 11 to 19 from across the state gather to participate in classes that interest them while getting a taste of college life by staying in dorms.
Scott has held his roles at 4-H Exploration Days ever since he has graduated from 4-H. He began by teaching photography, but he quickly realized that taking pictures wasn't enough of an adventure for him. He became a certified Outdoor Adventure Challenge leader to qualify to teach caving, rock climbing, canoeing, camping and everything outdoors. He has taught rock climbing and repelling for many years, but for the 2018 4-H Exploration Days, Scott's 39th Exploration Days experience, he will teach canoeing for the first time to interested Michigan 4-H members.
"I don't get paid to volunteer at Exploration Days," said Scott. "My paycheck is having a kid that is completely out of their comfort zone realize that they want to do it again. You see their comfort zone expand right in front of your eyes and you know that you just changed that kid's life. That's the real paycheck."
Scott's passion for helping youth explore the world and build their life skills came from 4-H. He sees both Slow Spokes and 4-H Exploration Days as pathways for building the future generation of enabled minds that seek adventure and find solutions.
"As a dad, 4-H has helped me teach my kids responsibility," said Scott. "As a 4-H member, I learned responsibility by taking care of animals, myself and my education. That's why I've made it such a priority for my kids."
Scott also serves on the Monroe County 4-H Council and recently became a shooting sports instructor. He has devoted his life to helping the youth in his community and being the active father that his kids can model when they have kids of their own.
"4-H allows me to be active with my kids instead of watching them be active," said Scott. "One of the many reasons I love Slow Spokes and 4-H Exploration Days is because I get to learn by doing alongside them."