4-H youth tackle environmental stewardship at Saginaw Bay Fishing Camp
Bay County 4-H'ers enjoyed science-based education and ethics lessons at this year's fishing camp.
Understanding water ecosystems and avoiding wasting fish are parts of being a true fisherman. Through a unique partnership between Michigan State University Extension and Project F.I.S.H., Bay County youth are learning how to become positive fishing stewards who understand the importance of wildlife preservation.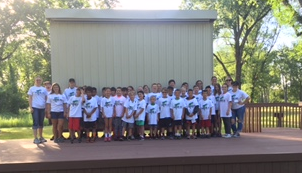 In 2016, the Saginaw Bay Fishing Camp was held at the Bay City State Recreation Area. During the three-day camp, 40 Bay County 4-H youth ages 8 to 12 learned about fishing techniques, aquatic ecosystems, fish biology and the ethics of interacting with nature. In its inaugural year, the 2015 Saginaw Bay 4-H Fishing Camp had 20 youth participants. Doubling in size in just one year was a true testament to the youth's enjoyment of the opportunity to learn about water ecology, angling skills and responsible enjoyment of fishing.
"This camp was very popular this year; our planning team never expected a waitlist of youth who wanted to participate," said Jodi Wrzesinski, MSU Extension 4-H program coordinator in Bay County. "Bay County 4-H is about expanding the options for youth to learn in a non-formal setting and Saginaw Bay Fishing Camp provided a great opportunity for us to teach youth in our community about fishing as well as many other topics."
MSU Extension educator on coastal ecosystems and the Great Lakes Katy Hintzen also found the experience to be a valuable one for youth.
"We think it's really important, especially as we see declining numbers of youth getting involved in fishing, that we have these kinds of opportunities open to youth," said Hintzen. "We need to make sure the next generation of folks in the SaginawBay region knows about fishing and are prepared to be good stewards of the SaginawBay fishery."
Teaching youth about the ecosystem and how to enjoy fishing in an ethical and sustainable way is important across Michigan, but it is especially critical to the Bay City community. In the mid-1900s, the Saginaw Bay fisheries collapsed entirely due to water quality issues, and it wasn't until a decade ago that they started coming back.
Though there was a heavy science education component to the camp, youth still had a lot of fun. During the camp, each of the youth caught at least one fish. Species included bluegills, bass, crappies, bullheads and catfish.
"He was so excited! Biggest fish he's caught in his whole life, he told us," said one parent of a 4-H youth participant.
"We just wanted to say a big thank you for this awesome camp," said another parent. "It was awesome, to say the least."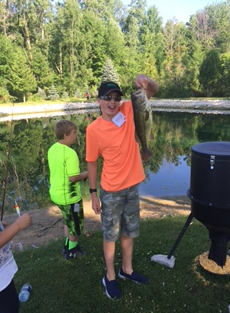 To continue the education and encourage a lifelong love of fishing, additional events are being planned in the Saginaw Bay area, including a 2017 Saginaw Bay Fishing Camp.
"Our planning committee is already looking at how we can expand to reach more youth next year" said Wrzesinski. "We're excited to see the program keep growing in the year ahead."
For more information on the Saginaw Bay Fishing Camp, visit the Bay County YouTube channel or the Bay County MSU Extension website , or contact Bay County 4-H program coordinator Jodi Wrzesinski at 989-895-4026 or Wrzesinski.Jodi@anr.msu.edu.