4-H'er packs her bags to go to France for a once in a lifetime opportunity
Local 4-H Equestrian Alumni will be moving to France this August, to train with a twice vice-champion of the world and four-time champion of France in four-horse carriage.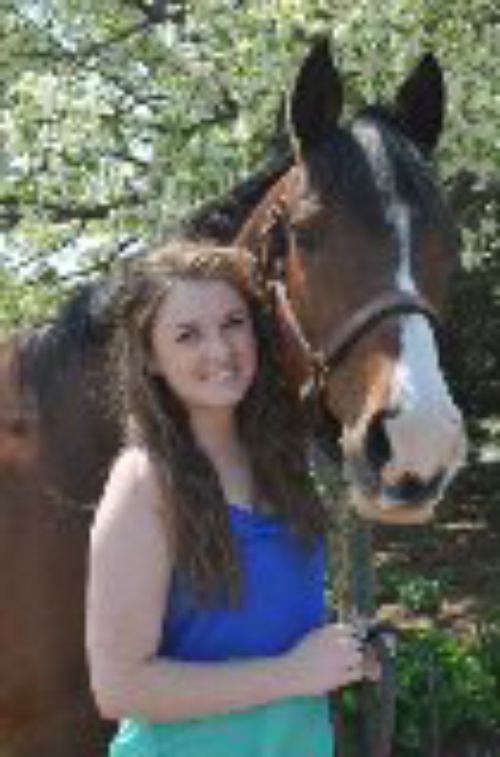 Local 4-H Equestrian Alumni, Emily Love will be moving to France this August, to train with Mr. Benjamin Aillaud. Benjamin Aillaud is twice vice-champion of the world and four-time champion of France in four-horse carriage. Since 2009, he has been the Equestrian Director for the two "Cavalia" shows. Cavalia productions were developed by one of the Cirque du Soleil founders. Cavalia 1 and their newest show, Odyesso, are spectacular productions combining equestrian arts and acrobats all set to beautiful music.
Emily was a member of the Wild Riders 4-H group, from age 8 – 17 and is quick to credit her 4-H leaders with teaching her all disciplines of riding, and instilling her strong sense of responsibility to the care and welfare of her horses. She grew up showing in the 4-H horse shows at the Emmet-Charlevoix County Fair and was twice selected as a county delegate to represent Emmet County 4-H at the State 4-H horse show at Michigan State University. Her main focus has been training and showing Dressage with her horse, "Ordained".
Emily graduated from Petoskey High School in 2011 and just finished her Freshman year at Albion College. During spring break this year, she visited the Ft. Lauderdale/Miami area with her parents. The family went to see the Cavalia Odysseo show in Miami, and it changed Emily's life. Still undecided about a career path to study at Albion, the show confirmed that Emily's passion is riding and performing.
She was able to interview Benjamin Aillaud for the Albion Equestrian Blog. What she had hoped would be at least a 10 minute interview turned into 2 hours. Benjamin's equestrian experience and philosophy, while impressive, is truly a gift. Emily rode in a Buck Brannman clinic at Bay Harbor and the similarities between the two men did not go un-noticed by Emily or her parents. Unassuming, kind, gentle, and willing to help and share information are just a few of them.
A week later, Benjamin and his wife Magalie, offered Emmy a job in France! "When I heard Benjamin tell me the offer over the phone, I actually had to ask him to repeat himself because I was in complete shock." says Emily. She will be training with Benjamin half the day and working with their 4 year old son the other half of the day; their goal is to keep their son immersed in speaking English. She will be training in dancing, acrobatics, and trick riding, and they would like Emmy to be there for 1 - 2 years. Benjamin will be training horses for France's FEI World Cup carriage team as well as continuing to train horses for the Cavalia shows. Their farm is in Tarbes, France, which has a long, historic Equestrian history. The National Stud Farm Napoleon built is still in use today.
The month of August always meant getting ready for the 4-H horse shows at the county fair for Emmy. This August, she will be embarking on the opportunity of a life time as she leaves for France. The discipline, responsibility and strong work ethic 4-H instilled in her, are a big reason she feels ready for this next step in her life. She says, "The main thing that 4-H taught me was responsibility, but it also taught me how have fun at the same time. Starting in 4-H at a such young age really boosted my confidence level and it is something that I will carry with me as I pursue this next opportunity." Emily is spending the months before she leaves in intense training for the physical strength she will need for this type of riding; Gymnastics classes, Cross Fit training, French lessons and of course, continued training/showing her horse Dane.
Emily's advice to all of the horse crazy kids in 4-H ~ stick with it! Dreams really do come true!