A Journey through the Straits
Exploring the Detroit River on a Summer Discovery Cruise.
On a recent spring Saturday, only two days after completion of the spring 2013 Great Lakes Education Program season, twenty-five passengers boarded the vessel Clinton at Lake Erie Metropark for a thirty-two mile excursion up the Detroit River. The cruise was the first of the 2013 Summer Discovery Cruises season, a collaborative effort of Michigan State University Extension, Michigan Sea Grant, and the Huron-Clinton Metropolitan Authority.
Now in its 11th year, Summer Discovery Cruises offer anyone interested in exploring Lake Erie, the Detroit River and Lake St. Clair the opp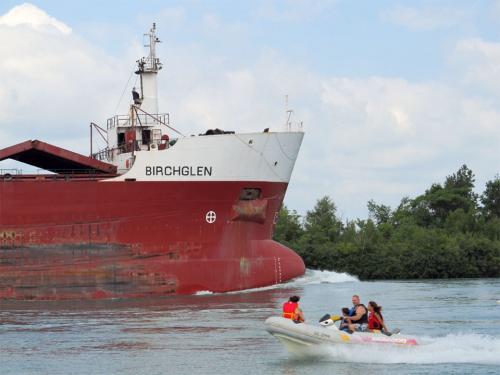 ortunity to get out on the water for a unique educational experience. Each summer, approximately 1,700 participants learn about many aspects of the lakes, from lighthouses, shipwrecks, bootleggers and history and culture of the region to fish, ecology, restoration and wind, waves and weather — and much more, depending on the cruise theme.
As the Clinton wound its way past several downriver islands, the passengers learned about the Detroit River International Wildlife Refuge and the return of bald eagles, osprey, sturgeon and whitefish. In the century old Livingstone Channel, we admired the profiles of a couple of lake freighters heading into Lake Erie and discussed Great Lakes shipping. As the shoreline transitioned from wetland to industry, we observed the steel producing might of Zug Island as well as the remnants of the shipyard where the Edmund Fitzgerald was built. Passing the downtowns of Windsor and Detroit, we had the best seats to compare the riverwalks of both cities. By the time the Clinton docked near Belle Isle at the mouth of Lake St. Clair, the passengers were recounting to one another the amazing things they learned along the way—a very common occurrence on a typical cruise.
Every Summer Discover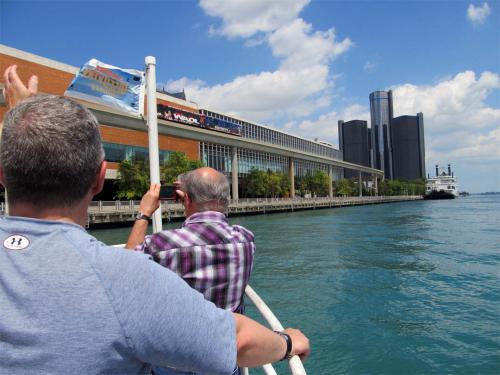 y Cruise ends with a participant evaluation. One of the most remarkable findings is that among previous participants, approximately 32 percent indicate that they participated in new Great Lakes related stewardship efforts because of their experience on the cruise. Moreover, more than 90 percent share information they learned during the cruise with family and friends.
2013 Summer Discovery Cruises continue from Lake St. Clair Metropark July 2 through 23 and from Lake Erie Metropark July 31 through August 19, with a final Journey through the Straits September 14. There are more than 20 cruise themes to choose from and over 75 cruises. Most cruises range from 2 ½ hours to 4 hours on the water and range in price from $10-$25 per person. Ages six and older are welcome on the cruises. For cruise details and registration information go to www.discoverycruises.org.
Don't miss the boat!
Did you find this article useful?
---