Partnership in action: Alcona School District and MSU Extension 4-H are opening a 4-H Makerspace
Youth in Alcona County have a new STEM opportunity with the opening of the Alcona 4-H Makerspace.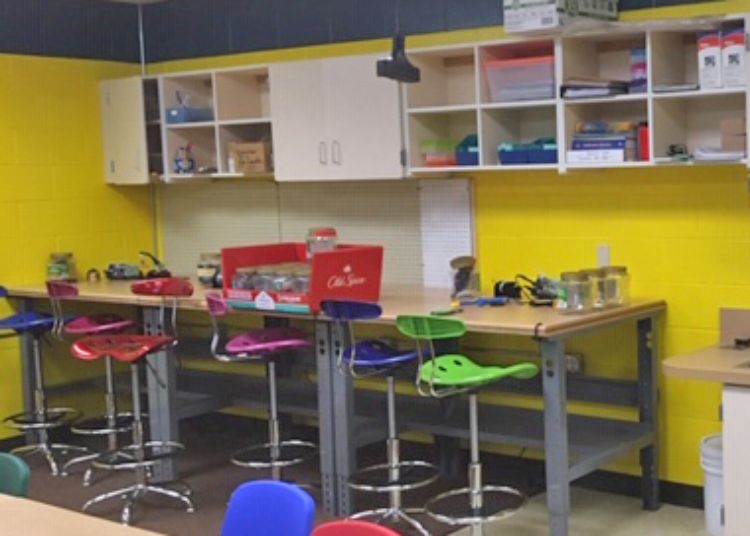 Youth in Alcona County have increased access to STEM (science, technology, engineering and mathematics) with the opening of the new Alcona 4-H Makerspace, thanks to support from Michigan State University Extension.
What is a makerspace? Makerspace.com describes it as a collaborative work space inside a school, library or separate public/private facility for making, learning, exploring and sharing that uses high-technology to no technology tools.
Partnership in action
The establishment of the Alcona 4-H Makerspace will provide leaders, volunteers and youth with the space and supplies to expand their understanding of STEM. Alcona Community Schools have a long-term plan and commitment to the continued support of a makerspace accessible to all.
Alcona County MSU Extension obtained a 4-H Participation Fee Grant for almost $25,000 to outfit the makerspace. This long-term partnership is an investment in Alcona youth that will increase the number of teen leaders and adults engaging youth in 4-H STEM in Alcona County.
Goals and objectives
Increase STEM awareness in Alcona County.
Increase STEM opportunities for all Alcona County youth.
Strengthen partnership between Alcona schools, the community and MSU Extension.
Increase the number of youth involved in 4-H in Alcona County.
Commitment to success
The Alcona 4-H Makerspace will provide a space for 4-H leaders and volunteers to engage youth in 4-H SPIN and year-round STEM opportunities. The makerspace board has committed to ensuring the space is used by hosting SPIN clubs, long-term clubs, seeking additional funding opportunities and recruiting adults and youth for 4-H STEM.
The 4-H Student Stewards began using the makerspace in September. The Student Stewards is a STEM 4-H club that uses underwater remotely operated vehicles (ROVs) for research and competes in the Great Lakes MATE Regional Competition. Each year, the youth learn about real world uses of underwater ROVs and build a small version of a ROV to use in simulated real world situations during the competition. As part of the competition, the youth create a poster showcasing their design process and innovative ideas and present their ideas and ROV to a panel of local engineers and scientists.
MSU Extension and 4-H volunteers John and Jodi Mann will provide in-school and after-school STEM opportunities for Alcona youth. After the Alcona 4-H Makerspace Grand Opening on Nov. 7 and 8, the Alcona 4-H Makerspace will begin accepting reservations from Alcona 4-H leaders.
Michigan State University Extension and the Michigan 4-H Youth Development program help to create a community excited about STEM (Science, Technology, Engineering, and Mathematics). 4-H STEM programming seeks to increase science literacy, introducing youth to the experiential learning process that helps them to build problem-solving, critical-thinking and decision-making skills. Youth who participate in 4-H STEM are better equipped with critical life skills necessary for future success.
To learn more about the positive impact of Michigan 4-H youth in STEM literacy programs, read our 2017 Impact Report: "Equipping Young People for Success Through Science Literacy."
To learn more about MSU Extension, visit the MSU Extension website. To learn more about 4-H and Extension opportunities in Alcona County, stop by our Harrisville office at 320 S. State St. Harrisville, MI 48740, or visit us online at our Alcona County MSU Extension Facebook page or Alcona County Extension office page.