Appreciate your lake
Celebrate lakes appreciation month by expanding your lake knowledge.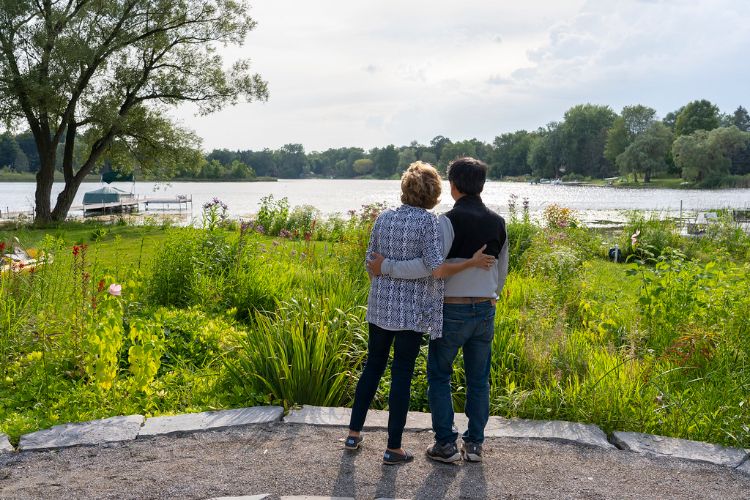 Michigan may be known as the Great Lakes State but with over 11,000 inland lakes it's easy to see why it can feel like there is a new one around every corner. Lakes hold a special place in our lives, providing us with food, fun, everlasting beauty, and a sense of place and wonder. Whether you like to wake up early for a morning swim, take an afternoon boat ride, or roast marshmallows around the bonfire with a view of the lake, there is no denying the benefits and joy that lakes bring to our lives. This is the perfect month to learn more about your lake and show gratitude – July has been designated Lakes Appreciation Month by the North American Lakes Management Society.
Become a Citizen Scientist
Citizen science programs are a great way to grow your appreciation and understanding of lakes. These programs are designed to give you the tools and skills necessary to collect observational data about your backyard and local ecosystems. Information you collect may contribute to research studies or be used at the local, state, or national level to guide management and protection. One of the oldest inland lake citizen science programs in the country is the Michigan Clean Water Corps (MiCorps) Cooperative Lakes Monitoring Program (CLMP). The benefits of CLMP are many: volunteers learn about water quality in their lakes, document trends, and gain knowledge of lake ecology and management practices. The program also provides a cost-effective way for the Michigan Department of Environment, Great Lakes and Energy to increase baseline data for lakes statewide. You can learn more about this year's program on the Huron River Watershed Council's lake monitoring website.
One of the most unique things about living on a lake is the amount of wildlife that frequents your backyard. You can report your observations of frogs, turtles, and salamanders near your local lake to the Michigan Herp Atlas. There is no statewide survey of Michigan's herp (reptile and amphibian) population; therefore this program engages the public to document species distributions and population changes.
Or, perhaps you enjoy bird watching on the dock or at a nearby park. The world's largest biodiversity-related citizen science project, eBird, managed by the Cornell Lab of Ornithology, allows you to upload checklists of birds you've seen. The program includes a variety of identification tutorials so you can brush up on your birding skills along the way.
Join a webinar or virtual conference
Another opportunity to grow your appreciation for inland lakes is to learn more about them through webinars and conferences. Upcoming virtual events include the Aug. 15 webinar "Protecting Michigan inland lake shorelines and shoreland" hosted by the Grand Traverse Conservation District and the Sept. 16 webinar "Leaps and bounds - How to jump over the barriers to preventing the spread of invasive species" hosted by the North American Invasive Species Management Association. The Michigan Inland Lakes Partnership is hosting a virtual conference "Michigan Inland Lakes Convention: Conserving Lakes in a Changing Environment" Sept. 16-18. The event will highlight current and emerging research, policy, education, and management strategies for conserving and protecting Michigan's inland lakes. To learn more about these online learning opportunities visit the Michigan Inland Lakes Partnership online learning webpage.
Enroll in an online class
Consider expanding your knowledge about lakes through the Michigan State University Extension six-week online course Introduction to Lakes. While the dynamic nature of lakes captures our curiosity and wonder, Introduction to Lakes will teach you the processes behind many of the things you may have observed while fishing, swimming, boating, or viewing wildlife on lakes. Offered once a year, the course covers lake ecology, watersheds, shorelines, law, aquatic plants, and community involvement. The next course will be offered in spring 2021. Sign-up on the Introduction to Lakes website to receive emails when enrollment is open.
A version of this article originally appeared in the July issue of the Lakefront Lifestyles Magazine magazine.