Art contest helps fight marine debris
Annual NOAA Marine Debris Art Contest helps K-8 students raise awareness of a growing concern.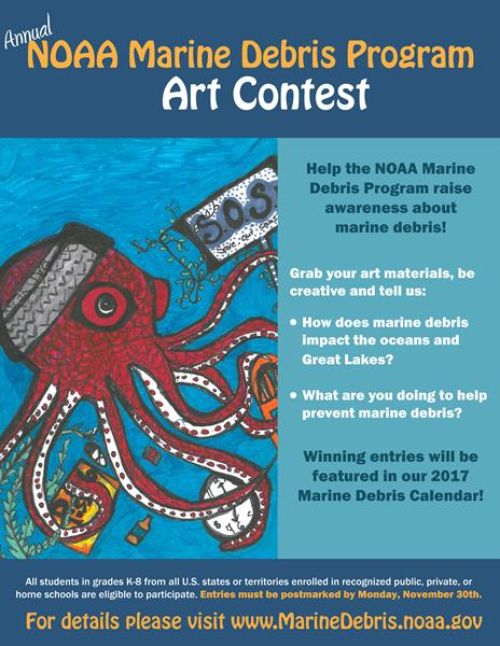 Our Great Lakes and oceans are filled with items that do not belong there. Huge amounts of consumer plastics, metals, rubber, paper, textiles, derelict fishing gear, vessels, and other lost or discarded items enter the environment every day, making marine debris one of the most widespread pollution problems facing the world's oceans and waterways.
Marine debris is defined as any persistent solid material that is manufactured or processed and directly or indirectly, intentionally or unintentionally, disposed of or abandoned into the marine environment or Great Lakes. There is no part of the world left untouched by debris and its impacts. Marine debris is everyone's problem, and it affects everything from the environment to the economy; from fishing and navigation to human health and safety; from the tiniest coral polyps to giant blue whales. Most of all, marine debris is preventable.
Plastics pose a special problem. Plastics degrade into small pieces until you can no longer see it (so small you'd need a microscope), and this process happens slower in water than on land. But, do plastics ever "go away?" Full degradation into carbon dioxide, water, and inorganic molecules is called mineralization. Most commonly used plastics do not mineralize (or go away) in the ocean or Great Lakes and instead break down into smaller and smaller pieces. When these pieces become less than 5mm long they are called "microplastics."
Michigan State University Extension has addressed the problem of marine debris in the Great Lakes through such programs as the Great Lakes Education Program in southeast Michigan, and the annual Great Lakes Conference held during ANR Week on campus. The National Oceanic and Atmospheric Administration (NOAA) also leads a number of efforts designed to reduce the amount of marine debris in our oceans and Great Lakes. One is the annual Marine Debris Art Contest, which is now open for students in grades K-8. Students submit their art work and tell how marine debris impacts the ocean or Great Lakes near them, and what they are doing to help prevent more marine debris from entering our waters. The contest is open for submissions until Nov. 30, 2015, and winners will have their artwork displayed in the 2017 NOAA marine debris calendar.
Michigan Sea Grant helps to foster economic growth and protect Michigan's coastal, Great Lakes resources through education, research and outreach. A collaborative effort of the University of Michigan and Michigan State University, Michigan Sea Grant is part of the NOAA-National Sea Grant network of 33 university-based programs.
---