Assessing hail damage to soybeans in the early vegetative stages
Properly assessing hail damage to soybeans will help producers make important management decisions.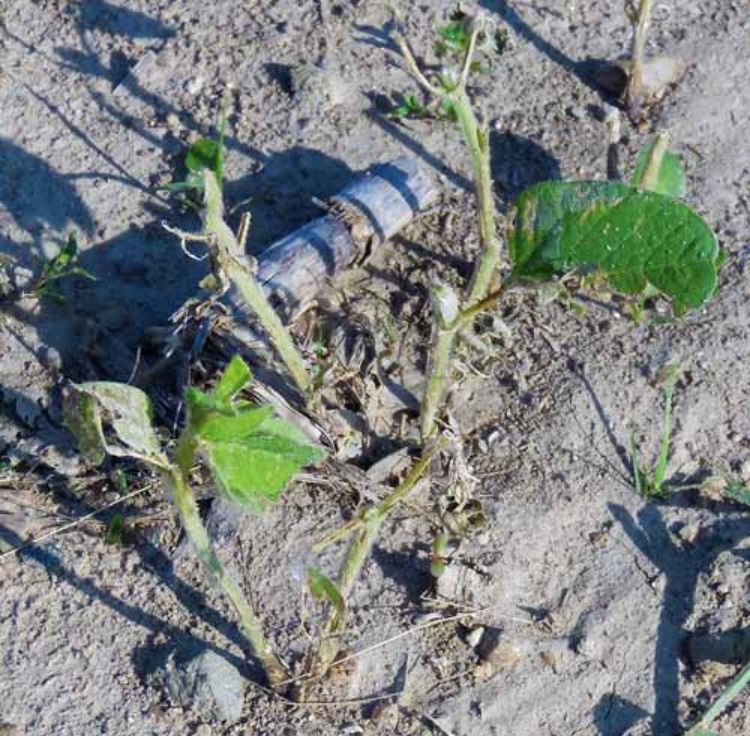 Recent thunderstorms produced damaging hail in several areas of Michigan and crop producers are assessing the damage. The good news is that the damage probably looks worse than it is because soybeans have a remarkable ability to recover and produce new growth when damaged during the early vegetative growth stages. The plants are considered alive and will produce new growth as long as the stems were not cut off below the cotyledons and some green leaf tissue or the cotyledons are attached to the stem (Photo 1).
Some leaf tissue or the cotyledons are necessary to produce the energy the plants will need to recover. If neither are present, the plants will die. If the main growing point was damaged or cut off, the new growth will develop from the axillary buds located at the leaf axils. New growth should be visible three to five days after the damage occurred. The rate of regrowth is proportional to the amount of green leaf tissue remaining on the stem.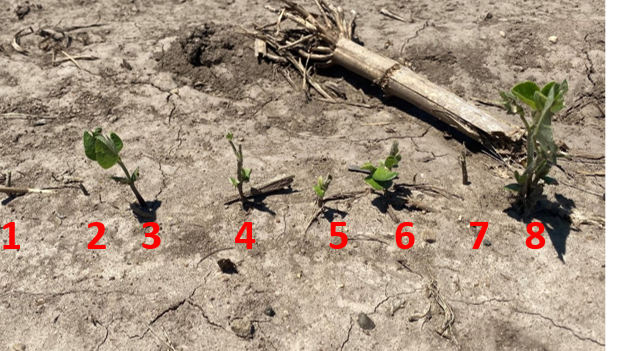 I shared Photo 2 with some of the soybean agronomists from across the U.S. and asked them to send me their opinions about which plants were not viable. I received five responses and all five agreed that plants 1, 2 and 7 were definitely not viable and two of the specialists rated plants 4 and 5 as questionable.
It is not necessary to assess the level of defoliation when soybeans are damaged in the vegetative stages as yield losses due to defoliation will be minimal unless the leaf tissue has been completely removed from the stem as described above. The reduction in the number of live plants per acre is the cause of the yield loss.
Taking accurate stand counts is the essential first step to assessing hail damage. There are two common methods for taking stand counts in soybeans:
Counting live plants in a length of row equal to 1/1,000 of an acre.
Counting live plants within a known area (hula hoop).
Both methods are explained in detail in the Michigan State University Extension article "Assessing soybean emergence."
Once you have an accurate stand count, you can use the information contained in Table 1 to determine the yield potential of the field and compare this to the yield potential expected from replanting (Table 2).
Table 1. Yield effects from reduced plant populations (uniform stands)
Population (live plants per acre)

Yield expressed as the percentage of a normal yield

Solid seeded

30-inch rows

160,000

100

100

120,000

100

100

80,000

96

100

60,000

92

94

40,000

87

88

20,000

77

81

10,000

58

72
Source: Purdue University Corn and Soybean Field Guide, 2013 Edition
Table 2. Yield effects from delayed planting (mid-season varieties with uniform stands)
| | |
| --- | --- |
| Planting date | Yield as a percentage of normal |
| May 20 | 100 |
| May 30 | 96 |
| June 10 | 92 |
| June 20 | 82 |
| June 30 | 70 |
Source: Purdue University Corn and Soybean Field Guide, 2013 Edition
Based on the information contained in Tables 1 and 2, it is evident that replanting is warranted only when plant populations are very low (less than 40,000 live plants per acre), weeds are controlled and the stand is somewhat uniform. The reduced plant population will complicate weed control, so additional scouting and herbicide applications may be required. Yields will be reduced by an additional 6 percent if gaps larger than two feet are very common in the field. Thin soybean stands may also cause the plants to produce pods lower to the ground, leading to increased harvest losses, cutter bar damage or soil in the clean grain tank.
For recommendations on assessing hail damage to corn, read "When to assess hail damage to crops."
This article was produced by a partnership between Michigan State University Extension and the Michigan Soybean Committee.