Beer, Hops, Barley: Virtual Winter Conference registration now open
Michigan Brewers Guild, Master Brewers Association-MI, and Michigan State University partner to offer expanded virtual conference.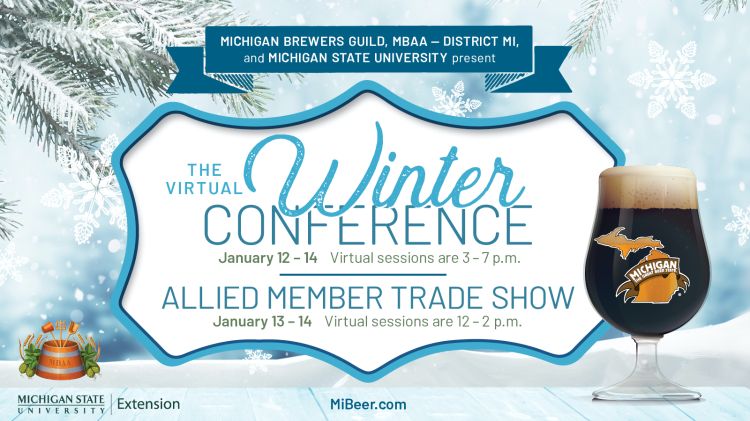 If you are a brewer, brewery owner, hop or barley grower, maltster, or just interested in learning more about the brewing industry and supply chain, you don't want to miss one of the most exciting virtual conferences of 2021. While the COVID-fueled, slow burning dumpster fire that is 2020 has forced us online, it has also offered conference organizers the opportunity to enlist expert speakers from around world.
A long-standing collaboration between the Michigan Brewers Guild and the Master Brewers Association of the Americas – District MI, will be combined with the Michigan State University Extension Great Lakes Hop and Barley Conference for an enhanced educational event.
The virtual conference will run Jan. 12-14, 2021 from 3-7 p.m. EST. The conference also includes two Virtual Trade Show sessions geared toward the brewing industry on Jan. 13 and 14 from 12- 2 p.m. EST.
The opening keynote speaking will be Garrett Oliver, Michael Jackson Foundation, Brooklyn Brewery, Jan. 12 from 3-3:55 p.m. and the closing keynote speaker will be Ari Weinzweig, Zingerman's Community of Businesses, Jan. 14 from 6-6:55 p.m. Please visit this link to register and to view the conference schedule: https://host.regform.com/annual-winter-conference-allied-member-trade-show/.
Please note, trade show attendance is free but registration is required. You will find a "trade show only" option on the registration page. MBG "Early Bird" Member Rate is $50 per person until Friday, Jan. 8 ($75 per person from Jan. 9-14). This includes all MBAA-District Michigan, MSU Extension members and affiliates, and Hop Growers of Michigan members.
If you have any questions, please contact Dianna Stampfler, MBG publicist at Media@MichiganBrewersGuild.org.