Berrien County Program Highlights 2018
MSU Extension made a difference in the lives of Berrien County residents through educational programs and resources. Find out more.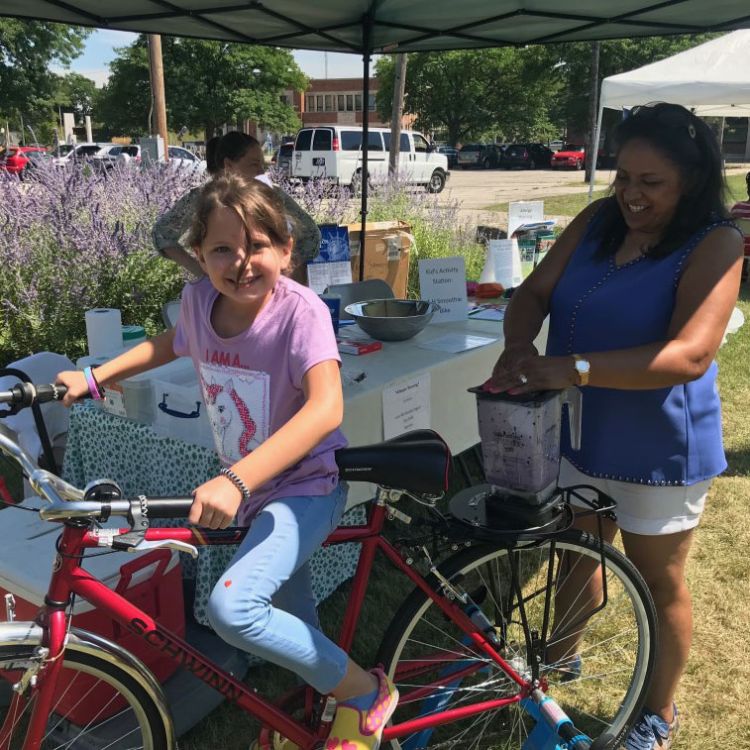 Partnerships Impact Health
MSU Extension's Nutrition and Physical Activity (NPA) team has a long standing partnership with the Berrien County Health Department (BCHD) and Spectrum Health Lakeland. In 2018, these partners provided additional funds so that the NPA team could provide more food demonstra-tions, and incentives to encourage participation in MSU Extension's nutrition and physical activity programming. Realizing the potential to increase impact by working to-gether, this partnership resulted in BCHD providing funds to purchase an additional fifty $20 Senior Project Fresh/Market Fresh coupons ($1000 total) to support seniors eat-ing more fruits and vegetables. The NPA team brings healthy eating education to those who need it most in Ber-rien County, specifically students, adults receiving supple-mental nutrition assistance and seniors. Over 1400 people participated in a series or one-time presentation in 2018.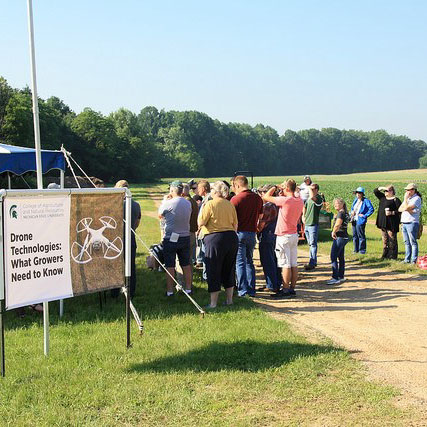 Demonstration Ag Innovation
The third annual MSU Agriculture Innovation Day: Focus on Fruit and Vegetable Technologies took place in June, 2018 at the MSU Southwest Research and Extension Center in Benton Harbor. The event rotates to various locations throughout the state to give farmers access to the experts who can help them improve their bottom line while maintaining environmentally sound practices on their farms. The 2018 program featured new technologies in fruit, vegetable and grape production. 252 participants including farmers, researchers, students and ag business leaders attended the event, many from Berrien County.
MSU Product Center Impact
Extension educators are specially trained to assist in devel-oping products and businesses in the areas of food, agricul-ture, natural resources and the bio-economy. Business counseling is conducted on a one-on-one basis at the MSUE office or the client's home, farm or business location. The assistance is tailored to meet the needs of the client and may include things like developing a business plan, navigating the regulatory maze, accessing the supply chain or seeking funding options. The innovation counselor as-sists clients in accessing services offered through MSU such as feasibility studies, nutritional labeling, food science, and packaging assistance. One hundred six business coun-seling sessions took place in Berrien County to assist 24 clients. These clients included farms, valued-added agricul-ture operations, and food processors. Farms that were as-sisted were grape, apple, and tomato growers. There were three new ventures launched with $30,000 of investment made in these businesses.
Sea Grant Small Harbors Project Comes to Life in Twin Cities Harbor
The Twin Cities Harbor is a deep water port tucked between the cities of Benton Harbor and St. Joseph. In its prime, the harbor bustled with ships transporting everything from fruits to industrial materials and petroleum throughout the Great Lakes and beyond. But, like many places once dominated by the boom of past industry and manufacturing, times changed. A 2015 study of the harbor found that while the Twin Cities Harbor has many assets, it is challenged by vacant land, empty buildings and underutilized waterfront opportunities. Many Great Lakes harbors face similar circumstances. In response to this, the Twin Cities Harbor conservancy invited Michigan Sea Grant/MSU Extension, with support from the Michigan DNR Office of the Great Lakes and others, to assist the communities with next steps.
Partners developed a process based on MSU's National Charrette Institute's System (NCI) that has been used to specifically target small harbor visioning projects, and has been used in communities throughout the state with success. The NCI is a program dedicated to transforming the way people work together by building capacity for collaboration. In early June, NCI led a diverse set of community stakeholders, including city, township and county officials; regional planners; developers; business owners; and faith leaders, along with the project steering committee, in a 1.5-day Charrette Ready Workshop to organize a visioning project for the harbor. Partners produced goals, a project scope area and a charrette schedule.
The charrette began with a kick-off meeting on September 19 and continued with the design charrette on October 9-11.
With more than 200 people participating, outcomes included a renewed interest in continued joint planning and action for the harbor, as well as a deeper understanding of community concerns, which ranged from affordable housing to recreational opportunities to job creation. More information on this process and plan can be found at www.miseagrant.umich.edu/smallharborsustainability/.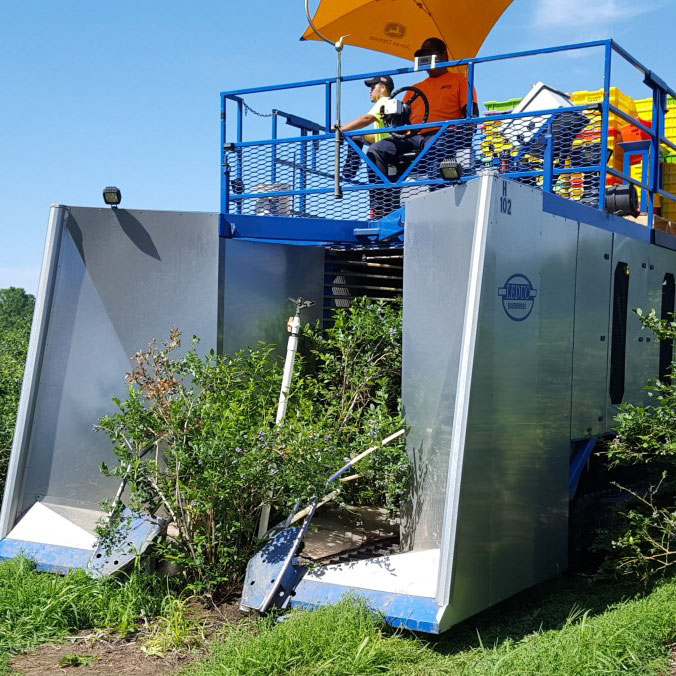 Fruit Management Strategies Training
Fruit growing is a complex and ever-changing profession. Producers and consultants are constantly challenged to keep up with new information on pests, diseases, weeds, management strategies, and regulations. Growers need regular updates in order to use the most economical strategies and at the same time protect the environment and protect themselves, workers, and the public. Regular training is needed for growers to maintain their Michigan restricted pesticide applicators license. MSUE Educators conducted an 11 meeting series of fruit management updates from April to end of June 2018 for local fruit growers, ag industry consultants and field representatives. Attendance ranged from 28 to over 60 growers at each meeting from Allegan, Berrien, Cass, Kalamazoo, and Van Buren Counties. Participants rated the impact of these meetings as highly valuable with an estimated value to their farms of $1525 per acre.
Changing Environments for Good Nutrition Decisions
It isn't enough to work only on changing individual behavior for healthy living, it is also important to work on changing the policies, systems and environments within which we live, work and play. In 2018, MSU Extension offered coaching and technical assistance, encouraging strategic changes to promote healthy decision making in schools and daycares serving low-income youth. Technical assessment and advice was provided by nutrition and physical activity educators to 8 daycare providers to help them change meal planning, children's food choices and healthy activities. Two Berrien County school lunchroom food service providers implemented smarter lunchroom practices to entice students to make healthier choices and reduce food waste.
Other Planning & Public Policy Education Highlights
Agriculture is a dynamic industry experiencing demands and opportunities that influence how local decision-makers should plan and zone for working lands. Michigan's Right to Farm Act (MRFA) and its Generally Accepted Agricultural and Management Practices also affect how local ordinances may regulate aspects of agri-tourism activities, including farm markets. Oronoko Township was facing questions related to planning and zoning for agri-tourism and requested educational assistance. MSU Extension provided a program focused on the diversity and importance of value-added, agricultural-related business growth, the relevant regulatory framework for local governments under MRFA, the need to adopt effective land use policies to address value-added agriculture in rural communities, and best practices for zoning to balance impacts and economic opportunities. The workshop in April was attended by over 80 local government officials, zoning administrators, planners, farm/agri-business owners, realtors/developers, state and local conservation, and department of ag staff, and interested residents.
Citizen Planner Online is a self-paced version of our signature program designed for individuals who can't fit a six-week course into their schedule or who prefer this style of learning. It takes about 15 hours to complete, and can be accessed 24/7 so that individuals can do as much or as little at one time as fits their schedule. 133 graduated from the online program in 2018; 10 were from Berrien County. Other planning and public policy offerings attended by county residents included webinars on gerrymandering; helping communities deal with the opioid crisis, Tourism and the Sharing Economy, and Regulating Sand and Gravel Mining: The 'Very Serious Consequences' Rule. Face to face programs included, New County Commissioner School, Understanding Tourism for Michigan Economies, Conducting Land Divisions for assessors and zoning administrators, and the Citizen Planner Advanced Academy.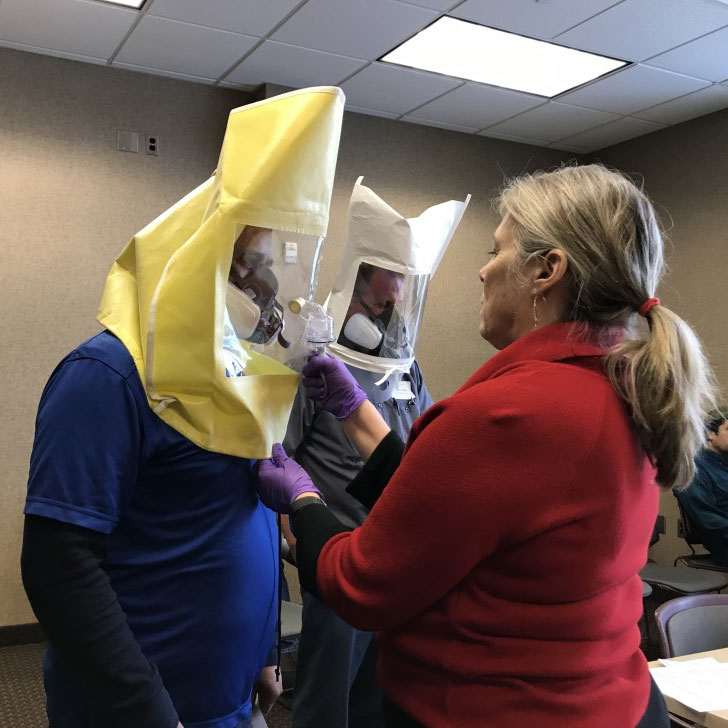 Ag Worker Protection
To assist growers with implementing new Worker Protection Standard (WPS) requirements, two workshops were held in west Michigan in January, 2018 with 126 people from 8 counties (including Berrien) in attendance. Most attendees represented greenhouses, but nursery, tree and small fruit growers and municipal park systems managers also participated. Respirator fit testing services were provided to 54 people. Evaluations revealed that up to 96% of participants intended to make changes to their practices to be consistent with the new WPS standards; a majority of respondents intended to make these changes within 3 months. Total acreage represented by survey respondents was over 8100 acres. Growers reported that the information was worth $78,000 to $163,000 to their agricultural or municipal operations.