Empowering Youth in Berrien County
In 2018, MSU Extension empowered over 1,500 Berrien youth through educational programs and events. This is a story you'll want to read!
Developing Youth and Communities
The Mission of our 4-H Youth Development Program is to provide personal growth opportunities for youth in Berrien County through educational programs and activities which utilize quality volunteers, trained staff, and community partners. Our Vision is to make a positive difference in the lives of Berrien County youth.
2018 youth empowerment numbers:
Over 1,500 youth reached
524 youth in 35 community clubs
62 teen leaders
164 4-H leaders and volunteers
4-H'ers Giving Back to the Community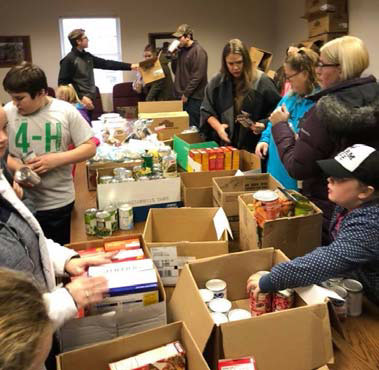 On November 17, 2018 the Berrien County Farm Bureau and the Berrien County 4-H Youth Development program partnered to provide Thanksgiving dinner baskets for individuals/families in need throughout the county called Thanks 4 Giving. Over 135 4-H'ers through eleven different 4-H clubs participated in the community service project, helping to put together a total of 65 baskets for residents in need throughout Berrien County. During the assembly day there were 29 youth and adult volunteers between the collaborative organizations that came together to assemble and distribute the baskets.
Each bushel basket was overflowing with enough food for a family to enjoy a traditional Thanksgiving Feast. Berrien County 4-H'ers were tasked with collecting various non-perishable food items that included:
Cranberry Sauce
Corn
Green Beans
Cans of Sweet Potatoes
Boxes of Stuffing
Gravy packets
Bag of potatoes
In order to further provide for families and individuals in need the Berrien County 4-H Leaders Council donated a gallon of milk as well as a pound of butter to be added to each basket. In addition to the local Berrien County Farm Bureau providing a pumpkin pie, a dozen dinner rolls, a frozen turkey, and a bushel basket for each basket put together. Each basket contained at least 35 pounds of food and a total of 2170 pounds of food was distributed to local families/individuals in need across the county.
The Thanks 4 Giving community service project gave local 4-H youth the opportunity to gain knowledge and skills to become agents of change for their community, while building a commitment to civic service as well as cultivating a capacity to become local leaders.
Healthy Nutrition & Food Science at Farmers Markets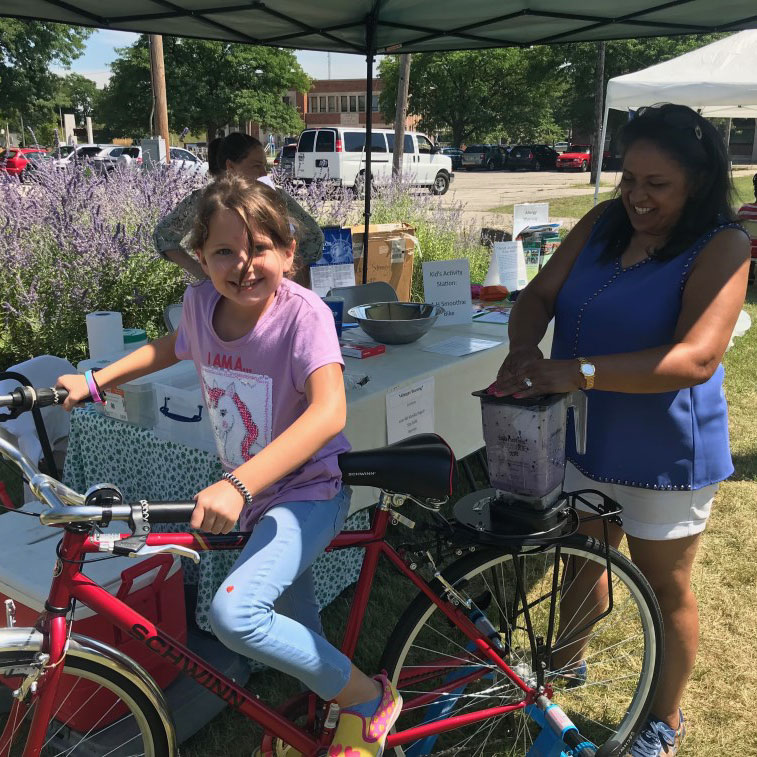 During the 2018 summer, in partnership with the MSU Extension Nutrition and Physical Activity (NPA) team, the Berrien County 4-H Youth Development program hosted youth educational activities during the local Benton Harbor Farmers Markets. Through this collaboration youth were able to learn about healthy nutrition while experiencing hands-on learning food science activities. Each activity emphasized the message of eating fruits and vegetables. Each Wednesday, youth were introduced to a new engagement activity. Over 50 youth participated throughout the four Wednesdays.
In July, the individuals participated in making fruit batteries. Using the 4-H STEM Lab, curriculum youth learned about electricity using ordinary fruits such as oranges, lemons, and limes. The activity taught participants about key parts that make a battery work and the chemical reaction that makes it possible. Using fruit, galvanized nails, pennies, LED light and alligator clips, each youth were able to make a fruit battery and test it to see if they could light up the LED light. All the while learning about the difference in nutrition with corresponding fruits.
In August, youth were able to make health fruits, vegetables, and yogurt smoothies from a human powered smoothie bike. Participants volunteered to pedal a bike, which the back fender was attached to a blender filled with mixed fruit, ice and soy milk. The combination was blended into smoothies that were able to be sampled by youth. The smoothie bike also provided youth with a great healthy life style activity. The smoothie bike was just one of four activities that allowed youth to take part in interactively to help reinforce daily nutritional recommendations for dairy foods and fruits. Other activities included the Spin the Wheel, and Fruit Plinko.
68% of youth who participated with Michigan 4-H Healthy Living programs noted they ate less junk food.
Developing Life Skills: Teaching Farm Safety through the Tractor Operator Program
The Berrien County 4-H Tractor Operator Program, locally known as TOP provides tractor safety certification training for teens ages 14—19 years. By participating in TOP, youth gain respect for equipment, learn proper driving skills, build confidence, learn teamwork and become better prepared to handle emergency situations. Successful completion of TOP provides 24 hours of certification training that currently satisfies requirements for the U.S. Department of Labor required for operation of a 20 PTO HP or greater agricultural tractor by 14—15 year old youth employed on property non -owned, leased or operated by a parent or legal guardian. Program content enhances participants knowledge and experience when handling tractors and lawn mowers.
Youth evaluations indicated that 80% of participants planned to use what they learned to seek work on a farm or ranch. All participants felt that as a result of taking the training that they were more confident to operate a tractor and that they would be a safer worker. 100% of Participant's parents indicated that the program helped build confidence, concentration, patience & respect for others.
Promoting Communication Skills through Market Animal Projects
The Berrien County 4-H Youth Development program hosted a market animal project workshop called "SOLD!! Making the Most out of your Market Animal Project" on Saturday, July 21st at the Niles District Library. There were 23 youth in attendance along with four adults that attended. The workshop allowed youth to gain insight in promoting their market animal projects to potential buyers. In addition to learning communication skills in order to assist them with getting a leg up on their competition.
Youth where able to hands on learn how to create a buyer's letter, thank you notes as well as create a buyer's poster. Throughout the three hour workshop youth were introduced to the 7-steps to creating a good thank you and how to avoid a communication catastrophe. The workshop is planned to expand to two sessions for July 2019 in order due to the positive feedback provided by youth participants and community outreach.
Exploring new projects through countywide workshops
Youth gained insight into new projects that may not be offered at their club level through the re-launch of countywide project workshops. Each workshop was hosted by a local 4-H Leader and varied in project areas such as glass etching, string art, flower arranging, cake decorating, photography transferring and more. Youth did not have to be registered in the project area to attend. In 2018 there were four workshops throughout the year which saw 85 youth in attendance.
Youth gain leaderships skills through 4-H Officer Training
It is common for 4-H groups to have various officer roles that include president, vice-president, treasurer and secretary. Each of these positions work collaboratively as a team and need to effectively communicate through diverse personalities.Through officer training youth were provided with tips, tricks and techniques to use to assist them in navigating through these leaderships roles. Participants gained valuable skills such as decision-making, responsibility, communication and leadership, that can be taken with them to be successful throughout life. By attending the workshop local 4-H'ers learned about expectations of being an officer, money handling practices, budgeting, reconciling accounts, running a meeting and the art of check writing.
80% of participants strongly agreed that they are now confident about making money decisions with their group or club after taking the training.
Canine Therapeutic Dog Club Celebrates 30th Anniversary
In 2018, the Best Friends 4-H Club celebrated 30 years of engaging youth in the dog project. This past December, the club celebrated with a banquet the milestone achievement with alumni, founders and members in attendance.
Best Friends 4-H Club started in 1988, after an exhausting search for a dog training facility that could accommodate a child with Down's syndrome with his dog. The club started off with the goals and mission to provide canine therapy and motivation with physical and mental stimulation for youth, while having fun. In addition to providing members an opportunity to learn about canine training and handling in a safe and supportive environment.
Through the years, the club's goals and mission have remained the same,
however the club has grown to over 30 members and adults. While also, being
presented with numerous accolades and awards. The club offers various
leaderships opportunities for both traditional and non-traditional youth as well as community service projects for 4-H Leaders.
4-H State Award Delegate Recognition
The Michigan 4-H State Awards Program is an opportunity for 4-H members to receive recognition while developing their leadership skills and personal portfolio. The program features a Junior and Senior division in 18 project areas as well as a group award category. Delegates are invited to participate in the program based on receiving a qualifying score on their application. The 4-H State Awards Application includes a cover letter, resume, 4-H story, and questions that highlight the life skills, project content knowledge, leadership development, and civic engagement experiences 4-H members have gained through their 4-H projects. Up to twelve delegates in the Junior, Senior and Group divisions for each project area can be invited to represent their county. The Michigan 4-H State Awards Program is open to all 4-H members ages 13-19.
During the Michigan 4-H State Awards Program at MSU, Junior delegates participate in a Junior Leadership Program to help them build their communication skills while Senior and Group delegates compete in interviews. All delegates attend the recognition event where they have an opportunity to engage in career conversations with program donors and MSU Extension Staff. This year, 91 youth representing 32 counties were invited to participate as delegates.
Three local Berrien County 4-H members were selected as delegates to the 2018 Michigan 4-H State Awards Program. The Michigan 4-H State Awards Program took place during 4-H Exploration Days June 20-22, 2018 on the campus of Michigan State University. Berrien County.
"4-H has helped me become a better person because I have learned great leadership skills through this program. 4-H has taught me, for example, the importance of valuing other people's views and opinions when it comes to open discussion. 4-H has shown me how to work with people of all ages."
4-H Exploration Days
4-H Exploration Days is Michigan State University's (MSU) largest pre-college program, annually attended by 2,400 youth and adult chaperones from across Michigan. 4-H Exploration Days gives youth ages 11 to 19 an authentic college experience as they stay in residence halls and explore interest areas and career options, increase awareness and readiness for college, and develop decision-making, independence and teamwork skills. Youth are able to live like college students and attend sessions that range from veterinary medicine to web design, performing arts to environmental education and much more. In 2018 there were over 200 hands-on classroom and trip sessions for youth to select from.
When not in action-packet learning sessions, students have a plethora of recreation and MSU facility tour choices such as the MSU Horse Barn, National Superconducting Cyclotron Lab, and the 4-H Children's Garden. In addition to having a various entertainment held at the Wharton Performing Arts Center.
Berrien County 4-H had 34 youth in attendance at the 2018 4-H Exploration Days, with eight adult chaperones accompanying for guidance as well as assistance. This is a 50% increase in youth participation from the 2017 Berrien County 4-H Exploration Days delegation. Out of the 34 youth in attendance, 17 youth where first –time participants. Berrien County 4-H youth selected a range of sessions such as Japanese Language and Culture, Ice Skating, Fashion Design, Livestock Marketing, Small Engines, Rabbit Raising, Competitive Horse Judging, and Dying with Plants, to name a few.
Each youth and adult attending received a scholarship of $100.00 to go towards their registration cost. With the assistance of the scholarship each youth and adult was able to have 70% of the pre-college program registration paid for.
68% of youth who participated in Exploration Days between 2009 and 2016 enrolled in college within size months of finishing high school. That's 14% higher than the Michigan average.