BHEARD Alumni Connects Liberia Youth to Animal Science
BHEARD Program Alumni Mandela K. Hinneh attended a 4H Agriculture Fair in Monrovia, Liberia.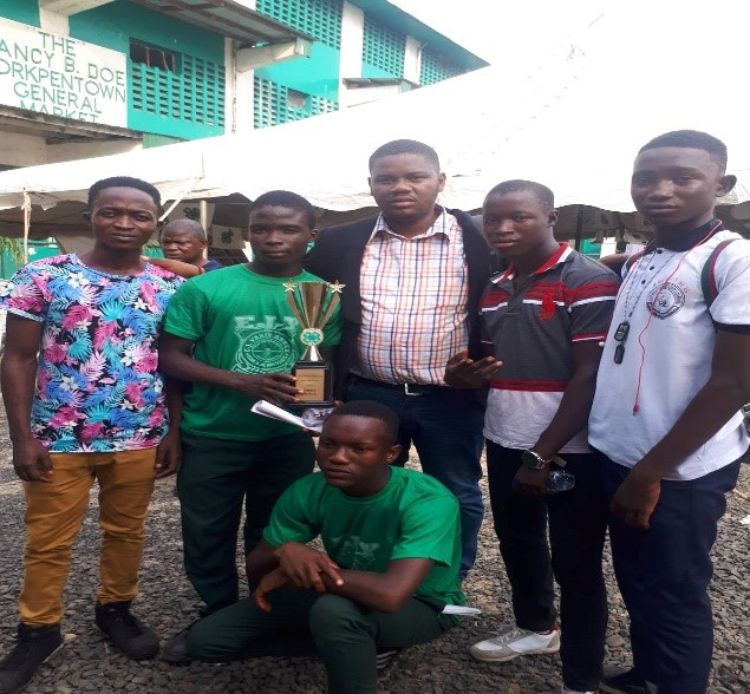 When people think of agriculture, they don't always think of animals. But BHEARD Program alumni Mandela K. Hinneh of Liberia hopes to change that. As Head of Fishery and Aquaculture at the Central Agricultural Research Institute (CARI) and a recent graduate of the Master of Philosophy Degree in Aquaculture from the University of Ghana (sponsored by the BHEARD Scholarship Program), Hinneh recently represented CARI's aquaculture unit to the youth of Liberia at a 4H Agriculture fair in Monrovia.
The Borlaug Higher Education for Agricultural Research and Development (BHEARD) program, supported by the U.S. Agency for International Development (USAID), develops agricultural scientists and increases agricultural research capacity in Feed the Future partner countries, including Bangladesh. The program is named after Dr. Norman Borlaug, an American biologist, humanitarian and Nobel laureate who has been called "the father of the Green Revolution."
BHEARD gives scholarships to students seeking master's and doctorate degrees at U.S. and regional universities, and provides funding for agricultural research in their home countries. The program also develops, tests and evaluates new models of small-scale institutional capacity development.
Hinneh says that agricultural education in Liberian schools is focused exclusively on plants such as gardening projects rather than animals. The goal therefore is to encourage the growing of animals in all schools around Liberia with collaboration with the Ministry of Education. "The essence of this fair was for 4H Liberia to show what some schools in Liberia especially the ones in the hinterland have been doing as it relates to agriculture and other health related issue," says Hinneh. "Also [we] want to motivate the students in the hinterland by exposing them to other schools in Monrovia through many activities that will create a friendship between them."
Read Hinneh's full report of his outreach visit here: 4H Liberia Report.pdf