Center for PFAS Research Faculty Spotlight: Pouyan Nejadhashemi
Dr. Nejadhashemi leads an interdisciplinary research team focused on addressing water resource problems including water quantity and quality.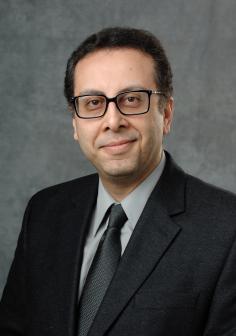 Dr. Pouyan Nejadhashemi is a Michigan State University (MSU) Foundation Professor in the Department of Biosystems and Agricultural Engineering and the Department of Plant, Soil and Microbial Sciences. He received his Ph.D. in Bioenvironmental and Water Resources Engineering from the University of Maryland. Before joining MSU, he worked as a core member of an interdepartmental–interagency watershed management technical team that guided development of watershed restoration and action plan strategies. In his current position, he leads an interdisciplinary research team focused on incorporating an ecosystem approach to address water resource problems including water quantity and quality. He is also leading the Decision Support and Informatics Units and the Center for Intelligent Water Resources Engineering at MSU. As a leading expert in water resources modeling, Nejadhashemi examines water and its distribution, movement, and quality in a variety of environments. His primary research interests are computational ecohydrology, environmental impact assessment, soft computing applications in water resources, development of Decision Support System for human impact evaluation on ecosystem sustainability, and evaluation and development of watershed/water quality models.
As a leading watershed modeler with expertise in the area of fate and transport of contaminants, his team integrates the landscape and instream chemical and biological characteristics in a large watershed for PFAS fate and transport analysis. The team is developing and modifying computational models to simulate PFAS movement on the surface and in soils and groundwater. The overall goal of the modeling group is to evaluate the effectiveness of different water quality mitigation strategies to reduce surface water/groundwater contamination using computational modeling. The modeling approach can help decision-makers compare different mitigation scenarios while maximizing the opportunities.
As a kid, Dr. Nejadhashemi spent a lot of time glass painting and creating numerous artworks; he's looking forward to sharing the craft with his daughter when she's older.