Challenges in agriculture economy may affect 4-H livestock auctions
Will economic uncertainties in agriculture sector result in lower prices this year for 4-H livestock projects?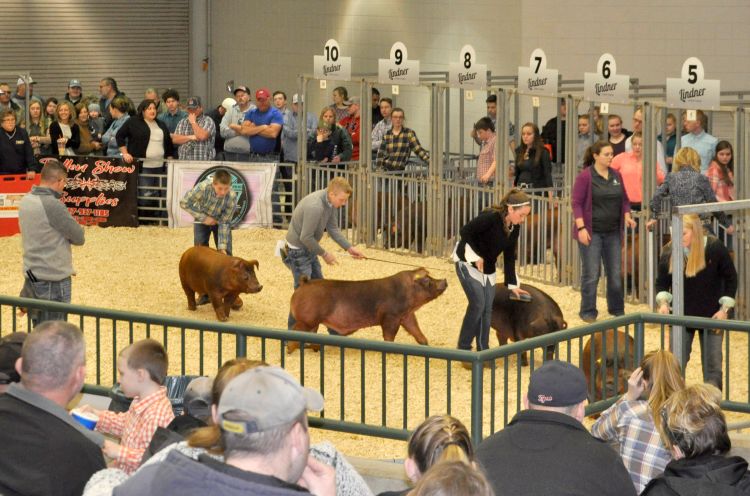 The spring of 2019 has been rough on farmers throughout the Midwestern United States, including Michigan. Unprecedented weather patterns combined with uncertainty in markets have created many challenges in the current agricultural economy. Some farms are facing potential shortfalls in income that could affect their financial stability in the coming year. 4-H members who will be marketing animals at county fairs in the coming weeks should consider these circumstances as they finalize their fair projects.
Here are some tips to help Michigan 4-H members and families get the most out of their 4-H projects while being mindful of how hardships in the agricultural economy may affect the price they receive at livestock auctions at fair.
Expand your buyer list. Each 4-H member should write buyer letters in advance of the fair to invite potential buyers to the auction. If the list of buyers you send letters to only includes farms and agricultural businesses, consider expanding your list to include others outside of agriculture such as doctors, mechanics, small business owners and family friends. Be creative and think outside the box; who are the potential buyers that no one else is going to invite?
Show empathy. 4-H members should still invite buyers from the agricultural community to the livestock auction, but be understanding and accepting if a potential buyer declines the invitation. Do not take it personally if a potential buyer indicates they are not able to participate in the auction this year. Thank them for their consideration and let them know you will check back next year.
Be grateful. If the price you receive for your animal is less than you hoped for, thank your buyer anyway. Typically, most animals that are sold through 4-H livestock auctions at fairs receive a premium price over the stockyards or market. This may be the most that a buyer is able to afford this year.
Find additional tips for preparing for 4-H livestock auctions in these Michigan State University Extension articles:
Michigan State University Extension and Michigan 4-H Youth Development help to prepare young people for successful futures. As a result of career exploration and workforce preparation activities, thousands of Michigan youth are better equipped to make important decisions about their professional future, ready to contribute to the workforce and able to take fiscal responsibility in their personal lives.
To learn about the positive impact of Michigan 4-H youth career preparation, money management and entrepreneurship programs, read the 2017 Impact Report: "Preparing Youth for Future Careers."