Citizen science: Part II - People making a difference in their community and across the state
Reports of reptiles and amphibians help shape management strategies throughout Michigan.
Everyday people from across the state are contributing their time to collect information on Michigan's bountiful natural resources that scientists can use to increase our knowledge and understanding of the environment. Michigan Sea Grant works with numerous organizations who offer opportunities for interested people to get involved in citizen science.
One such project, the Michigan Herp Atlas Program is seeking assistance from people who observe reptiles and amphibians (collectively known as herpetofauna) in their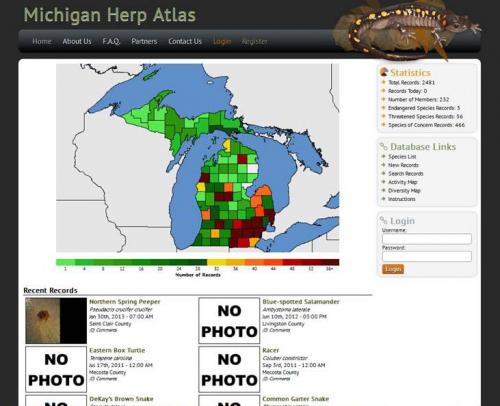 natural habitats here in Michigan. According to program administrator, David Mifsud, volunteer observations are critical to the success of the project. The Michigan Department of Natural Resources lists more than 60 percent of all of Michigan's amphibians and reptiles as Species of Greatest Conservation Need. These imperiled species are important indicators to the quality of our natural resources and a critical part of healthy, functioning ecosystems.
Get Involved: It is easy and rewarding to contribute observations of amphibians and reptiles to the Michigan Herp Atlas Program. You can contribute online or email data to David Mifsud or Lori Sargent (Program Coordinator). You can also mail data to MI Herp Atlas P.O. Box 110 Chelsea, MI 48118. All observations will go through a vetting process, after which they will be added to the on-line Michigan Herp Atlas database. All data will be summarized and publically displayed at the county level to ensure your privacy and the protection of herpetofauna.
Time Commitment: The Michigan Herp Atlas Program provides opportunities for community involvement at all levels. The level of commitment is based on your interest and availability. Any and all observations you submit— from the Midland Painted Turtle basking in a city park, to the American Toad your child finds while in the yard, to the dead turtle on the road—provide important information. All levels of involvement are greatly appreciated!
Skill Level Needed: Although not required, observers should be able to identify various species of amphibians and reptiles found in Michigan or take a clear photograph of the observed animal. If you are unsure of a species, you can leave the data field as unknown and provide all other information (including a photo). We can identify the species for you. There are a number of useful resources for identification including the MDNR, HRM, University of Michigan Animal Diversity Web, and Michigan Natural Features Inventory websites.
Special Equipment Needed: Though not required, photo documentation (especially of rare species) is encouraged. Although still early in production, a smartphone application is being developed that will allow individuals to record observations in the field! When looking for amphibians and reptiles, it is often helpful to have a camera (one on your phone often works just fine) and something to write down information. Binoculars can also help with identification and make the herping experience that much more enjoyable!
Other Things to Consider: Since this is an observational database, we encourage people to handle amphibians and reptiles as little as possible. Amphibians have very sensitive skin and many species of herpetofauna can bite if they feel threatened. It is best to enjoy them in their natural habitat and with as little stress to them as possible.
Getting Started: The first thing you need is the interest and willingness to help protect and conserve herpetofauna. We recommend that you enter your observations on the Michigan Herp Atlas website. Once you have registered as an observer (a simple, 2 minute process), you can start entering observations. On the site under Database Links, there are instructions on entering observations. If you prefer, you can submit observations to the emails addresses or physical address provided above.
Making a Difference: Over the last couple of years, the Herp Atlas Program has been fortunate to have great community support and numerous herpetofauna observations submitted by volunteers of all ages. We are fortunate to have participants like David Dortman, a state employee, who takes time to submit data on amphibians and reptiles. David has contributed observations for numerous species including rare and more abundant species throughout Michigan. When asked about the program David said, "I contribute observations to the MI Herp Atlas because I have always enjoyed citizen science and keeping track of what critters I find in the field. It is fun to go looking for critters and now I have my kids dong it, too, which gets them out of the house and in touch with nature. I know that there are large data gaps for herps, especially for threatened and endangered species. I feel it is important to document what herps are out there so we know where they are in the state, and develop some baseline data of known populations and track trends. As more and more land is developed, I see this as a tool to inform natural resource managers and regulatory personal what herps are documented in the area so they can determine what actions are needed to protect the species and habitats. For the most part, I enter my observations because it is fun and I really enjoy the feature that allows me to view my observations in Goggle Earth. " We also have up-and-coming volunteers like 6- year-old Chase Osborn, who submitted an observation of the first Butler's Garter Snake he found in his yard as well as many other species! We are very grateful to these people and the many others who see this as a valuable tool to help conserve and manage Michigan's rare and sensitive indicator species.
Check back monthly for this article series, as we highlight different volunteer opportunities from our partner organizations and volunteers who are making a difference.