Clean boats, clean waters season wrap-up
Clean Boats, Clean Waters volunteer heroes compile end of season reports. 2016 season ends and 2017 planning begins.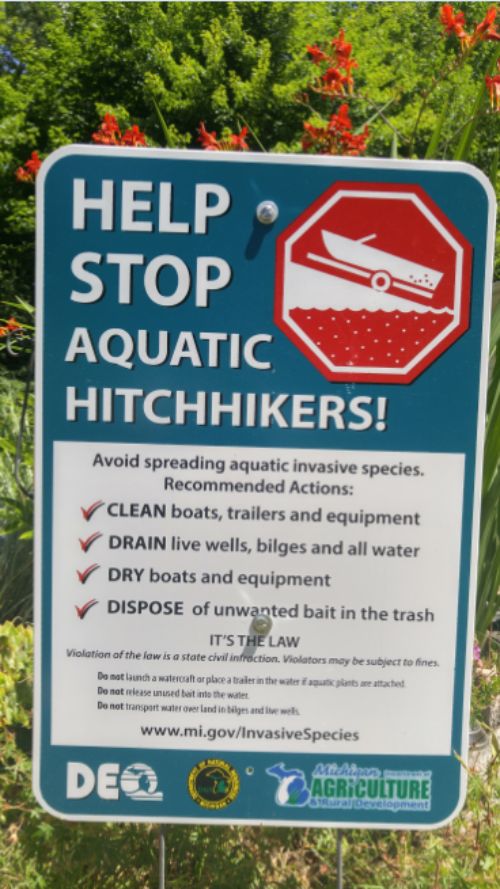 Wrap-up for the 2016 Clean Boats, Clean Waters (CBCW) program is underway. This year, 29 people or organization groups throughout the state were trained as volunteer leaders in the program. This lays the ground work for an exciting 2017.
Noteworthy 2016 accomplishments
Two successful "train-the-trainer" workshops. One in lower central Michigan and one in the western UP Michigan.
Video recordings of a full workshop and hands-on training on how to share the "stop aquatic invasive species" message. This is being developed into a training video that will be available on the CBCW website.
A complete updated Volunteer Hero Leader's handbook with an expanded facilitators section, a streamlined guidebook for Volunteer Heroes for ease of use and basic do's and don'ts guidelines for volunteers, and a simple pocket sized boater's guide (How to clean, drain, and dry your equipment in seven simple steps) all available as a PDFs on the CBCW website.
An online data entry option was added to the CBCW website so that volunteers can directly enter survey information into a statewide data base. This will help to track the movement of invasives species from boaters in order to develop better predictive models regarding the distribution and transport of aquatic invasive species.
CBCW, a Michigan State University Extension and Michigan Lake & Streams Association partnership, teamed up with some great groups that helped make it all possible. This project was funded in part with funds from the Michigan Invasive Species Grant Program through the Departments of Natural Resources, Environmental Quality as well as Agriculture and Rural Development. Other contributive collaborators include: the DEQ, DNR, Match-E-Be-Nash-She-Wish Band of the Gun Lake Tribe, Western Peninsula, Invasives Coalition (WePIC), Iron Baraga Conservation District, Lac Vieux Desert Band of Tribal Indians (LVD) and Invasive Species Control Coalition of Watersmeet (ISCCW). These changes add greater sustainability and build upon a program originally created by the educators at MSUE Sea Grant in 2004. Now we begin our preparations for 2017. Now is the perfect time to schedule a training in your area because non-native invaders never take a break.
For more information about the Clean Boats, Clean Waters program and aquatic invasive species contact Beth Clawson, MSU Extension Educator. To learn more about invasive organisms and invasive aquatic plants contact Michigan State University Extension Natural Resources educators who are working across Michigan to provide aquatic invasive species educational programming and assistance. You can contact an educator through MSU Extension's "Find an Expert" search tool using the keywords "Natural Resources Water Quality."