Community-driven tourism program provides benefits to rural city leaders
City of St. Clair, MI leadership team reveals benefits of working together after participating in First Impressions Tourism assessment program.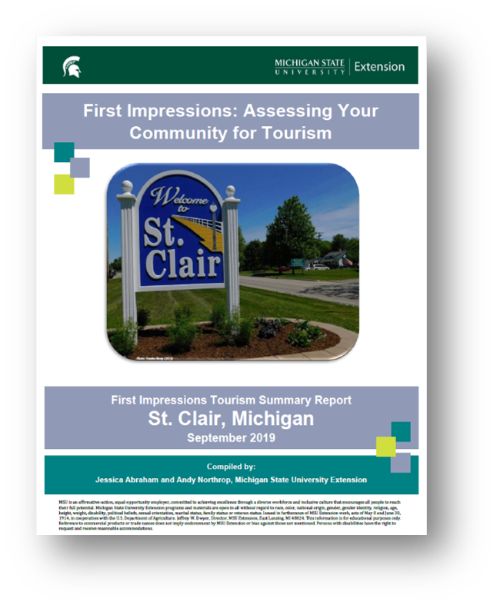 What can a community-based program do for leadership building and collaboration? Well, the answer to that can be found here.
The City of St. Clair, MI participated in Michigan State University Extension's First Impressions Tourism assessment program during summer 2019. As part of the FIT program process, I circled back with them for a follow-up interview to gauge actions and impacts one year later. As with all communities that participate in FIT, their community leadership team – a multi-stakeholder group comprised of community leaders were interviewed one year after receiving their results.
Although a series of questions help guide the discussion around actions and impacts, below is a snapshot of how the City of St. Clair has benefited from participating in FIT.
What has changed in the City of St. Clair as a result of participating in the FIT program?
Creation of Community Leadership Team
Trice Hawkins, Parks and Recreation: "The FIT program's requirements was creating this community leadership team. So, to me, that has been of just an awesome experience. We see this team of people involved in the community and working together on one cause has been very rewarding."
Increased Partnership and Collaboration
Annette Sturdy, City of St. Clair: "I agree that the different entities in our community always do as much as they can do for the community. But working together on the community leadership team gives more opportunity for us to enhance what each other's doing. So, having the businesses, the schools, the city, parks and recreation, and historical museum has been great. I really think this team has knowledge of different parts of the community and we all work together to make sure that we hit all of them for what we want to do. So, the different thoughts and everything from the team, I've appreciated."
Community Differentiation
Jason Stier, St. Clair Art Association: "I feel that we left the initial assessment with this urgency kind of revamping our image. So, making it clear on how to find us and how to differentiate between us and other Blue Water communities. I think we've made great progress with that, with creating a new digital presence. That kind of brings all of the different pieces that were floating around out there before together to one central location."
Chrissy Gorzen, City of St. Clair Historical Museum: "I've just thought about St. Clair from a different perspective, from visitor's perspective and see what we are taking for granted. What do we need to teach and how can we teach history? So, there's definitely a lot more ideas and we're getting things right. I think it's a good awareness of who we are.
Overall, FIT helps communities learn about their strengths and weaknesses through the eyes of first-time visitors evaluating their community in an asset-based manner on multiple tourism-related community metrics. Are you interested in learning more about FIT? If so, consider visiting MSU Extension's Tourism Programs website to learn more.