Community gardens add asset-based community development
Many community garden leaders use a "needs" map approach that focuses on the negative. An asset-based approach focuses instead on strengths, which reinforces and multiplies positive effects.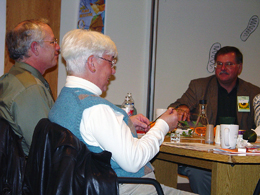 Asset-based community development is a method that invites partners in community gardens to imagine and build programs and activities based on strengths and group capacities rather than deficits and weaknesses. The Michigan State University Outreach Capable Communities website says "A capable community applies the strengths (assets) of its members to improve the overall well-being of the community. It mobilizes community members and groups to begin an informed and purposeful journey from at-risk, to safe, and ultimately to thriving." For community garden leaders this can also mean finding those local assets that are underutilized or yet unrevealed.
Five places to look for community assets that can help sustain a community garden are:
Individual gifts – Such as specific skill sets or talents
Associations – Other local, small, informal groups that can be empowered to mobilize their talents and skills
Institutions – Local government, business, and non-government organizations may have resources and knowledge that can be drawn upon such as the expertise of Michigan State University Extension or a local librarian
Land and buildings – After-hours spaces and places like parks or school grounds for celebrations and meetings
The local economy – Local businesses or lending organizations can donate and help publicize in a variety of ways
Community garden leaders should be relationship driven. Their actions are making use of the problem solving capabilities of their community residents, associations and institutions to expand relationships within the community. Identifying basic assets and resources is crucial for successful community gardens.
MSU Extension educators working across Michigan provide community food systems educational programming and assistance. For more information, you can contact an educator through MSU Extension's Find an Expert search tool using the keywords "community food systems."
Categories: Community, Community Gardening, Community Food Systems, Community development, Civic Engagement