Detroit River canoeing events connect youth, families with nature
Special Olympics teams enjoy canoe experience.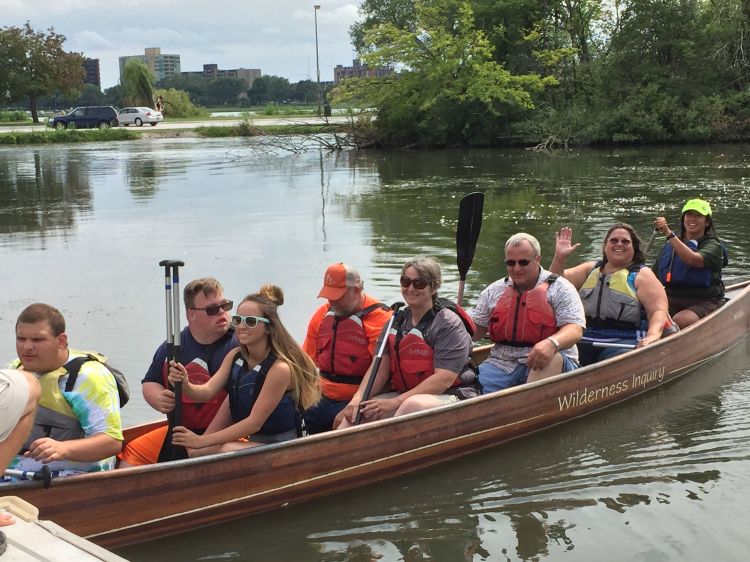 Nature Deficit Disorder (NDD) is a term coined by Richard Louv in his book "Last Child in the Woods." It is not a clinical term but a way of describing the concept of today's societal disconnect with nature and the impact it is having on children. Louv contends we have entered a new era of suburban sprawl that restricts outdoor play, at the same time that we are encouraging a plugged-in culture that draws kids indoors. Louv says children that don't adapt to this overstimulating environment can develop symptoms of NDD, which include attention problems, obesity, anxiety, and depression. According to Louv, "Kids learn better when they get outside. It's a way to truly help our kids learn in all areas of education." The solution? Provide opportunities to get kids outside to experience and learn about the natural environment around them.
Recently, Michigan State University Extension and Michigan Sea Grant partnered with Riverside Kayak Connection, the National Park Service and the city of Detroit on an effort to get kids and families outside to explore the Detroit River. For the second year, the partnership worked to bring the Wilderness Inquiry Canoemobile to Detroit for three days of canoeing to help people better connect with the region's natural resources. Wilderness Inquiry Canoemobile is a roving fleet of 24-foot Voyageur canoes that travels across America to bring environmental literacy to urban youth. Started in 2010, the Canoemobile is the national extension of the highly successful Urban Wilderness Canoe Adventures (UWCA). Canoemobile engages students to improve school performance, cultivate a stewardship ethic, and create pathways to pursue educational and career opportunities in the outdoors. Youth explore local waterways in 10-person Voyageur canoes, each with an experienced guide to steer the boat, motivate paddlers and provide historical and natural interpretation along the way.
The Detroit events kicked off on Day One with the Detroit Parks and Recreation Department's (DPRD) Summer Camp finale event at Fort Wayne and the Delray Boat Launch. Youth ages 6-16 who participated in DPRD day camps were rewarded with a day of games, food and canoeing. More than 150 youth and parents received paddling instruction and then climbed aboard a Voyageur canoe for a 30 minute excursion up the Detroit River towards the Ambassador Bridge and then back to the Delray boat launch. Detroit Police Marine Patrol and U.S. Coast Guard Auxiliary were stationed just offshore to provide safety boats throughout the day.
Day Two began with morning of canoe rides on Belle Isle with families that had camped out on the island the night before, as well as, an afternoon of community paddles. A special Michigan Department of Natural Resources (MDNR) camping program allowed 30 people to spend the night on Belle Isle using MDNR tents and equipment. The program is designed to introduce families to camping in Michigan's State Parks. After breakfast, the campers enjoyed games and canoeing with Wilderness Inquiry. Later that afternoon, all visitors to Belle Isle were invited to drop in and try their hand at canoeing Lake Takoma and the connected canals of Belle Isle. More than 150 people participated in the community paddle, many from family reunions taking place that day.
The final day also was held on Belle Isle and offered canoeing opportunities to athletes from Wayne County Special Olympics Teams. After a leisurely hour-lo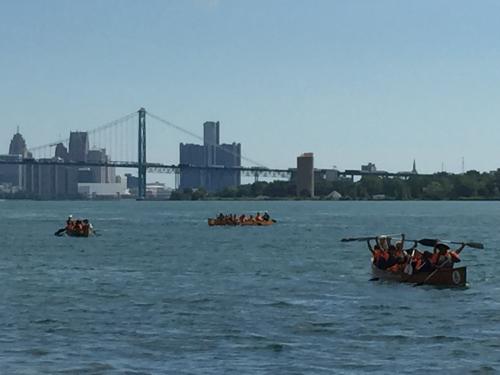 ng paddle through the canals of Belle Isle things got serious with a race between two boats, one with Wilderness Inquiry staff and the other with Special Olympic athletes, family and friends. The Special Olympics Team boat pulled ahead for the win.
Plans for bringing the Canoemobile back to Detroit in 2016 already are underway and new partners are being sought. If you would like to get involved contact MSU Extension Sea Grant educator Mary Bohling, (313) 410-9431, or Riverside Kayak Connection community outreach manager Anita Twardesky, (734) 626-5465.
Michigan Sea Grant helps to foster economic growth and protect Michigan's coastal, Great Lakes resources through education, research and outreach. A collaborative effort of the University of Michigan and Michigan State University, Michigan Sea Grant is part of the NOAA-National Sea Grant network of 33 university-based programs.