Diagnostic Academy recently held in the Upper Peninsula
Extension Master Gardeners and others learn more about diagnostics and assisting the public with plant and insect concerns.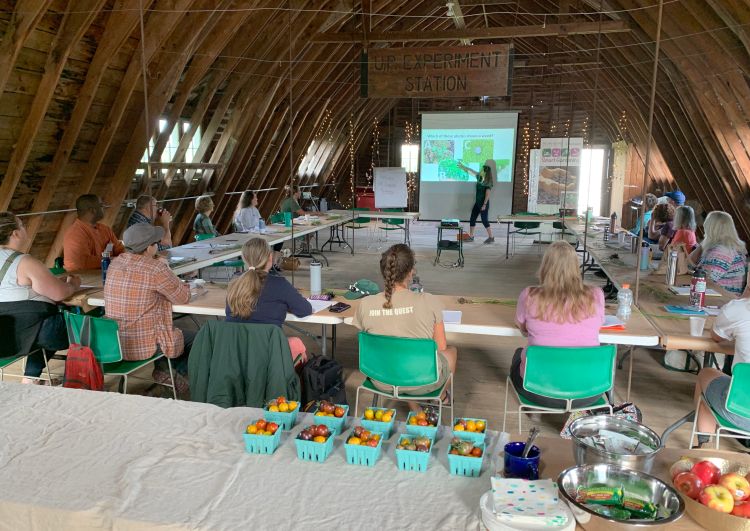 Blue skies and open fields welcomed participants to Michigan State University Extension's Diagnostic Academy recently held at the North Farm, part of the Upper Peninsula Research and Extension Center in Chatham, Michigan. Along with Upper Peninsula participants from Delta, Houghton, Iron, Marquette and Schoolcraft counties, Extension Master Gardeners and MSU Extension staff also arrived from Ingham, Kent and Macomb counties. The Upper Peninsula Diagnostic Academy was one of two offered in 2023 through MSU Extension's consumer horticulture team efforts.
The program's focus is to provide integrated pest management education and techniques to individuals who are being trained to share their knowledge with others. Ultimately, using proper integrated pest management can help gardeners safely use and/or reduce the need for fertilizers and pesticides, both of which can improve water quality and help protect pollinators; two concerns that are important to all of us.
What is the Diagnostic Academy?
Held on July 27 and 28, the two-day, intensive program focused on the diagnostic process, tools and resources needed to make accurate recommendations and hands-on sampling. Learning opportunities included presentations, group work, outdoor labs and using diagnostic equipment.
On day one, Abbey Palmer, education director of the North Farm, welcomed participants to the North Farm's historic Grange classroom. An introduction to diagnostics and MSU Extension's public resources of the toll-free Lawn & Garden Hotline and Ask Extension was provided by Rebecca Krans, Upper Peninsula consumer horticulture educator. Rebecca Finneran, west Michigan consumer horticulture educator, followed and presented the diagnosis process. In group work, participants were then able to practice using a hand lens and role play common lawn and garden questions led by Krans and work to diagnose common vegetable issues led by Mary Yelland, diagnostic responder manager.
Day two featured Erin Hill, weed science diagnostician at MSU Plant & Pest Diagnostics, and weed control in lawns and gardens. She began the discussion with "what is a weed?" and how your perception of whether a plant is a weed depends upon the plant, its location and your perspective. Hill provided many examples of weeds, showed results of different herbicide treatments and pros/cons of each, and led the group on a weed walk pointing out key identification characteristics and site conditions for common weeds.
The final day two session featured David Lowenstein, consumer horticulture educator in Macomb County, who presented on insect identification and control. Different insect families, common characteristics and life cycles were discussed. Groups worked together to properly key and identify insect samples. Lowenstein then led the group around the grounds to find and observe several types of insect feeding and damage.
Sixty-four percent of participants reported they feel more confident in diagnosing plant problems after attending the Upper Peninsula Diagnostic Academy.
What is diagnostics and why is it important?
MSU Extension helps gardeners across the state navigate earth-friendly solutions for their lawn and garden questions. In 2022, over 8,000 lawn and garden questions were fielded by consumer horticulture educators and specially trained Extension Master Gardeners who serve as diagnostic responders, assisting with the state hotline and Ask Extension questions. Questions include all types of gardening issues and concerns and many deal with diagnostics, such as wanting to know the proper identification of a plant, insect or pest/disease the gardener is calling about.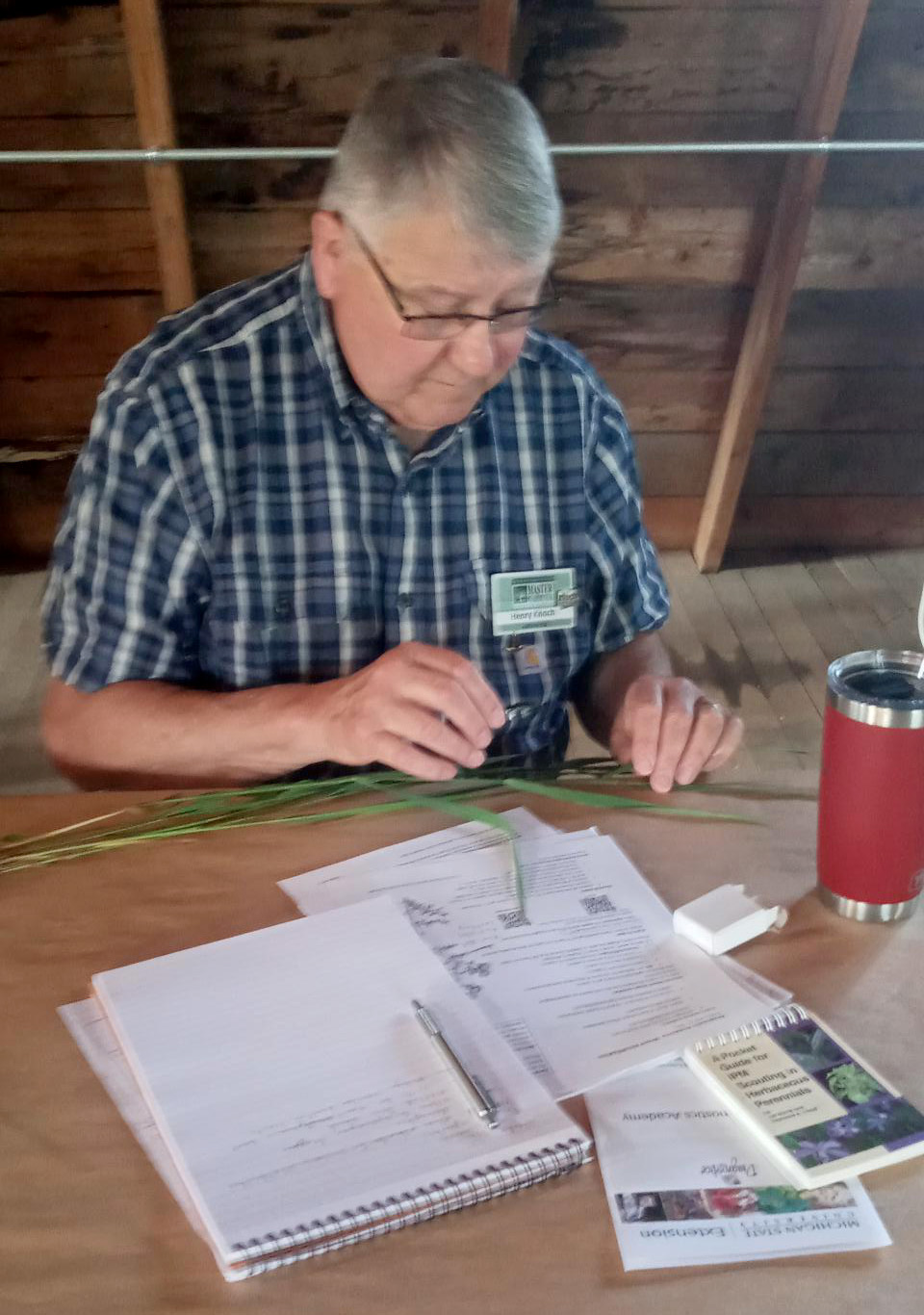 Following proper identification, the diagnostic responder will ask a series of questions to help them better understand the specific circumstances of the plant or insect, i.e., the diagnostic process. Key messages focus on integrated pest management and assisting the gardener in determining what needs to be done before simply choosing to treat with a pesticide or apply more fertilizer. Sometimes the plant is in the wrong location (don't fight the site) or the soil has not been tested (don't guess, soil test). Diagnostic responders help gardeners make intentional choices about pesticide and fertilizer use. Proper diagnosis can eliminate 70-80% of pesticide use. Seventy-five percent of MSU Extension Lawn & Garden Hotline callers have been directed away from pesticide use or reduced their use.
Other program highlights
Sarah Hayward, North Farm manager, and Palmer also provided a tour of the North Farm's research and production fields as well. The North Farm is researching high tunnel production of different vegetable crops, different hemp varieties and cover crop use. Optional field trips included a tour of the South Farm of the Upper Peninsula Research and Extension Center by Paul Naas, South Farm manager. Research studies include grass fed beef management, grazing practices and malting barley varieties. Interested participants also toured the Rock River Flower Farm to learn more about cut flower production year-round in a northern climate.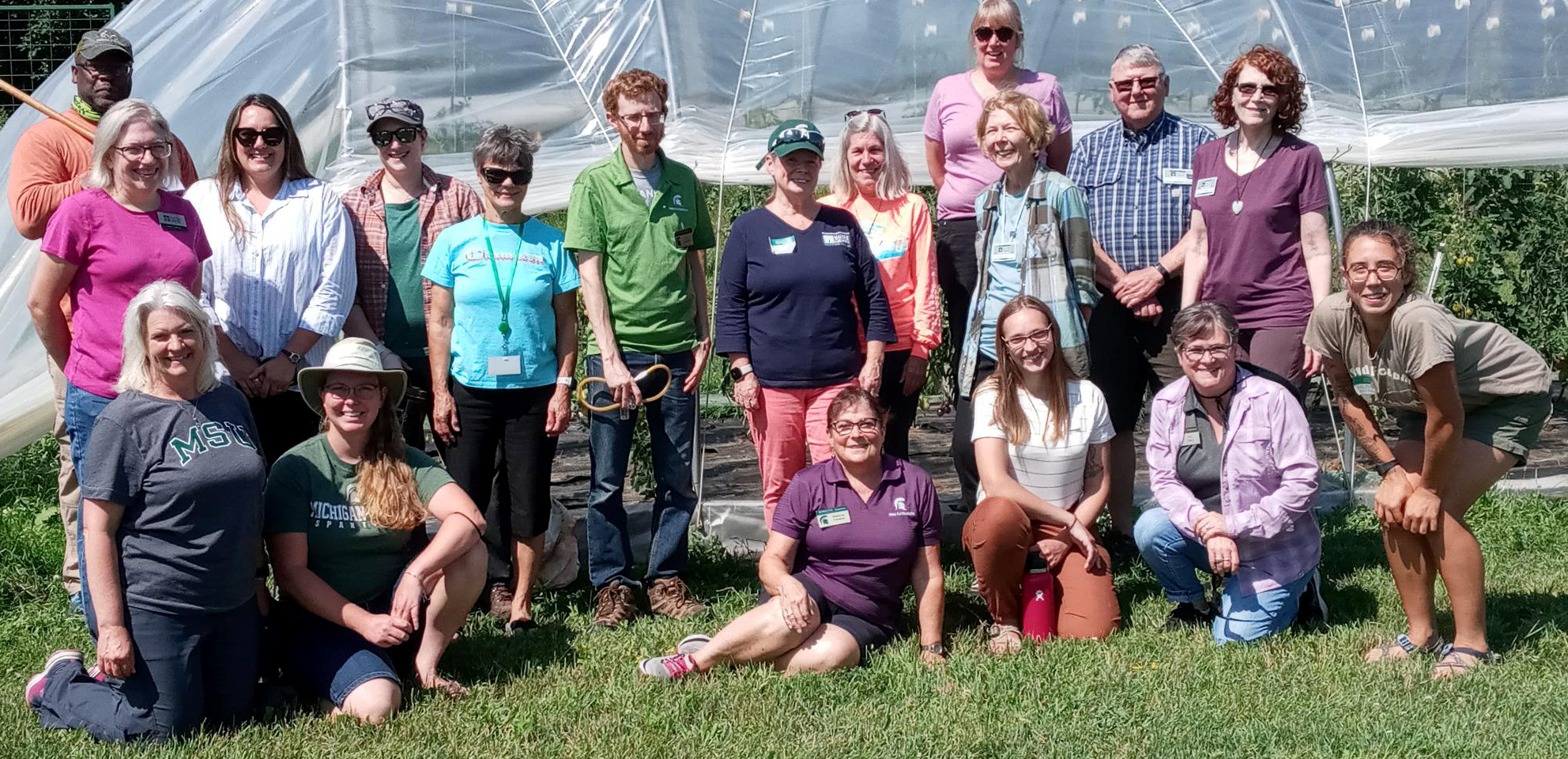 "This course was well presented and fun at the same time. I would suggest that anyone should take this course." Upper Peninsula Diagnostic Academy participant
How can diagnostics help you?
If you have a question about your lawn or garden, please visit MSU Extension's Gardening in Michigan website to learn more. From there you can upload photos and questions at the Ask Extension resource or call the toll-free Lawn & Garden Hotline on Mondays, Wednesdays and Fridays from 9 a.m. to 12 p.m. EST at 1-888-678-3464.
This work is supported by the Crop Protection and Pest Management Program [grant no 2021-70006-35450] from the USDA National Institute of Food and Agriculture. Any opinions, findings, conclusions, or recommendations expressed in this publication are those of the author(s) and do not necessarily reflect the view of the U.S. Department of Agriculture.