Director's message 2017
This year has brought many wonderful things for us all.
This year has brought many wonderful things for us all. We had another amazingly successful study abroad trip and are preparing for the next one.
The students from across SPDC came together and built a Tiny House during the spring semester that has been named Sparty's Cabin. The cabin will
be on display at each home football game starting with the BYU game, and then it will be auctioned off at the end of 2016. Dr. Pat Crawford and Dr. George Berghorn served as the faculty advisors for this build project. For more information, please go to: Sparty's Cabin.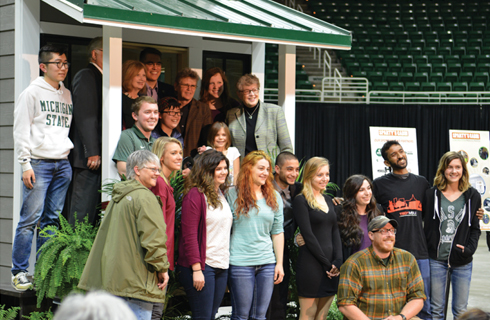 After six years of dedicated service as the LA Program Leader, Dr. Trish Machemer has stepped down. She has done a great job of working with the LA faculty to keep our curriculum and accreditation materials current, plus serving our students and the Landscape Architecture Alumni and Advisory Board. We owe her a great deal of thanks for all of her hard work.
Karen Russcher has agreed to serve as the new interim program leader. She has hit the ground running, and she and the faculty will be preparing our accreditation self-study for completion during fall semester 2017.
I would like to thank Robert Chipman, Stephen Troost, and Pamela Blough for the service they have provided to the Alumni Board. They have worked hard to offer new opportunities for our students and the LA program over their terms. They are remarkable alumni.
Deb Cooper will complete her term as board president, and Scott Reinholt will take over as the Board's leader, in January 2017. Deb has been a great
colleague and friend to us all; we look forward to her final year on the Board as past president. Paul Weinberg was elected treasurer, Cheryl Zuellig will be the new secretary, and Michael Rein will serve as vice-president. We are excited to work with each of them.
Dr. Rob Dalton has joined the faculty for this academic year as an assistant professor. He is teaching, writing articles and submitting grant proposals with Dr. Crawford. He has brought great energy to the Program.
This is also a big year for me. I have decided to step down as director of the school at the end of 2016. I have served as the director for nine years and chaired two other departments for an additional eight years. As of this fall, I have had the privilege of studying and working at MSU for 37 years, and I plan to retire at the end of 2017. Our deans are currently working to identify an interim director for the upcoming year, while a national search is being conducted for the new director.
It has been wonderful getting to know many of you in addition to working with such a great group of faculty, staff, students and alumni.
Go Green!