Eat local all year with season stretching strategies
Visit a winter market or grow your own cold-hardy crops beyond the traditional growing season.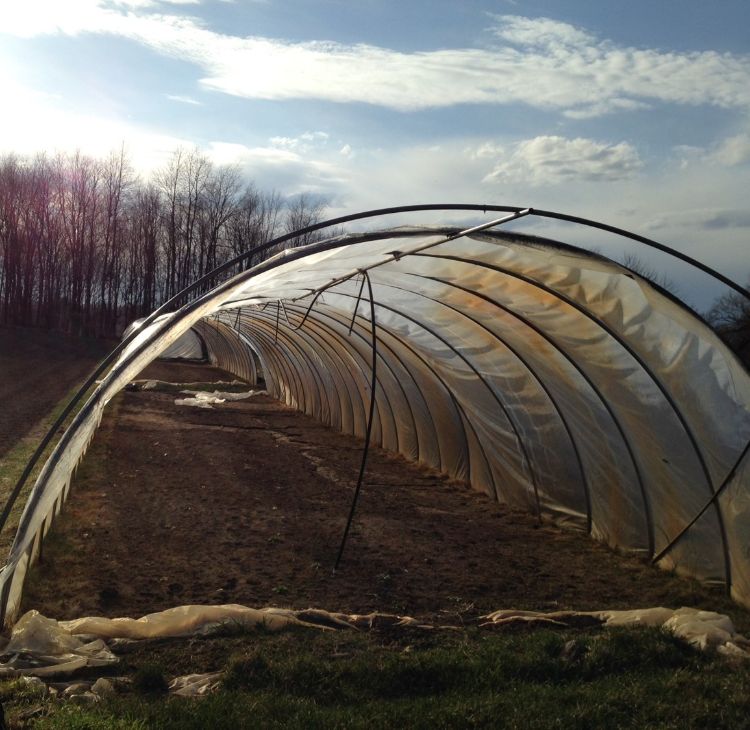 Several cities in Michigan have farmers markets that are open in the winter or year-round. This may seem odd, considering Michigan's typical growing season ranges from about 3-5 months, depending on location. However, certain crops can thrive late into the season and be harvested through the winter in structures called hoophouses, which are also known as high tunnels.
Unlike greenhouses, hoophouses do not require electricity or gas for heat. Using only the sun's light beaming down through the clear plastic tunnels, hoophouses produce a balmy, protected environment for plants to thrive during the colder months. The Hoophouses for Health program is expanding the capacity of farmers across the state to purchase hoophouses to extend their growing season, while at the same time expanding access to fresh Michigan-grown produce to vulnerable children and their families.
Storage techniques are another way to bring local produce to market during the cold months. For example, apples can be stored in a controlled atmosphere storage facility to maintain peak quality and freshness for several months after the fall harvest. Other storage crops include potatoes, sweet potatoes, winter squash, cabbage, onions and garlic.
If you are lucky enough to live near an extended season farmers market, you can often find locally grown produce such as kale, spinach, beets, apples, carrots, onions, parsnips, kohlrabi, collards and other crops that have been grown in a hoophouse or stored after harvest. The Michigan State University Extension Michigan Fresh fact sheets and healthful recipes provide information about each of these vegetables and fruits and can help you turn your market haul into a delicious meal. These can be downloaded for free at www.michiganfresh.msue.msu.edu. While visiting the market, also look for preserves, pickles or canned goods made from Michigan-grown produce. The Michigan Farmers Market Association has a "find a market" tool at http://mifma.org/find-a-farmers-market/ that can help you locate a year-round or winter market near you.
If you don't have an extended season farmers market nearby, you can still enjoy fresh produce in late fall, winter, and early spring by growing your own at home. Home gardeners can purchase cold frames, cloches, row covers, hoophouses and insulated plastic water tubes from catalogs and garden centers. Other season extension implements can be crafted from everyday items, such as cloches made from empty soda bottles and milk cartons or cold frames made from old windows. As a precaution, just make sure not to use windows that have been painted with lead-based paint. This University of Maine Cooperative Extension provides information and videos on season extension methods for gardeners .Visit Michigan State University Extension's Hoophouse website for resources and videos on hoophouse construction and maintenance.
Cool season crops will provide the best results in season extension as they are adapted to thrive when the temperature drops. Gardeners will also want to monitor the relationship between the daily temperature and the inside temperature of their season extension structure to make sure their plants don't get too hot or too cold. Michigan State University's Enviro-weather website is a helpful tool for monitoring weather from stations across the state.
Gardening fact sheets on fall crops, soil testing, starting seeds and more are available for free at www.michiganfresh.msue.msu.edu.
You Might Also Be Interested In