Edible Flint veggie garden kits enable successful Flint food gardens
Edible Flint's Annual Distribution Day celebrates Flint's abundant food gardens.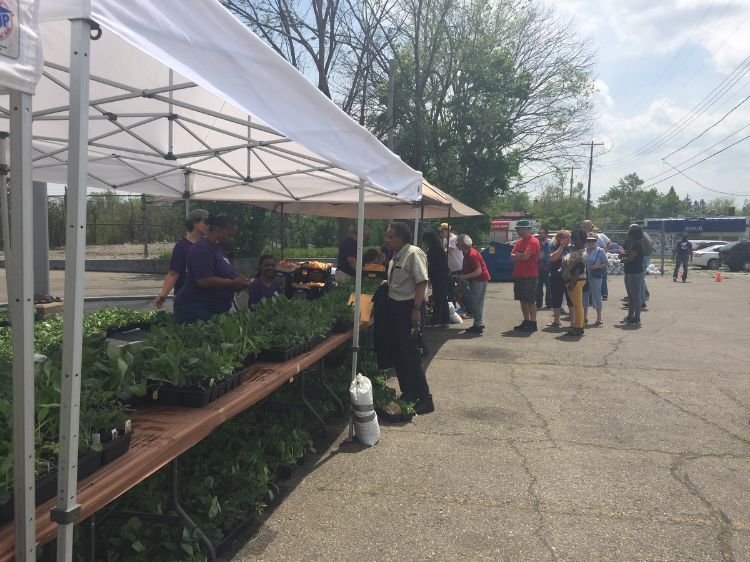 On May 17, 2017, edible flint held its annual vegetable kit Distribution Day community event at the Neighborhood Engagement Hub/Community Tool Shed in Flint, a key partner organization that supports the edible flint nonprofit.
During the event, Flint and Genesee County residents picked up pre-ordered garden starter veggie kits, bags of compost or irrigation hose water filters to aid in establishing their own food gardens this summer. This was the seventh year of the event, and 324 garden starter veggie kits, each containing 19 types of seeds and 10 types of transplants, were assembled and distributed. This event, which fosters food gardens for individuals and groups to improve their fresh food access, supports self reliance and community engagement. Through an ongoing partnership with Michigan State University Extension, edible flint supports urban agriculture initiatives in Flint.
At the Distribution Day event, there were stations for picking up the veggie kits and garden resources, areas to purchase additional flowers to support beneficial pollinators and several related community partners sharing information on nutrition programs, youth programs and additional garden resources including a community tool shed and garden expertise.
The mission of edible flint is "to support Flint residents in growing and accessing healthy food in order to reconnect with the land and each other." This event truly captured that statement. People were picking up vegetable kits not only for themselves, but also for their friends, churches or other organizations. One woman reported she was going to surprise her friend by re-establishing her friend's garden since she was now unable to do so herself. Additionally, there were many families with young children picking up kits to start a family vegetable garden. The veggie kits are designed to feed a family of four over the growing season, and savvy gardeners can preserve excess bounty by freezing or canning the produce to have garden fresh food available all winter. This program not only provides residents with access to healthy food, but also connects the community in a unique and positive way.
edible flint formed in 2009 and since has hosted eight annual Food Garden Tours, collectively sold produce through the edible flint Co-op at the Flint Farmers' Market for three years, offered six years of training classes on urban food gardening, completed two assessments of retail food access in the City of Flint in 2011 and 2012 and distributed Garden Starter Veggie Kits and garden services (including soil testing, tilling and bulk compost delivery) for the past six years, supporting a total of 1,068 food gardens in the city of Flint. New this year is a neighborhood ambassador garden mentor program and an initiative to support producers growing for sales. Since 2014, edible flint has maintained a Demonstration Community Garden across from Hurley Hospital in Flint. All of the produce grown at the demonstration garden has been donated to the neighboring community, and it is seen as a valuable neighborhood asset.