Enumerator Training Kicks Off Endline Survey for AGLC in Rwanda
The enumerators, five men and five women, were trained by members of Michigan State University (MSU), including Dr. Aniseh Bro and members of IPAR, including Roger Mugisha
By Aniseh Bro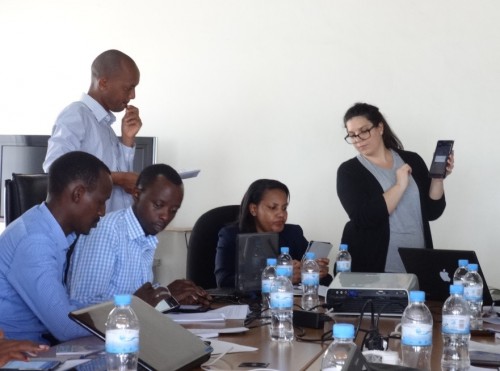 Dr. Aniseh Bro demonstrates recording instruments.
Most of AGLC research is based on surveys that require to interview heads of households. In preparation for the upcoming Endline Household Survey, the AGLC team and its program partner, the Institute for Policy Analysis and Research - Rwanda (IPAR), trained ten survey enumerators in Kigali, Rwanda, October 3–6, 2017. The session was hosted by IPAR.
The training consisted of:
(1) two days dedicated to studying the survey instrument, learning about CSPro (a computer assisted personal interviewing software), exploring different interviewing methods to elicit information, and studying ethical guidelines for interviewing;
(2) one day in which the enumerators went to the field to test the instruments; and
(3) one day in which the teams debriefed and provided feedback based on their experience fielding the instrument.
The enumerators, five men and five women, were trained by members of Michigan State University (MSU), including Dr. Aniseh Bro and members of IPAR, including Roger Mugisha. IPAR staff, Paul Kayira and Linda Uwamahoro lead the piloting of the instrument and are also field supervisors for this endline survey.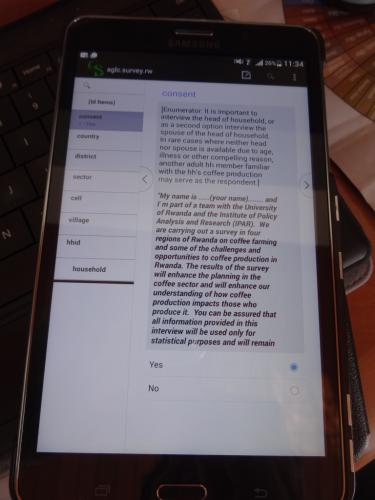 The enumerators are young Rwandan professionals with an interest in pursuing a career in research. Usually they are university graduates with several years of research experience. "We were happy that seven of the enumerators in this cohort had helped us on the previous field surveys for the project—the midline and the baseline," stated Dr. Bro. "These enumerators' professionalism, combined with the consistency of having the same IPAR field supervisors for all three AGLC surveys, ensure a high level of efficiency and capacity to overcome the many challenges of this type of field work." The endline survey will take place from early October through early November 2017, with the objective to survey 512 coffee farmers in four of Rwanda's most productive coffee-growing districts: Gakenke, Huye, Kirehe and Rutsiro.