Face the challenges with your head, hands, health and heart
Remember the four H's of 4-H to solve problems this fair season.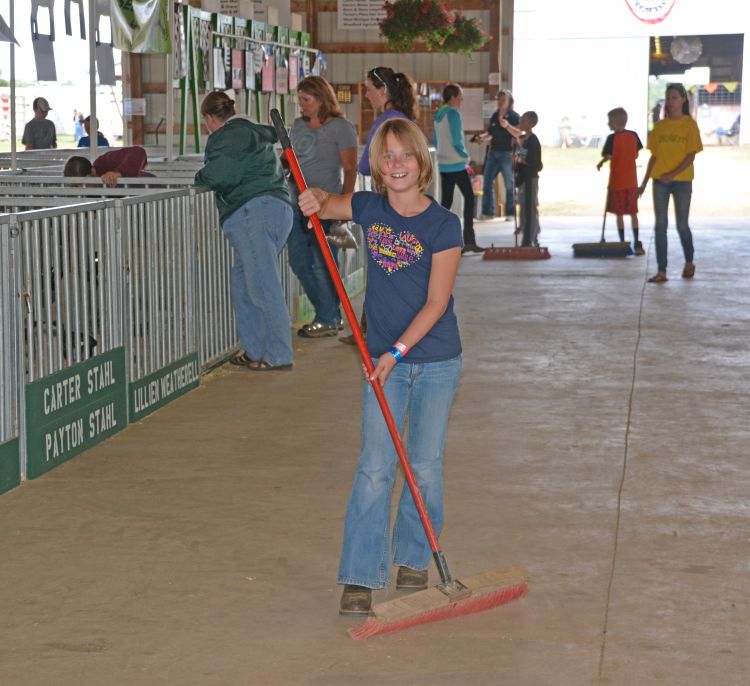 Putting on a large event such as a county fair is a huge task and can sometimes cause conflict. In order to achieve conflict resolution, you have to have your heart into the end result. According to Michigan State University Extension, it takes all hands on deck to accomplish a successful event. All those who are involved must think clearly for the better health of the event. With the fun and education of the fair, there are many challenges that 4-H staff, fair boards and even 4-H families face each year preparing for and participating in fair.
Challenges should be faced with a strong union between all parties or organizations as a unit. Without proper communication between those involved, the conflicts cannot be properly solved. There are many things that can come to surface before, during and after the event. They all should be dealt with equally using a common goal of all the groups involved.
The obvious challenges are those that affect numerous areas such as when a young person loses their animal after the deadline has passed of designating that animal as their project. How would the groups working together deal with this? Rules are clearly stated, but now a decision is pending of allowing or disallowing that youth to choose another animal. Questions will arise regarding fairness to other exhibitors and ethics within the organizations. The 4-H staff, volunteers and fair board must come to an equal and reasonable conclusion that will be of benefit for all involved.
The majority of fairs take place during the hottest weeks of the summer. Living at the fairgrounds as an exhibitor is a part of the experience that creates memories that will be carried throughout a lifetime. It does not, however, come without trial. When temperatures reach 90 degrees Fahrenheit, the campers want to keep the air conditioning on for comfort and to be able to escape the high levels of heat. With 100 campers running their air-conditioning, electrical issues can arise and many times do. Keeping communication lines open between campers, 4-H and the fair board with the electrician working to rectify the power outage will allow for an ease of conflict. Even if the fair board is responsible for the grounds, it is important to include 4-H in the progress so they can stop rumors and help to comfort people with the knowledge of what steps are being taken to fix the problem.
Another fun part of the fair is the carnival. Riding the rides gives a release to the exhibitors to have fun and draws outside crowds in. Purchasing ride tickets just before a rain can become a challenge. Mother Nature does not schedule weather around the fair. Having the carnival manager involved with the decisions of what should be done to either keep guests on the grounds, or not would be beneficial in any weather scenarios.
An additional challenging scenario may be when a major grandstand event is planned for the evening, tickets are sold and all is ready to go, except for the fact that the act did not show up. This could be a major challenge, yet not without a solution. The 4-H youth program has a lot to offer in situations such as this. 4-H members and leaders can quickly put together demonstrations, acts or "how to," presentations that showcase a variety of their talents and can prove to be very entertaining. It may also be possible to move one of the regularly scheduled 4-H events to the grandstands such as showmanship sweepstakes, an animal show or put together another event such as a parade of projects and animals.
Having all the groups work together before the event even begins can eliminate or provide resolution to challenges before they even arise. Rain or in-climate weather cannot be changed, although you can pre-plan for alternative activities. Demonstrations by those youth in the 4-H program, contests or decorating are a few ideas to keep available. They can easily involve the public, exhibitors and leaders of the organization. Having a backup plan keeps public at the fair, and others engaged in the education aspect of what fair is truly about. All these activities would be able to transit to the grandstands and may allow a look into an area of the fair that those attending certain events would otherwise not know exist. This could give the programs an opportunity for a return visit and possibly new membership.
Working closely together before and during challenges will allow relationships between entities to grow stronger. If the key people can build trust during the most difficult times they will be more willing to work together to plan and complete other tasks. It is important to know who the key people are in all areas before a challenge arises which makes working together in vulnerable times less stressful. All organizations, whether 4-H, fair board, the carnival, the concessions or even the entertainment need to work toward the same common goal of putting on the most successful fair or event.
Related articles: