Farm to School connects the cafeteria, classroom and community
Celebrate National Farm to School Month.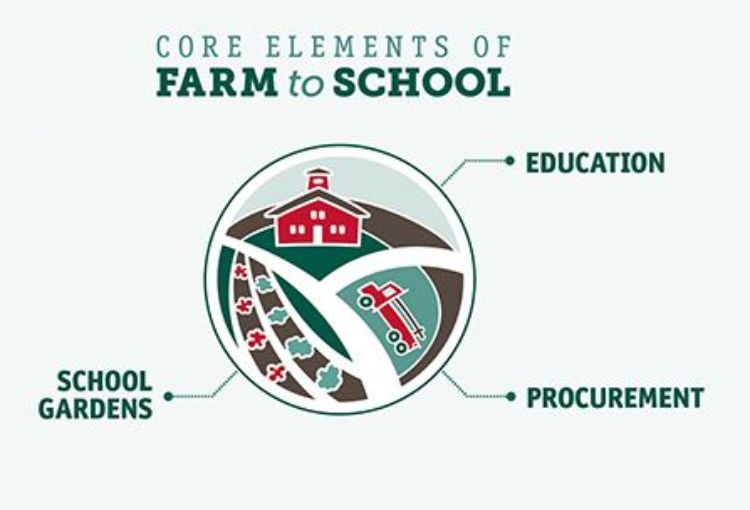 Are you ready to celebrate? October is National Farm-to-School month and an opportunity to commemorate the connections that are happening between youth and local food. In 2010, Congress declared October National Farm-to-School Month, recognizing the important role farm-to-school plays in promoting wellbeing among children and strong local economies.
What is Farm to School?
According to National Farm-to-School Network, farm-to-school enriches the connection communities have with fresh, healthy food and local food producers by changing food purchasing and education practices at schools and preschools. Farm-to-school is based on the premise that students will choose healthier foods (including more fruits and vegetables) if products are fresh, locally grown and picked at the peak of their flavor. It will also help if those choices are reinforced with educational activities.
Does Farm-to-School make a difference?
Yes! Farm-to-school initiatives have diverse and broad impacts on the communities they serve. Check out this fact sheet to see a summary of cross-sector benefits associated with farm-to-school initiatives.
Students
Fruit and vegetable consumption
Increased knowledge of the food system and health
Academic achievement
Schools
Increased meal participation
Reduced food waste
Improved school-community relations
Farmers
Increase in market opportunities
Opportunity to help educate youth through classroom or cafeteria visits
Communities
How popular is Farm-to-School nationally?
Over the past decade, the farm-to-school movement has exploded across the United States, reaching millions of students in all 50 states and Washington, D.C. From school gardens and farm field trips to local food on cafeteria trays, farm-to-school practices help children learn about where food comes from and guides them to making healthier choices while also creating new markets for local and regional farmers.
What's happening in Michigan?
43 percent of Michigan school districts are engaged in farm to school activities
Schools that purchased local products during the 2011-2012 school year spent over $61 million on school food with over $10 million of that directed locally
Apples, tomatoes and milk are the top three locally-sourced foods
63 school gardens have been created
(Source: National Farm-to-School Census)
Congratulations to the 2014-2015 recipients of the Michigan Farm-to-School Grant. Funds will be used to plan or implement farm-to-school activities that promote procurement of fresh and local foods in meals and snacks served to children.
How can you support Farm-to-School?
Parents and community
Volunteer in a school garden or cafeteria
Talk to school administrators to learn how to support current or future initiatives
Use local data from the National Farm-to-School Census to assess and explore next steps
Ask your child's teacher to celebrate events with Michigan foods
Plant a garden or fruit tree with youth
Community leaders
Advocate for fresh foods in the cafeteria and school
Become familiar with farm to school policies
Use local data from the National Farm-to-School Census to assess and explore next steps
Seek expertise from your local cooperative Extension office
Learn about farm-to-school funding opportunities
Farmers/growers
Schools