Feeding on Farm Fish
Aquaculture sector is fast developing in Myanmar and South East Asia. What are the nutritional differences between farm fish and wild fish? It's about micronutrients. An FSP blog on Agrilinks.
By Ben Belton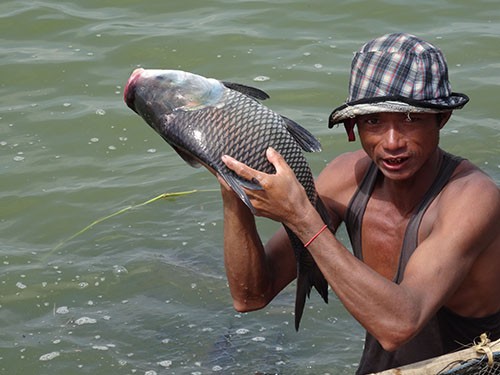 FSP Myanmar team posts a blog on Agrilinks:
In response to the declining availability of wild fish stocks and growing consumer demand, aquaculture (fish farming) has become the world's fastest growing food production sector. Farmed fish is playing an ever larger role in Asian diets, contributing to diversification away from the main staple food, rice. What are the implications of such changes for nutrition, health and livelihoods? One of Feed the Future Innovation Lab for Food Security Policy's teams studies fish farming and its impact on food security in Myanmar. Their findings will be used to guide policies for the development of the emerging aquaculture sector.
Photo: Myanmar fish farmer with carp