Fire blight risk very high in Michigan: Consider treatment options
The risk for blossom blight infection is extreme for May 23-27, 2020. Kasumin is best for control in Fruit Ridge orchards where we have diagnosed streptomycin resistance in the fire blight pathogen. Streptomycin and Kasumin are best in other areas.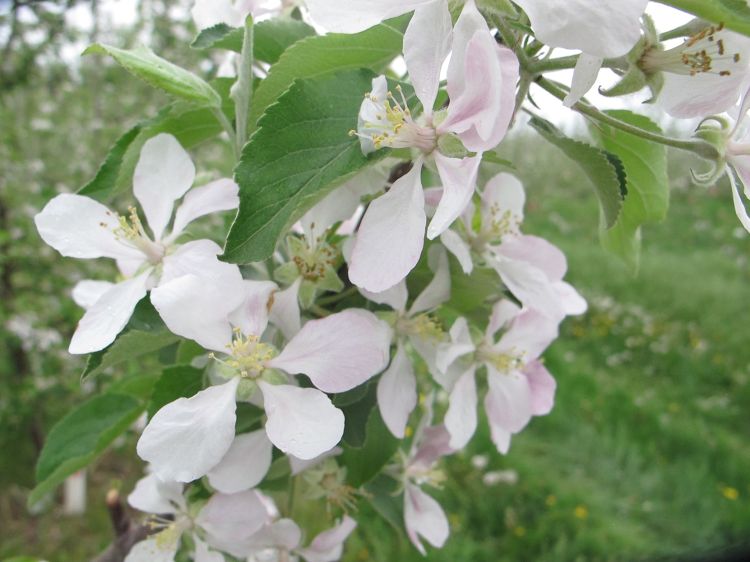 Temperatures over the past several days, from May 20 to 22, 2020, have been in the 60s and could have allowed the initial buildup of the fire blight pathogen. Forecast temperatures in the low to mid-80s for the next week have significantly increased the risk of blossom blight infection in orchards with open bloom. Three other factors will contribute to this major fire blight risk: daily low temperatures in the high 60s and high relative humidity favor extreme overnight growth of the fire blight pathogen. Our work has shown that the fire blight pathogen mostly grows at night on apple flower stigmas. Also, the forecast of intermittent rain showers is concerning; remember, only 0.01 inch of rain is needed for a blossom blight infection to occur.
The MaryBlyt model on Michigan State University Enviroweather is predicting EIPs (Epiphytic Infection Potential) for fire blight as high as:
Fruit Ridge

Location

Saturday, May 23

Sunday, May 24

Monday, May 25

Tuesday, May 26

Wednesday May 27

Sparta

125

172

308

382

406

Belding

117

172

308

382

406

Conklin

151

185

283

332

332

Grant

167

185

283

332

332
The EIP value is telling us the potential is there for significant fire blight infection. Temperatures in the high 70s to low 80s are optimal for growth of the fire blight pathogen on apple flower stigmas. At these temperatures, populations of the pathogen can double in size every 45 minutes on stigmas during overnight growth. Rain events will trigger fire blight infection events on flowers that harbor very large populations of the fire blight pathogen. Free water from rain enables the fire blight bacteria to "swim" down the style from stigmas to the nectaries at the base of the flower where these bacteria cause an infection.
Fire blight risk will be extreme this weekend on the Fruit Ridge as orchards are coming into full bloom. In orchards further north where flowers are not yet open, the occurrence of many consecutive warm days leading into bloom is very concerning. Your fire blight risk will also be extreme as flowers open.
This current situation will require a minimum of two to three antibiotic applications for successful blossom blight management. The first spray should be applied prior to the first rain event, predicted to occur on Saturday, May 23. (Although, note that there is a chance of rain even today, Friday, May 22, and EIPs are in the 90s on the Ridge. Your first application may need to be today on high-risk cultivars.
With warm temperatures and further rainfall expected, the second spray should be applied within two days of the first; a late afternoon, early evening application on Sunday or Monday would be optimal. It is best to apply Kasumin or streptomycin in the evening versus the next morning because you are reducing pathogen populations before their overnight growth spurt. Note: Spray intervals should be tightened if you still have unopened flowers when you spray on Saturday.
Ensure optimal coverage during these sprays; remember that every flower is a potential site for infection.
The antibiotics of choice for this week are Kasumin in areas where we have streptomycin resistance and streptomycin in areas with no resistance. Please see my accompanying MSU Extension article, "A primer for Streptomycin, Kasumin and Oxytetracycline use for fire blight management," with details on antibiotic use for blossom blight management.
Be sure to use the fire blight model on the MSU Enviroweather site to see what the EIP values are as predicted from the weather station closest to your orchard. The current predicted MaryBlyt EIP values for later this week are very high in most regions, and over 300. These numbers change every day, as predicted high temperatures change. They have increased for most stations from yesterday. This indicates the risk of blossom blight infection will be at a critical point later this week. Any rain that occurs during this period (as little as 0.01 inch of rain) will trigger a fire blight infection event.