George Sundin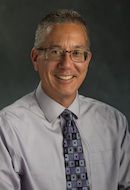 Department of Plant, Soil and Microbial Sciences
Professor
Telephone: 517-355-4573

Center for Integrated Plant Systems
578 Wilson, Room 103
East Lansing, MI 48824
Area of Expertise:
Plant bacteriology; host pathogen interactions; fruit tree disease management; bacterial plasmid biology; microbial evolution.
---
Degree:
B.S. Penn State University
M.S. Michigan State University
Ph.D. Oklahoma State University
Postdoc University of Illinois-Chicago
---
Research:
My current research centers on the Erwinia amylovora fire blight pathosystem with projects ranging from basic studies of pathogen-host interactions to developing improved chemical and biological approaches for fire blight management. We are currently working on the regulation of the major pathogenicity determinants type III secretion and amylovoran exopolysaccharide by regulatory small RNAs and cyclic di-GMP. We have recently shown the importance of biofilm formation to E. amylovora pathogenesis, invasion of xylem, and systemic spread of the pathogen within trees. We also study E. amylovora plasmids, streptomycin resistance, and are developing and evaluating strategies to increase the potential for biological control of fire blight in the midwest and eastern United States.
My work with fungal tree fruit pathogens in Michigan focuses on detecting, tracking, and understanding the evolution of fungicide resistance in organisms such as Venturia inaequalis (apple scab), Blumeriella jaapii (cherry leaf spot), and Monilinia fructicola (American brown rot). We have worked on resistance to sterol demethylation inhibitors, strobilurins, and succinate dehydrogenase inhibitor classes of fungicides.
Extension:
I have Extension responsibilities in tree fruit disease control. My research includes field and lab studies covering management of fire blight and apple scab of apple, cherry leaf spot, American and European brown rot, and bacterial canker of sweet and tart cherry, and bacterial spot of peach, nectarine, and plum. We also actively work on fungicide resistance in apple and cherry pathogens, and the evaluation of new bactericides and fungicides for disease management in apple, cherry (sweet and tart cherry), and peach. The goals of my Extension program are to provide timely information and recommendations on management of tree fruit diseases to growers in Michigan and in other fruit-growing regions. Extension updates on disease issues are published on the MSUE News website and through presentations at various grower meetings. Disease control recommendations are updated yearly in the MSU Fruit Management Guide. Fruit tree disease management video resources are also available from the Sundin lab.
Courses Taught:
PLP 884: Plant bacteriology.
Publications:
Erwinia amylovora and fire blight
Edmunds, A.C., L.F. Castiblanco, G.W. Sundin, and C.M. Waters. 2013. Cyclic di-GMP modulates the disease progression of Erwinia amylovora. Journal of Bacteriology 195:2155-2165.
Zeng, Q., R.R. McNally, and G.W. Sundin. 2013. Global RNA chaperone Hfq and regulatory small RNAs control virulence in the fire blight pathogen Erwinia amylovora. Journal of Bacteriology 195:1706-1717.
Vogt, I., T. Wöhner, K. Richter, H. Flachowsky, G.W. Sundin, A. Wensing, E.A. Savory, K. Geider, B. Day, M.-V. Hanke, and A. Peil. 2013. Gene-for-gene relationship in the host-pathogen system Malus x robusta 5 – Erwinia amylovora. New Phytologist 197:1262-1275.
Malnoy, M., S. Martens, J.L. Norelli, M.-A. Barny, G.W. Sundin, T.H.M. Smits, and B. Duffy. 2012. Fire blight: applied genomic insights of the pathogen and host. Annual Review of Phytopathology 50:475-494.
McGhee, G.M., and Sundin, G.W. 2012. Erwinia amylovora CRISPR elements provide new tools for evaluating strain diversity and for microbial source tracking. PLoS ONE 7:e41706.
Wang, D., M. Qi, B. Calla, S.S. Korban, S. Clough, P.J.A. Cock, G.W. Sundin, I.K. Toth, and Y. Zhao. 2012. Genome-wide identification of genes regulated by the Rcs phosphorelay system in Erwinia amylovora. Molecular Plant-Microbe Interactions 25:6-17.
McNally, R.R., I.K. Toth, P.J.A. Cock, L.Pritchard, P.E. Hedley, J.A. Morris, Y. Zhao, and G.W. Sundin. 2012. Genetic characterization of the HrpL regulon of the fire blight pathogen Erwinia amylovora reveals novel virulence factors. Molecular Plant Pathology 13:160-173.
Koczan, J.M., B.R. Lenneman, M.J. McGrath, and G.W. Sundin. 2011. Cell surface attachment structures contibute to biofilm formation and xylem colonization by Erwinia amylovora. Applied and Environmental Microbiology 77:7031-7039.
McGhee, G.C., J. Guasco, L.M. Bellomo, S.E. Blumer-Schuette, W.W. Shane, A. Irish-Brown, and G.W. Sundin. 2011. Genetic analysis of streptomycin-resistant (SmR) strains of Erwinia amylovora suggests that dissemination of two genotypes is responsible for the current distribution of SmR E. amylovora in Michigan. Phytopathology 101:182-191.
McGhee, G.C., and G.W. Sundin. 2011. Evaluation of kasugamycin for fire blight management, effect on nontarget bacteria, and assessment of kasugamycin resistance potential in Erwinia amylovora. Phytopathology 101:192-204.
Fungicide resistance:
Proffer, T.J., E.M. Lizotte, N.L. Rothwell, and G.W. Sundin. 2013. Evaluation of dodine, fluopyram, and penthiopyrad for the management of leaf spot and powdery mildew of tart cherry, and fungicide sensitivity screening of Michigan populations of Blumeriella jaapii. Pest Management Science 69:747-754.
Chapman, K.S., G.W. Sundin, and J.L. Beckerman. 2011. Identification of resistance to multiple fungicides in field populations of Venturia inaequalis. Plant Disease 95:921-926.
Lesniak, K.E., T.J. Proffer, J.L. Beckerman, and G.W. Sundin. 2011. Occurrence of QoI resistance and detection of the G143A mutation in Michigan populations of Venturia inaequalis. Plant Disease 95:927-934.