Low cost spray program for tart cherry diseases
Some orchards have a smaller crop of tart cherries. Here are recommendations for low cost spray programs for cherry leaf spot.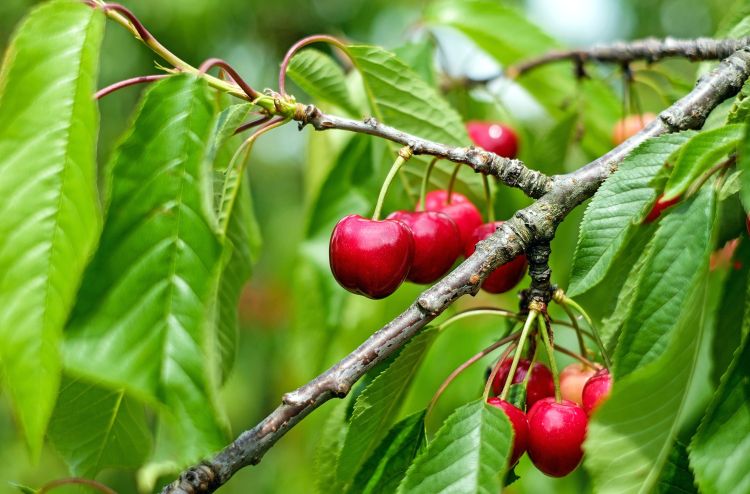 Some growers have been inquiring about reducing input costs for tart cherries, and this article is intended to be used as a guide to help with season-long decision-making. The following guidelines were generated from price sheet averages from CHS, Nutrien Ag Solutions and Wilbur Ellis Company. First, thank you so much to our local representatives for providing this information. Secondly, please note that the chemical costs and average costs will likely differ, and costs will vary depending on size of purchase and other factors. We have tried to generate prices as "middle of the road" in terms of purchase sizes and related cost. .
Additionally, some costs may be higher or lower than an individual grower's chemical supplier costs, and these costs should be used a rule of thumb rather than hard numbers. Lastly, some of the following costs may be simply off as a result of miscalculations/data-generated price sheet mistake, etc. Once detected, we will correct errors as soon as possible.
You will still need to manage diseases this season, and cherry leaf spot control is particularly important. Trees that defoliate prematurely as a result of cherry leaf spot infections cannot build up proper reserves for overwintering and are more likely to die as a result of extreme cold temperatures this coming winter. Recent cherry leaf spot efficacy data generated from trials conducted at the Northwest Michigan Horticulture Research Center (NWMHRC) show that we have many effective control options for cherry leaf spot (Table 1), and many of these materials are competitively priced.
Table 1. 2018 efficacy results for cherry leaf spot trials conducted at NWMHRC.

Treatment and product per acre

Timing

% Infection

% Defoliation

July 20

Aug. 30

July 20

Aug. 30

7-Bravo Weather-Stik 4 pt + R-11 0.125%

A-F

21.9 b-h

88.4 abc

2.9 c-h

62.0 c-f

15-Bravo Weather-Stik 4 pt

Flint Extra 3.8 fl oz

AB

CDFF

7.4 hi

61.7 de

0.6 gh

33.3 g-j

16-Bravo Weather-Stik 4 pt

Nu-Crop XLR 10 pt

AB

CDFF

34.3 abc

17.3 g

4.0 c-g

29.3 hij

17-Bravo Weather-Stik 4 pt

Kocide 3000 3.5 lb

AB

CDFF

25.0 b-f

10.6 g

1.2 fgh

18.6 ijk

18-Ziram 4 lb

A-F

12.0 e-i

55.5 ef

2.5 d-h

26.0 hij

19-Bravo Weather-Stik 4 pt

Ziram4 lb

AB

CDFF

7.5 hi

31.2 fg

1.2 fgh

12.4 jk

21-Bravo Weather–Stik 4 pt

Captan 80WDG 2.5 lb

AB

CDFF

5.4 i

14.4 g

0.7 gh

13.3 ijk

24-Untreated control

38.4 ab

100.0 a

19.5 ab

91.1 ab

54.8 a
As in past seasons, two early chlorothalonil applications (petal fall and shuck split) are good options to start cherry leaf spot programs; they are both effective and relatively economical (about $19 per acre). Note that season-long Kocide, Ziram and Captan—all applied alone—are good options for cherry leaf spot control (Table 1). Captan alone, season-long provided excellent control, and in 2018, this treatment had only 13% defoliation in mid-August (about $8 per acre). If you are concerned about infection periods where you may have missed a spray this spring, Syllit plus captan is an excellent tank mix (about $22 per acre). Kocide is an excellent option for second or third cover ($21 per acre). The following table is a breakdown of costs for materials that are rated excellent for cherry leaf spot (Table 2).
Table 2. Products rated excellent for cherry leaf spot control and estimated associated costs per acre.

Product name

Rate

Cost/acre

Rating

Bravo WeatherStik

3.125 pt

$19

e

Captan

2.5 lb

$8.15

e

Kocide

3.5 lb

$21

e

Ziram

4 lb

$14

e

Syllit

24 oz

$13.44

e
For powdery mildew control, timing is the key to success. Past research has shown that early applications to control mildew will reduce the infection potential for the remainder of the season. Apply an effective material at or prior to first cover timing and this single application should provide adequate powdery mildew control for the season. Sterol inhibitors and strobulurins are good options for mildew control. SDHI fungicides, Luna and Merivon are the most effective fungicides against mildew, but these options are more costly compared with the other two classes of fungicides. Keep in mind that Captan and copper, two excellent cherry leaf spot materials, will not control powdery mildew.