Low spray programs for tart cherry
Information on disease, insect and horticultural management strategies to help reduce input costs in tart cherries.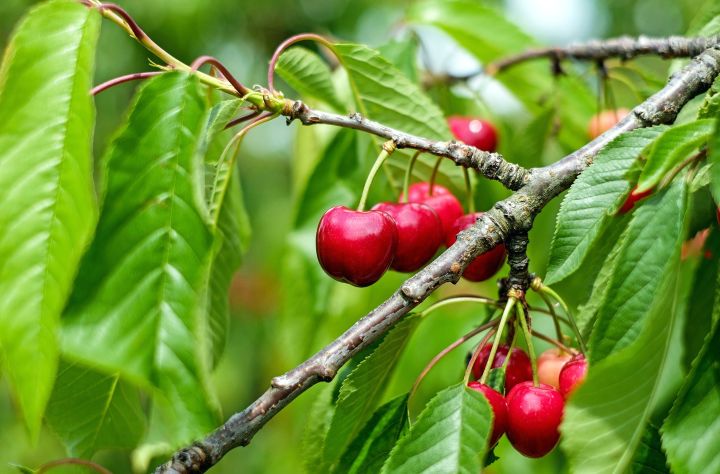 Some growers have been inquiring about reducing input costs for tart cherries, and this article is intended to be used a guide to help with season-long decision-making. The following guidelines were generated from price sheet averages from CHS, Nutrien Ag Solutions and Wilbur Ellis Company. First, thank you so much to our local representatives for providing this information. Secondly, please note that the chemical costs and average costs will likely differ, and costs will vary depending on size of purchase and other factors. We have tried to generate prices as "middle of the road" in terms of purchase sizes and related cost. Additionally, some costs may be higher or lower than an individual grower's chemical supplier costs, and these costs should be used a rule of thumb rather than hard numbers. Lastly, some of the following costs may be simply off as a result of miscalculations/data-generated price sheet mistake, etc. Once detected, we will correct errors as soon as possible.
To begin, continue fertilizing trees in 2019. The rate of nitrogen (N) that is applied to an orchard this season will impact tree growth and production in 2020. If you reduce or eliminate nitrogen this season, it will affect future growth and production. Additionally, much of the nitrogen need for 2019 is already in storage in the trees. Our recommendation is to not reduce the nitrogen rates below 75 pounds nitrogen per acre, and we prefer the rates to be closer to 100 pounds nitrogen per acre. You will get the most benefit from nitrogen by applying it later into the season. Trees will not take up nitrogen until the leaves are out and the tree is actively growing. Early ground-applied fertilizer applications are more likely to move through the soil before the trees can take up the nutrients. June 1 is a good target date for ground-applied fertilizer applications.
There also may be a cost savings for urea compared with other nitrogen fertilizer forms. Urea is 46% nitrogen while calcium nitrate is about 15% nitrogen and ammonium nitrate is 28-33% nitrogen. Growers are often hesitant to apply urea because it is more easily volatilized, but even with volatilization, urea is not likely to volatilize from 46% nitrogen down to 15% nitrogen (the amount of nitrogen in calcium nitrate). You could perhaps save on custom blending of fertilizers unless an orchard is in need of potassium.
You will need to manage diseases this season, and cherry leaf spot control is particularly important. Trees that defoliate prematurely as a result of cherry leaf spot infections cannot build up proper reserves for overwintering and are more likely to die as a result of extreme cold temperatures this coming winter. Recent cherry leaf spot efficacy data generated from trials conducted at the Northwest Michigan Horticulture Research Center (NWMHRC) show that we have many effective control options for cherry leaf spot (Table 1), and many of these materials are competitively priced.
Table 1. 2018 efficacy results for cherry leaf spot trials conducted at NWMHRC.

Treatment and product per acre

Timing

% Infection

% Defoliation

July 20

Aug. 30

July 20

Aug. 30

7-Bravo Weather-Stik 4 pt + R-11 0.125%

A-F

21.9 b-h

88.4 abc

2.9 c-h

62.0 c-f

8-Bravo Weather-Stik 4 pt

Luna Sensation 6 fl oz + R-11 0.125% + Captain 80WDG 2.5 lb

Syllit 24 fl oz

AB

CF

DE

12.1 d-i

20.9 g

0.3 h

5.4 k

11-Bravo Weather-Stik 4 pt

Merivon 5.5 fl oz + Sylgard 0.03%

AB

CDFF

14.3 d-i

56.1 ef

1.9 fgh

26.7 hij

12-Bravo Weather-Stik 4 pt Luna Sensation 5 fl oz + R-11 0.125%

AB

CDFF

21.5 b-h

84.4 bcd

2.9 c-h

45.6 e-h

15-Bravo Weather-Stik 4 pt

Flint Extra 3.8 fl oz

AB

CDFF

7.4 hi

61.7 de

0.6 gh

33.3 g-j

16-Bravo Weather-Stik 4 pt

Nu-Crop XLR 10 pt

AB

CDFF

34.3 abc

17.3 g

4.0 c-g

29.3 hij

17-Bravo Weather-Stik 4 pt

Kocide 3000 3.5 lb

AB

CDFF

25.0 b-f

10.6 g

1.2 fgh

18.6 ijk

18-Ziram 4 lb

A-F

12.0 e-i

55.5 ef

2.5 d-h

26.0 hij

19-Bravo Weather-Stik 4 pt

Ziram4 lb

AB

CDFF

7.5 hi

31.2 fg

1.2 fgh

12.4 jk

21-Bravo Weather–Stik 4 pt

Captan 80WDG 2.5 lb

AB

CDFF

5.4 i

14.4 g

0.7 gh

13.3 ijk

24-Untreated control

38.4 ab

100.0 a

19.5 ab

91.1 ab

54.8 a
As in past seasons, two early chlorothalonil applications (petal fall and shuck split) are good options to start cherry leaf spot programs; they are both effective and relatively economical (about $19 per acre). Note that season-long Kocide, Ziram and Captan—all applied alone—are good options for cherry leaf spot control (Table 1). Captan alone, season-long provided excellent control, and in 2018, this treatment had only 13% defoliation in mid-August (about $8 per acre). If you are concerned about infection periods where you may have missed a spray this spring, Syllit plus captan is an excellent tank mix (about $22 per acre). Kocide is an excellent option for second or third cover ($21per acre). The following table is a breakdown of costs for materials that are rated excellent for cherry leaf spot (Table 2).
Table 2. Products rated excellent for cherry leaf spot control and estimated associated costs per acre.

Product name

Rate

Cost/acre

Rating

Bravo WeatherStik

3.125 pt

$19

e

Captan

2.5 lb

$8.15

e

Kocide

3.5 lb

$21

e

Ziram

4 lb

$14

e

Syllit

24 oz

$13.44

e
For powdery mildew control, timing is the key to success. Past research has shown that early applications to control mildew will reduce the infection potential for the remainder of the season. Apply an effective material at or prior to first cover timing and this single application should provide adequate powdery mildew control for the season. Sterol inhibitors and strobulurins are good options for mildew control. SDHI fungicides, Luna and Merivon are also effective against mildew, but these options are more costly compared with the other two classes of fungicides. Keep in mind that Captan and copper, two excellent cherry leaf spot materials, will not control powdery mildew.
For entomological considerations, the less fruit there are on the tree, the better. However, if growers try to remove fruit (see article on fruit removal and crop insurance), almost all of the fruit needs to be removed to effectively reduce insect pest pressure; even if the crop load is reduce by half, insects can easily reproduce in the 50% of the remaining crop.
Plum curculio is an insect that typically moves into the orchard around shuck split, and fruit is susceptible as soon as the fruit is visible from the shuck. Plum curculio is also particularly active with successive warm evenings (about 60 degrees Fahrenheit). With the recent cold temperatures, be sure to target plum curculio applications if the conditions warm, particularly around shuck split. Plum curculio is typically active until mid-June, and fruit will need to be protected through this time period. However, with cold start to spring, plum curculio will likely be active for longer into the season. Or conversely, if it warms, the flush of plum curculio may be larger than the gradual plum curculio migration back into the orchard.
Be aware of this pest this season, as the weather is likely impacting its activity in the orchard. Pyrethroids will provide good control and are less expensive than some other options for plum curculio control. Pyrethroid applications will also be good later in the season (second to third week of June) as those sprays will target early spotted wing Drosophila (SWD) flies that will move into cherry orchards; many pyrethroids are labeled excellent against SWD. A general price overview is listed in Table 3 for products rated excellent against plum curculio.
Table 3. Products labeled excellent for plum curculio control and associated estimated costs per acre.

Product name

Rate

Cost/acre

Rating

Assail

8 oz

$38

e

Imidan

2.125 lb

$22

e

Avaunt

6 oz

$35

e

Actara

8 oz

$17

e

Endigo

6 oz

$10

e

Cormoran

20 oz

$47

e

Verdepryn*

8.2 oz

Label expected 2019

e
Cherry fruit fly was a key pest of cherry for many years; however, more recently, cherry fruit fly populations seem to be lower, likely a result of spotted wing Drosophila management strategies. Cherry fruit fly must be controlled in the eight-to-10-day pre-oviposition period. Cherry fruit fly become active after a good rain event, typically in late June and early July. We do recommend trapping for cherry fruit fly as these populations vary across the region. Please see Table 4 for more information on products that are effective for cherry fruit fly. Note that Admire Pro is inexpensive and rated excellent against cherry fruit fly, but this material is not effective for spotted wing Drosophila, a pest that emerges at a similar timing to cherry fruit fly.
Table 4. Products labeled excellent for cherry leaf spot and associated estimated costs per acre.

Product Name

Rate

Cost/acre

Rating

Exirel

10 oz

$35

e

Actara

4.5 oz

$15.15

e

Assail

6 oz

$28.50

e

Admire Pro

2.8 oz

$4

e

Besiege

9 oz

$13.80

e
Lastly, spotted wing Drosophila (SWD) is a pest that is difficult to control, even in the best of years. Populations can build quickly and leaving orchards unsprayed/minimally sprayed could increase pressure/build populations in adjacent blocks. We recommend SWD spray programs begin when the regional trap count starts to rise. Do not begin SWD spray programs based on the first SWD catch in the region. Imidan is the best product to use when the regional trap counts begin to rise, typically around the fourth week of June into the first of July. Oregon data suggests using the best products early to keep SWD populations as low as possible for as long as possible.
Additionally, Imidan is rated excellent for both SWD and plum curculio and is likely a good overlap material. We will keep growers abreast of SWD trap counts as the slow start to spring may delay the population growth of this pest. Table 5 provides an overview of products that are rated excellent against SWD and their associated costs.
Table 5. Products labeled excellent for cherry leaf spot and associated estimated costs per acre.

Product name

Rate

Cost/acre

Rating

Exirel

13.5 oz

$47.40

e

Imidan

2.125 lb

$22

e

Cormoran

20 oz

$47

e

Danitol

21.3 oz

$27.50

e

Entrust

6 oz

$83.44

e

Warrior

2.56 oz

$6.60*

e

Mustang Maxx

4 oz

$3.60

e

Verdepryn

8.2 oz

Label expected 2019

e
Again, these guidelines are intended to provide you with information to help with management decisions with the goal to reduce input costs. Do not hesitate to contact us at rothwel3@msu.edu or pochubay@msu.edu to further discuss management options.
---