Fire destroys feed barn at MSU Dairy Cattle Center
A fire broke out in a feed barn at the Michigan State University Dairy Cattle Teaching and Research Center.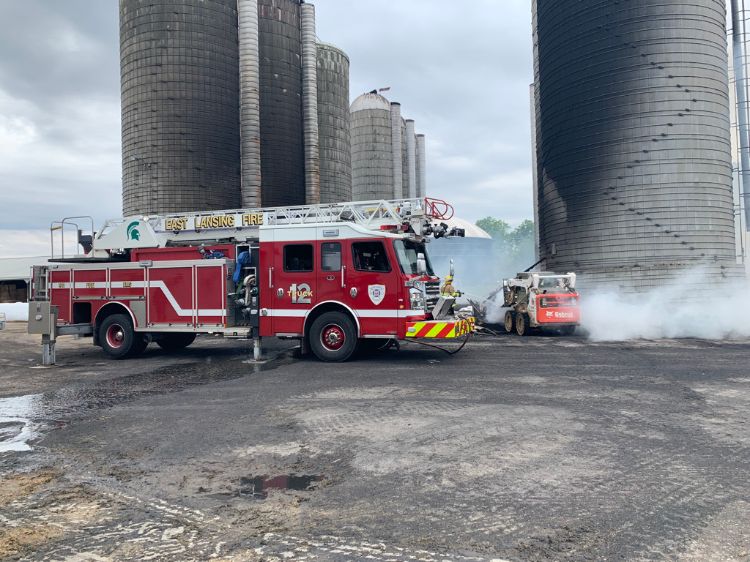 LANSING, Mich – A fire broke out in a feed barn at the Michigan State University Dairy Cattle Teaching and Research Center at 4075 N. College Road on South Campus. At approximately 7:45 p.m., Saturday, May 15, 2021, a student employee called 911 and East Lansing Fire Department responded.
Anne Tunison, an animal science major in her fourth year, was in the barn feeding calves when she smelled smoke and noted flames coming out from under the feed barn, situated between 12 silos. The feed barn was fully engulfed. After calling 911, Tunison began moving livestock out of the area.
No people or livestock were injured. No current research was hampered. Milking continued according to schedule. The feed barn was destroyed in the fire.
According to MSU Police, College Road and a portion of Bennett and Hagadorn roads were closed. Several fire agencies responded to the call, including tankers to assist in water delivery as hydrants in the area are limited. Incident command was set up on the south side of the silos, and a media staging area established at the intersections of Pavilion and Forest roads. MSU Police Capt. Chris Rozman responded and handled media inquiries and interviews.
"I am very grateful that no people or livestock were injured," said Ron Hendrick, dean of the College of Agriculture and Natural Resources. "Thanks to our quick-thinking and calm students and staff, the losses are not greater."
Three of the 12 silos contained feed at the time of the fire, two of the three were nearly empty. Firefighters used a ladder and bucket to breach an access point on two of the silos, monitored heat and temperature and wet the contents of the silo from the access point. The East Lansing Fire Department consulted with silo experts in Pennsylvania.
East Lansing Fire Department has responded twice since the initial 911 call and continues to be on alert to monitor and put small fires out as they smolder. Farm staff are working with MSU Police and Public Safety to cordon off the area while the silos are assessed for structural damage.
"Our farm managers are already collaborating on where to store feed for the dairy, and working on ensuring that scheduled research is not impacted," said Faith Cullens, director of the South Campus Animal Farms. "This event could have seen a much bigger impact, our people did the right thing, and for that I am extremely grateful."
---