Farm Manager
Faculty Coordinator
Location
5252 E. Jolly Road
Lansing, MI 48910517-355-0360
The Poultry Teaching and Research Center is located on the south side of Jolly Rd between College Rd and Hagadorn Rd.
Visitor Information
At this time, our farm is closed to visitors except for egg customers.
About the Center
Mission
The Poultry Teaching and Research Center's Mission is two-fold. First to provide facilities and resources for the education of animal science students interested in Poultry Science as a career and second to conduct basic and applied research that will benefit the poultry producers of the State of Michigan.
Facility Description
The poultry Research Farm consists of a service building, 11 pole barn type buildings, two storage sheds and several outdoor pens. The service building contains office space, shower and restroom facilities, egg storage cooler, a tool room and garage.
Animal Inventory and Production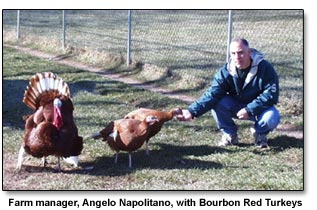 The poultry research facility differs from other farms in the Department of Animal Science in that it is not run as a production oriented facility. The number of animals on hand at any given time is determined by the research projects going on at that time. In addition, the majority of projects are started in the springtime to minimize the cost of keeping young birds warm. With the exception of the exhibition birds and quail, we do not produce our own replacement birds; all birds for research trials are purchased from commercial sources.
Birds are typically raised to meet the following production parameters:
Broiler-type research projects: Birds are raised to between 6 and 7 weeks of age and weigh 4.5 to 5 pounds live weight.
Turkey research projects: Birds are raised to about 18 weeks of age or to about 37-38 pounds live weight.
Laying-hen research projects: Hens start laying eggs at approximately 20 weeks of age and are kept in production for approximately 52 weeks. An average hen will lay about 290 eggs in those 52 weeks.
Feed and Nutrition
Most of the feed for birds on the farm is purchased from commercial sources. Special diets are mixed at the feed mill located at the swine facilities.
Fertile Eggs
Please contact the farm manager for more details and place hatching egg orders at least one week in advance.