Five easy steps to becoming a Breakfast on the Farm host
If you are considering hosting a Breakfast on the Farm event on your farm, Michigan State University Extension is here with guidance and support.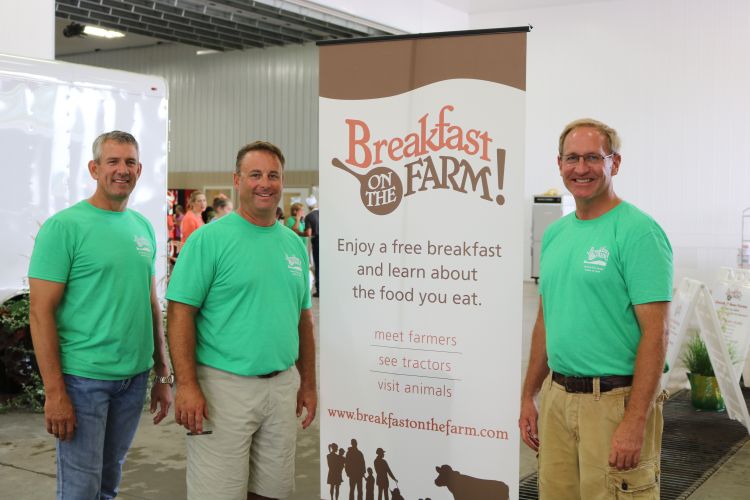 Breakfast on the Farm (BOTF) began in 2009 with a single event in Clinton County. To our surprise, it attracted roughly 1,500 visitors. Seven years later in 2016, at the conclusion of the 34th and 35th events, the program has reached over 80,000 adult and youth attendees. The overall goal of the program is to educate the general public about modern agriculture. The breakfast and self-guided farm tours are designed to show the public how farmers care for the environment and their animals and how they produce safe and nutritious food for Michigan and beyond.
Any farmers with a desire to open their doors to the public are encouraged to apply to be hosts. The application process is a simple and can be completed in the five steps outlined below:
Visit www.breakfastonthefarm.com and download an application. No computer? Simply call Ashley Kuschel at 586-469-7616 or Mary Dunckel at 989-354-9875 for an application.
Complete the application and give it to a local MSU Extension educator who will sign in support of the application.
The application will be reviewed by the program's statewide advisory council, which is made up of former farm hosts and representatives from Michigan commodity groups.
BOTF program staff will contact the farm, answer any questions and arrange for an initial visit.
Farms will be notified when selected, and hosts will work with MSU Extension staff to select event dates.
The application process is quite simple, and the support doesn't stop there. Following selection, host farms will receive guidance every step of the way from MSU Extension staff and a local planning committee that will be formed to provide assistance.
Farmers have incredible stories to tell, and Breakfast on the Farm is a great avenue to reach the non-farm public. The program is made possible through generous support of local and statewide sponsors. For more information about becoming a host, contact Ashley Kuschel, BOTF coordinator at 586-469-7616 or at kuschela@anr.msu.edu or Mary Dunckel, MSU Extension agriculture literacy educator, at 989-354-9875 or at dunckelm@anr.msu.edu.