MSU student explores opportunities in science and the arts
Rachel Drobnak combines her interests by studying crop and soil sciences and playing the carillon in Beaumont Tower.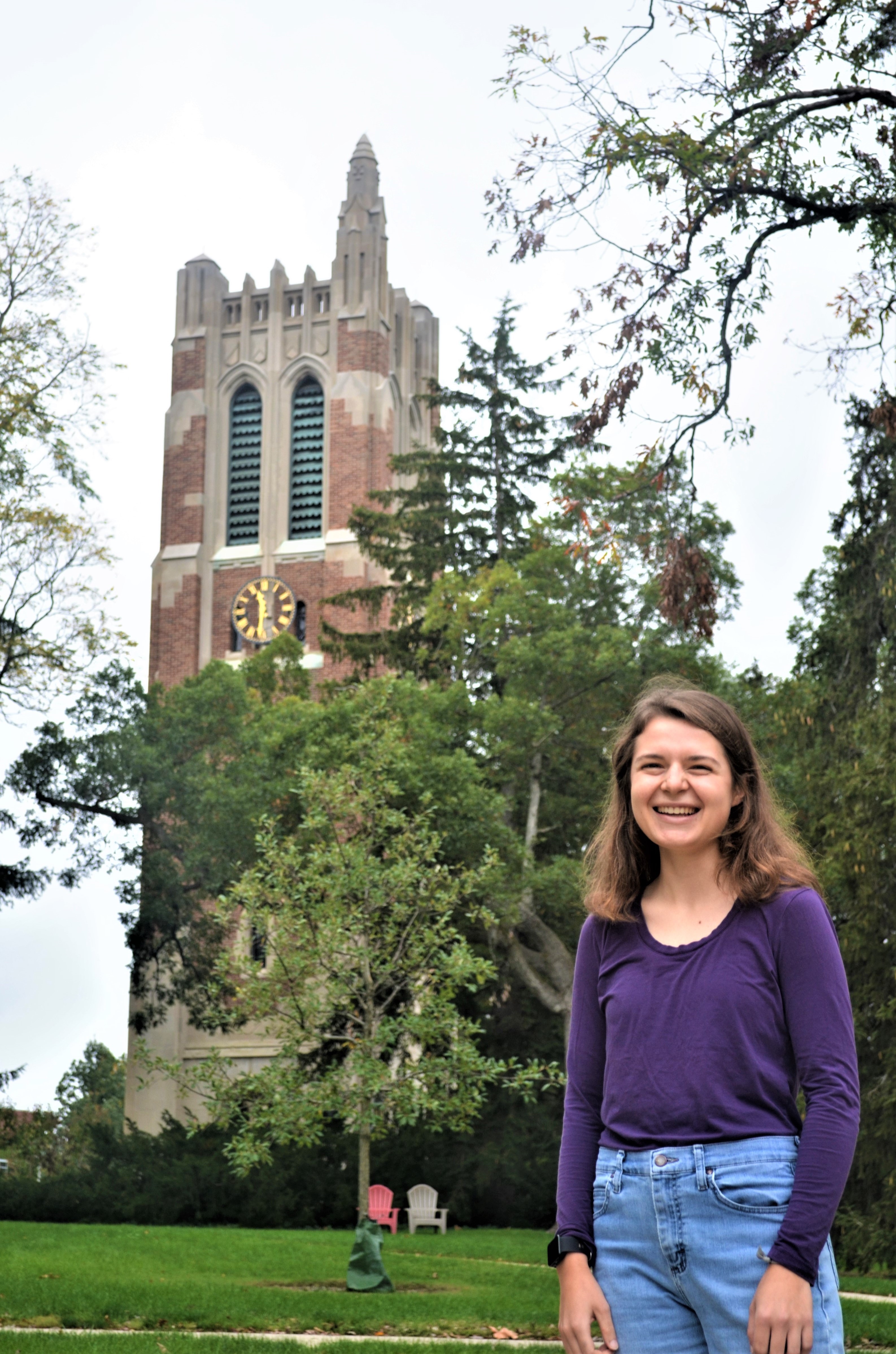 Since 1928, the sounds of the Beaumont Tower bells have welcomed students, faculty, staff, alumni and visitors to Michigan State University. For MSU undergraduate Rachel Drobnak, the tower is also a place where she gets to play music and uniquely experience what it means to be a Spartan.
Collectively the bells are known as a carillon and consist of at least two octaves of bells played from a keyboard and with foot pedals. The MSU carillon contains 49 bells.
Drobnak, who is studying crop and soil sciences, started taking carillon lessons on campus with faculty member Ray McLellan as a way to stay involved in music while a student at MSU. (In addition to his School of Music teaching duties, McLellan was appointed the University Carillonneur in 1997; he passed away in 2021.)
"The instrument itself is similar to an organ," Drobnak said. "It's a fun challenge for me both learning to use my feet and my hands, but also to play a really public instrument in a really public space."
For someone with lots of different interests, Drobnak said MSU has enabled her to combine her love of music and the arts with her STEM-based academic studies.
"Playing the bells is a fun thing. It uses a different part of my brain. It makes me take time away from studying because I can overwork myself super easily," she said. "Keeping up with music has just been necessary for my mental health."
Finding a place to grow
Originally from Cleveland, Ohio, Drobnak thought she'd stay in state for college, but applied on a whim after attending an engineering summer camp at MSU during high school.
"I found Michigan State as a school to be really inviting. The campus is beautiful. I felt like I was really wanted here, and I could do a lot here," she said. "I also love the culture at Michigan State. I really appreciate that they care about collaboration and support. I think that cultivates really great community, and that's important."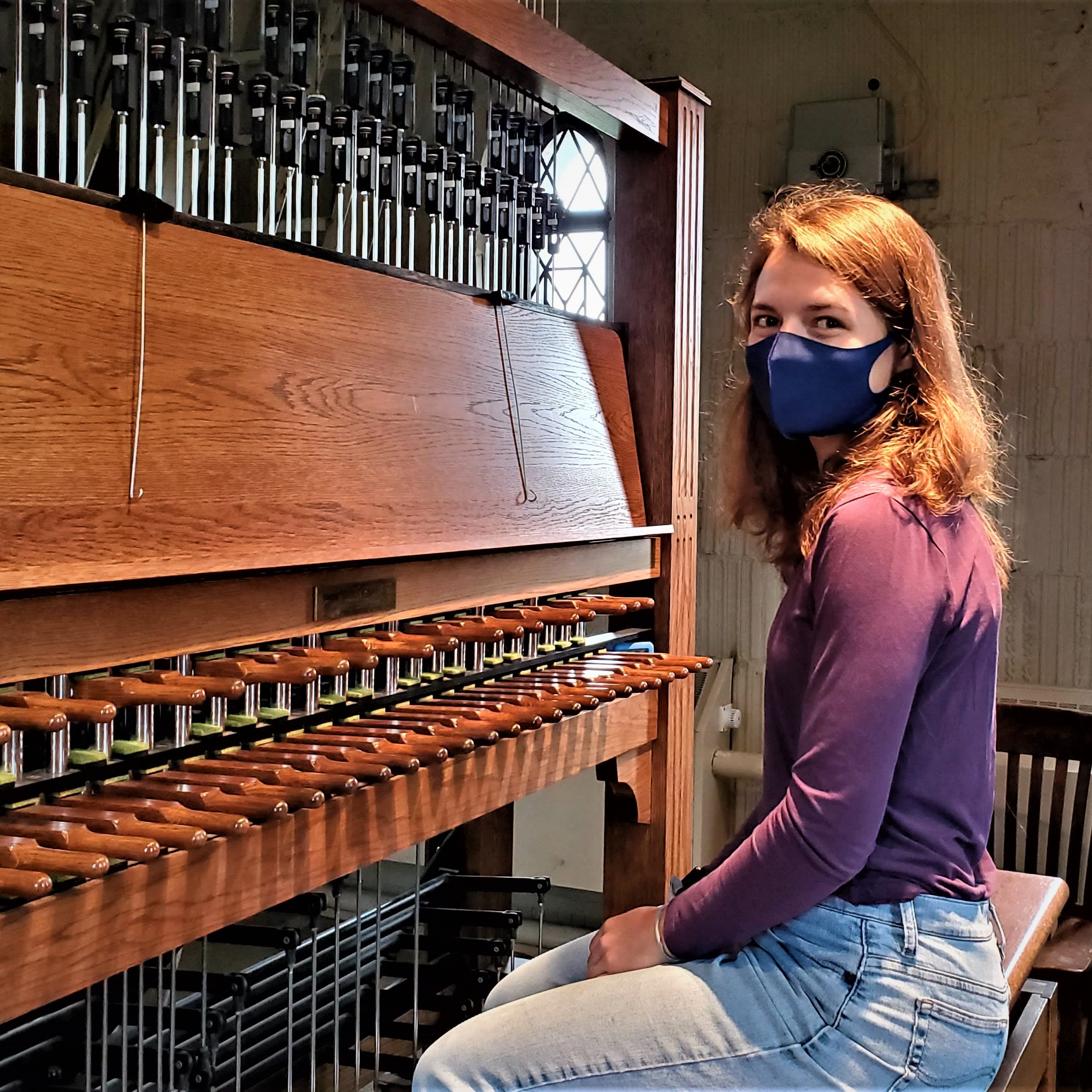 The different academic and extracurricular opportunities at MSU are some of the best things about being a student, Drobnak said, but the range of choices also make it challenging to decide what to be a part of.
"I always wanted to come to a large university because they have good support for literally anything," she said. "I also like the fact that I can take classes or research basically anything, or there's so many clubs that I can be involved in. The opportunities are really endless."
Interested in the Honors College and a residential learning community, Drobnak became a part of both at MSU.
Through the Honors College, Drobnak also had a professorial assistantship with Dr. Krista Isaacs, assistant professor in the Department of Plant, Soil and Microbial Sciences (PSM) helping with seed systems research, including work on consumer demand for the grain quinoa and the effects on the food commodity chain.
"I love the Honors College. I have found that it's not a competitive place. It's not a rigorous place where you're trying to be the best student, but they have such a great community of motivated people that I just connect with so deeply," she said. "They care about impacting communities and improving the world."
During her first year, Drobnak was also a part of the living-learning program, the Residential Initiative on the Study of the Environment (RISE). This enabled her to live in a community with peers in Bailey Hall and explore her environmental interests while meeting new people. RISE, supported by seven MSU colleges, is an interdisciplinary program focused on sustainability and environmental stewardship.
Scholarships also helped Drobnak in her decision to attend MSU. She sought out scholarships from the university, the College of Agriculture and Natural Resources (CANR) and PSM in crop and soil sciences, and she has continued applying while a current student. Recently, she received the Arlon E. and Shirley A. Elser Endowed Scholarship through CANR for $2,000.
"I view scholarships as an investment towards me and my future impact," she said. "They really motivate me to continue doing things that I enjoy in school, to continue learning and be very serious about what I'm trying to do with my life."
Exploring food sustainability
Coming from a family of engineers, Drobnak wasn't sure that was the path for her. She started her first year as an exploratory major in the CANR.
In talking with academic advisor Susan Gruber, Drobnak realized she was interested in food, gardening and the science behind them. Crop and soil sciences sounded like a way to combine those interests with a scientific approach.
"There are so many food system issues, and there needs to be more young people interested in these issues, producing food, making our food systems more equitable, bringing in diverse perspectives," Drobnak said. "Agriculture is something I'm really interested in because I get to study how to make food more sustainable for people and how to bridge gaps between consumers and producers, and I really like that."
She has been exploring the area of agroecology by working with the Snapp Lab on campus led by PSM Professor Sieglinde Snapp. Agroecology ties together farming and food systems inspired by natural ecosystems and applies local and scientific knowledge with ecological and social approaches to agricultural systems.
"In agriculture, I really love studying plants. I love to know how plants grow and how they function, but I also really like working with people," Drobnak said. "Agroecology is a very integrated and interdisciplinary approach to agriculture taking the ecology aspect of working in a natural system, but also the social aspect of it being a human-designed process of producing food and combining the cultural and economic aspects."
Making a difference
Drobnak, though, is quick to say she doesn't have everything figured out.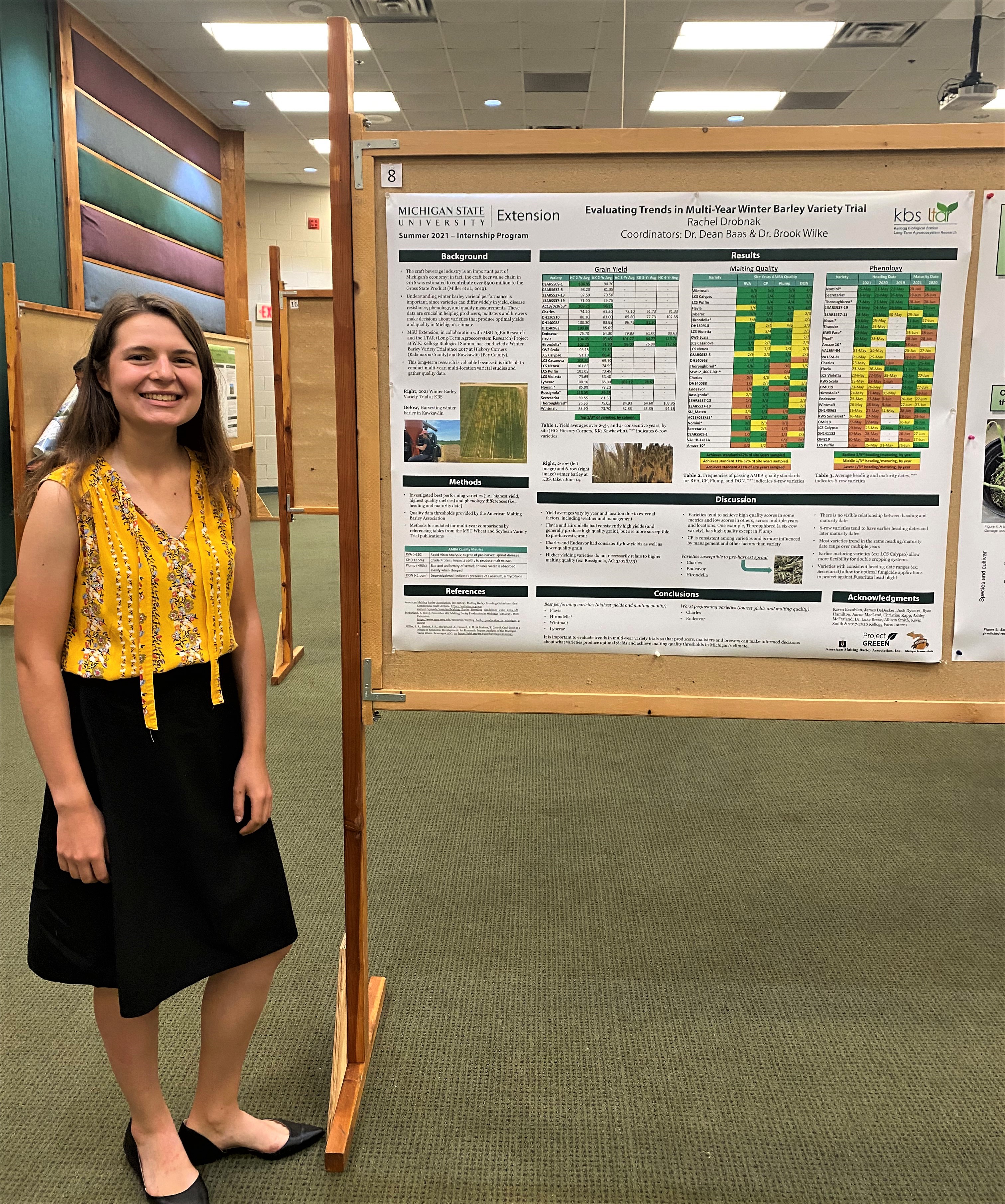 "I have to remind myself I haven't been in my major or involved with the agricultural industry for very long, so it's fine that I don't know exactly where I want to end up," she said. "For me, I'm interested in food and sustainability. How do we create an earth, a world where we can all be fed and also not destroy our planet? That's really motivating for me."
During the summer 2021, Drobnak was an MSU Extension sustainable agriculture intern at the Kellogg Biological Station (KBS) in Hickory Corners, Michigan. There she saw firsthand how Extension educators connect farmers, producers and consumers with resources and knowledge.
"I spent the summer working with Brook Wilke [associate director for science and agronomy at KBS] and Dean Baas [sustainable agriculture educator through MSU Extension] learning about small grains, so barley, rye and wheat," she said. "I also learned about how Extension works, how on-farm research works and what the university does to support farmers. It's really cool."
At the root of it, Drobnak wants to be a part of a community that makes a difference, whether that's through finding real-world solutions to food sustainability or playing the bells for people walking by Beaumont Tower to hear.
"I made a lot of connections through Beaumont Tower, and it really does connect me to Michigan State. This is something that really ties me to my school and makes me feel like I really belong here," she said. "Being a Spartan to me means having community. When I'm a Spartan, it's when I'm in community with other people in classes, outside of classes and even in the bell tower."