CANR Alumni Association announces 2021 scholarship recipients
The College of Agriculture and Natural Resources Alumni Association awards scholarships to students who are well-rounded in their academic and non-academic pursuits and have a vision for their future career.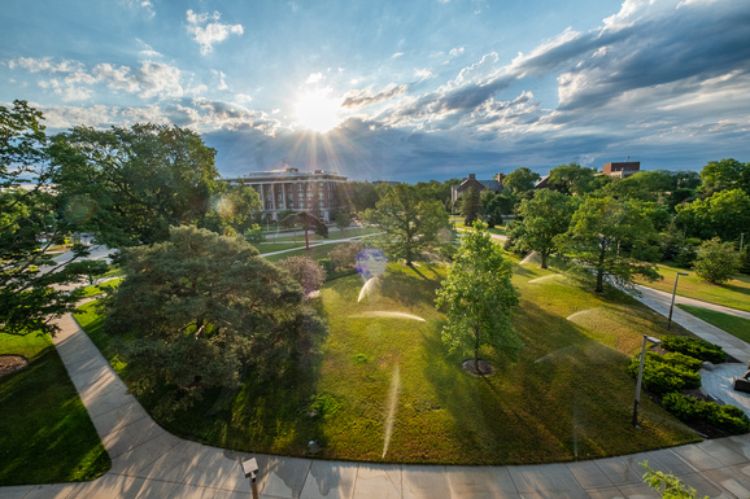 Each year the MSU College of Agriculture and Natural Resources (CANR) Alumni Association awards scholarships to students who demonstrate leadership and community service, possess effective communication skills, have a commitment to their chosen field of study, are well-rounded in their academic and non-academic pursuits and have a vision for their future career.
This year, two sub-committees met virtually to review scholarship applications for undergraduate students, graduate students and Institute of Agricultural Technology (IAT) students. The applicants selected were invited to move forward and participate in virtual interviews. The committees chose to award three $1,000 scholarships to IAT freshmen, eight $3,000 scholarships to CANR juniors and four $3,000 scholarships to CANR graduate students.
The CANR Alumni Association raises funds for these scholarships through activities such as AutumnFest and the Golfing for Scholarships event, as well as gifts from individuals. To support the CANR Alumni Association Endowed Scholarship Fund, please visit: https://givingto.msu.edu/gift/?sid=8188.
Congratulations to the 2021 CANRAA scholarship recipients:
Institute of Agricultural Technology (IAT) recipients
Brady Zettle, West Branch, Michigan, is pursuing his Electrical Technology certificate. He is active in his community and has participated in 4-H programs. After completing the program, Brady would like to working in the residential electrical industry and continue towards becoming a journeyman electrician.
Abigail VanDyk­­­, Kalamazoo, Michigan, is a Dairy Management student. She is involved with the MSU MSU Dairy Club, is a Michigan dairy ambassador and is also active with 4-H. Abigail also volunteers for numerous organizations in her community. Following graduation, Abigail plans to continue her education with the goal of becoming an agricultural education teacher.
Abigayle Holland, Holland, Michigan, and is pursuing a Horse Management certificate. She is a volunteer for Horse Haven, an FFA member and is active in her community. Following completion of the Horse Management certificate, Abigayle would like to work in the equine training industry, assisting horse owners with their training, behavioral and rehabilitation needs.
Undergraduate j

unior

scholarship recipients
Anhad Viswanath, is a Landscape Architecture major from New Delhi, India. Anhad is currently active in the American Society of Landscape Architects Student Chapter, Mixed MSU, and HerCampus MSU, and plans to pursue a master's degree in Environmental Design at MSU upon graduation from the Landscape Architecture Program. Anhad has a strong interest in applying research and data to complex urban planning challenges, and is interested in pursuing a career in the private sector or academia that will pursue greater inclusivity in the built environment and protect the natural environment from the global challenges of sprawl, pollution, and deforestation.
Sadie Finegan, is an Animal Science major from Jonesville, Michigan. She is active in Sigma Alpha, Michigan Farm Bureau, the MSU Block and Bridle Club, and is a recent 4-H alumna. Sadie is very passionate about animals and agriculture, and tends her own herd of eight cattle in addition to working on the MSU Research Farm, where she has participated in wheat breeding trials. Next summer, Sadie will be interning with ABS Genetics, the world's largest cattle breeder, and is interested in pursuing a career that combines elements of production agriculture as well as animal reproduction or animal health.
Rajsri Raghunath, majoring in Food Science, Rajsri hopes to work for the FDA one day to help shape transparency for food labeling regulations. Her interest in advocating for the consumer through food labeling, food safety, and allergen safety issues started early while shopping with her parents at an early age. Rajsri is actively involved with MANRRS (Minorities in Agriculture, Natural Sciences, and Related Sciences), Food Science Club, and the Institute of Food Technologies where she participated in their Product Development Competition in her sophomore year.
Maddie Marcero has been involved with the Peer Body Project (where she was a group leader), Spartan's Empower Body Acceptance, and the Food and Nutrition Association during her time at MSU. With her major in Dietetics and a minor in Health Promotion, Maddie inspires to be a sports nutritionist where she can incorporate innovative methods through technology, creativity, and social platforms. She has had a lifelong passion to spread body acceptance and appreciation through sound health and nutrition.
Nikunj Agarwal, of Bangalore, Krnataka, is pursuing bachelor's dual degrees in Environmental Economics and Management along with Agribusiness Management. He is also minoring in Leadership in Integrated Learning (Bailey's Scholars Program); Food Industry Management; and Residential Initiative on the Study of the Environment. His academic pursuits, though impressive, pale in comparison to his motivation, drive and friendliness. He has been instrumental in Academic Governance and ASMSU Representative. Described as a natural leader, he also was the recipient of the President of India's Award and Bronze Youth ember for the Asia Pacific Region for community development and service in association with the World Organization of Scouting Movement. Long term goals for Nikunj are numerous and include representing India at the United Nations.
Sara Houstina hails from Clarkston, Michigan, and is in the process of attaining a bachelor's degree in Nutritional Science, with a biomedical focus. With this degree, she plans to pursue her longer-term goals of becoming a physician's assistant in psychiatry. Outside of academics, Sara is active in Zeta Tau Alpha, Pre-PA Club, and Smile 4 Kids. As a Certified Nursing Assistant for Wellbridge of Clarkston, Michigan, she has showcased her positive attitude, work ethic and empathy for residents. She has also made an exceptional impression on her peers and professor with her commitment to applying new knowledge and skills while incorporating strong values to academically and personally exceed as a Spartan.
Alixandra Krawcke, a Dietetics major from Ann Arbor, Michigan, is a fantastic example of a Spartan student athlete. In addition to her responsibilities as a student and athlete, Alixandra has been involved in the Food and Nutrition Association, and a leader in both Campus Captains (part of The Hidden Opponent team), reducing stigma surrounding mental health issues and the Peer Body Project. Following graduation, Alixandra plans to pursue a graduate degree - one step in her plan to combine her love of travel, new challenges and dietetics (especially as related to women's health and sports) into a rewarding career. Good luck on the Appalachian Trail Alixandra.
Kaddi Gewirtz, of Perry, Michigan, is majoring in Agribusiness Management. Prior to graduation her goal is to have secured a full-time position with an AgroSciences company with a long-term goal of establishing her own farm while working as territory manager. Her past experiences working on the family-owned cash crop farm provided her with learning experiences and a passion for the industry. Kaddi is an active member in the MSU Agronomy Club, serving as club secretary, and is also active with Michigan State Farm Bureau and MSU Sigma Alpha-Gamma chapter serving as sisterhood committee chair and beta omicron class president. Kaddi is described as a fantastic team member with leadership and a work ethic that define her potentials. Those qualities combined with her academic attributes provide her with the tools necessary for her success. Self-driven and goal orientated Kaddi will be a proud member of the Spartan community.
Graduate

scholarship recipients



Kelly Kapsar is a Ph.D. candidate in the Department of Fisheries and Wildlife. Her primary research goal is to better understand the dynamic relationships between culture, ecosystems, science, and conservation policy in the Arctic. Kelly is passionate about solutions-driven research that seeks to minimize conflict and promote human-wildlife coexistence. Kelly is not only outstanding in her academic studies and research, but also an energetic trailblazer in non-academic pursuits. She is a founding member of the Women in Nature Network – MSU Chapter that provides resources and networking opportunities to help students "succeed in natural resource careers through actionable strategies for networking, research, and professional development." She has also maintained close connections with the Saint Louis Zoo and has travelled to Alaska as part of their Alaska Socio-Environmental Synthesis program on four separate occasions to help local indigenous communities.
Christián Henry is a doctoral student in the Department of Forestry. Her research is focused on development and application of lignin-based polyurethane foams; thus, creating new opportunities for the forestry industry. She was introduced to these possibilities through an undergraduate research experiences during her studies in Agricultural Engineering Technology at Mississippi State University. She is deeply passionate about mentoring young people and this has led to active participation at the local and national levels in Minorities in Agriculture, Natural, Resources and Related Science (MANRRS). She is also a leader. She has is currently serving as MANRRS National Graduate Student Vice President. In addition, she is activities with the National graduate Student Parliamentarian. Her leadership activities have been recognized by MSU's Council of Graduate Students (COGS) in awarding her the COGS Disciplinary Leadership Award. She is a confident, thoughtful. and humble young woman who hope someday to be an industrial or academic leader.
Elizeth Cinto Mejia is a graduate student pursuing an Ph.D. in Entomology, Ecology, and Evolutionary Biology Behavior. She earned a master's in Raptor Biology from Boise State University and a bachelor's degree in Biology from the University of Navarra in Spain. She is well published and has written four papers centered around the effects of climate change upon creatures in our environment, especially the effect under extreme climate events. Another paper was focused upon the effects of noise pollution on bird distribution and their breeding habits. An interesting project Elizeth has researched is the interaction between climate change and plants ability to naturally defend themselves against insect pests and disease. Elizeth has a very energetic and engaging personality. Elizeth intends to use this scholarship funding by purchasing a computer that could run the climate models and their various effects upon nature. She currently borrows a computer for these tasks or has someone run the models for her. She also stated that being awarded this scholarship would justify and reward the hard work and dedication she has invested in her education to date. The personal recognition will strengthen her to continue pushing forward with her career and reinforce her strong sense of faith in the future leadership and education of our children.
Morgan MathisonSlee is a graduate student in the Department of Community Sustainability. Morgan came to MSU from her undergraduate studies at St. Olaf College, Northfield, Minn. and pursued graduate studies at the University of Wyoming. She is passionate about research, teaching and mentoring. She aspires to provide answers about ways to increase the wellbeing of actors within the food system and plan to find ways to increase the systems resilience to shocks and stressors. Morgan comes from a farm background and understands the stressors and disturbances between agricultural producers and processors. With her research and teaching background, she hopes to someday become a scientific advisor for the state government in the field of sustainability and community, which would allow a focus on her passion for justice and inclusion, and one day influence policies within the Michigan Department of Agriculture, as well as broad policies related to rural sustainability and wellbeing.
Learn more about the CANR Alumni Association scholarships at: https://www.canr.msu.edu/alumni/alumni/anr_alumni_association_scholarships.