Dietetics student finds studies applicable broadly in life and sports
MSU athlete Alixandra Krawcke wants to work as a sports dietician or in research after pursuing a master's degree following graduation.
Health and fitness have been a large part of dietetics student Alixandra Krawcke's college experience at Michigan State University (MSU). As a part of the MSU Women's Rowing Team, Krawcke knows the value of exercise and nutrition.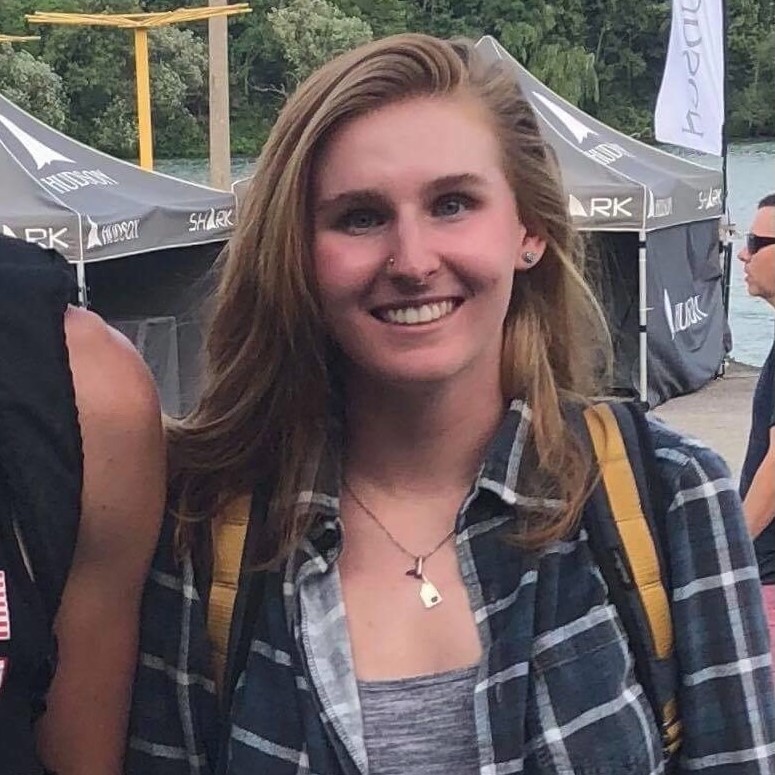 She also has been involved in the Food and Nutrition Association at MSU, the Campus Captains student-athlete program through the Hidden Component, a non-profit advocacy group that works to reduce stigma surrounding mental health issues, and the Peer Body Project at MSU, a workshop through the College of Education that helps challenge cultural standards of female beauty.
The summer before starting at MSU, Krawcke was diagnosed with severe iron deficiency anemia. Insufficient iron in the bloodstream can result in the rest of the body being unable to get the amount of oxygen it needs, resulting in tiredness and shortness of breath.
"It had gotten so bad that some of my muscles in my legs weren't getting enough oxygen and were weakened, which led to a back injury. I was able to get it under control before the start of fall with high dose iron supplements, regular bloodwork and intense rehab," she said.
"This experience, coupled with my background as a competitive athlete meant that I had an intense focus on nutrition, but it wasn't until I took [the course] HNF 150: Introduction to Human Nutrition as an elective that I realized how interesting I found the material. I changed my major from zoology to dietetics in the spring of 2020."
Krawcke is one of the 2021 CANR Alumni Association Scholarship awardees.
---
Name: Alixandra Krawcke
Hometown: Ann Arbor, Michigan
Major: Dietetics, Department of Food Science and Human Nutrition
Expected graduation date: May 2022
Why did you choose your major and why MSU?
I came to MSU on an athletics scholarship. The school is the right distance away from home where I have some space from my family, and they can't stop in and surprise me whenever they want, but are still close by if I need them.
The campus is beautiful, and I like that it is separate from the city. In Ann Arbor, the University of Michigan's campus is woven into the city, which makes it challenging to navigate and makes parking impossible. MSU's campus gives students their own city to spread out in.
What has been one of your best experiences within your major so far?
I changed my major to dietetics the day before the cut off for schedule changes in the spring of 2020. The advisors made time to meet with me, helped me make a new schedule around rowing practice and helped me design a new four-year plan to make sure I would graduate on time.
COVID hit the U.S. just a month later and our professors adapted incredibly quickly and always made sure to check in with us.
What do you want others to know about this major?
A lot of what you learn will be applicable to your everyday life. You can use the information you learn in class to become a better cook, shop smarter and make healthier food choices. You'll start recognizing the problems with fad diets and may develop a healthier mindset around food.
However, everyone in your life will ask you to make them a diet plan, and they will feel compelled to tell you about the new diet they're trying.
What are some of the best things about being an MSU student?
The advisors are phenomenal. I have met with advisors for Lyman Briggs, the Honors College, MSU Athletics and dietetics and every single one of them went above and beyond for me. They all genuinely want you to succeed.
Any thoughts or advice for current or new students?
Apply for scholarships, create a relationship with your professors AND advisors, and do your best in every class. Each class builds on the previous ones, so make sure to really understand the foundations.
What are your future plans?
I will be graduating in May 2022, then taking a gap year to travel, study for the GRE, and work full time at the University of Michigan Hospital.
After that, I will be enrolling in graduate school (not sure where yet!) to earn my master's degree in nutritional sciences. I want to work as a sports dietitian or in research, and eventually I would like to be a professor.