Dairy Foods Complex
1120 S. Anthony Hall
The Dairy Foods Complex was fully renovated in 1997 as part of The Animal Industries Initiative (AII) through the State of Michigan. The revitalization project included modernization of all mechanical, electrical, lighting and communications systems within Anthony Hall, life safety modifications; building changes to create handicapper accommodations; and modernization of all research and teaching space. The Dairy Foods Complex houses the Processing Plant and Store, as well as Dairy Chemistry, Dairy Microbiology, Dairy/Food Rheology and Food Chemistry Teaching laboratories.
Dairy Processing Plant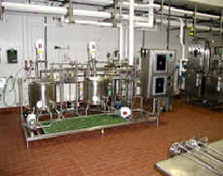 The Dairy Plant is equipped to process a variety of natural cheeses, cultured dairy products and ice cream in a state-of-the-art processing system. Products are offered for sale to the public and to other MSU food service outlets through the MSU Dairy Store and the MSU Union Dairy Store and the MSU Union Dairy Store. Cheese is also sold via mail order and on-line. The maintenance of a small commercial scale processing facility along with the pilot scale facilities provides an environment that is effectively used as a research, extension and teaching tool. The department is committed to maintaining the facility with current technology.