Career Center
106 G.M. Trout Food Science Building
The Food Science and Human Nutrition Career Center was created in 2001 through the generous support of Pepsico Tropicana. This facility provides professional advising and placement activities for the department's undergraduate academic programs – Dietetics, Food Science, and Nutritional Sciences. The facility provides office space for advising faculty and a reception area for student assistance. Two individual interview rooms provide facilities to conduct interview and placement activities for internships and career positions. The Career Center also provides space for students to access computers for researching internship and career opportunities as well as for advising and enrollment needs.
Contact:
FSHN Career Center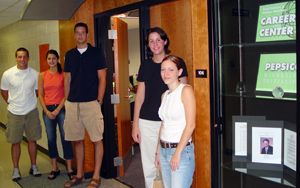 Department of Food Science and Human Nutrition
G.M. Trout FSHN Building
469 Wilson Rd, Room 106
East Lansing, MI 48824
Aislinn Callahan-Brandt, Graduate Program Coordinator
Phone: (517) 353-3323
Email: calla141@msu.edu
Advising Appointments
Current MSU students, to reserve an advising appointment with any of the advisors shown below, log in to the Student Information System, choose the College of Agriculture & Natural Resources (ANR) from the drop down list, then the major, then the advisor's name, and continue with onscreen instructions to choose an appointment time.
Prospective students may email advisors to set up an advising appointment.
Jill DeJager, Dietetics Advisor
Phone: (517) 353-3322
E-mail: dejagerj@msu.edu
Jeffrey Swada, Food Science Advisor
Phone: (517) 884-5993
E-mail: swadajef@msu.edu
Jennifer Ekstrom, Nutritional Sciences Advisor
Phone: (517) 353-3317
E-mail: ekstrom@msu.edu