MSU Artisan Distilling Program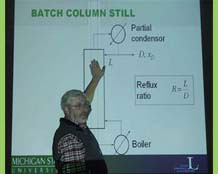 Artisan, small craft distilling is making an international comeback after many decades of large distillery production with limited brands and beverage experiences. A new generation of distillers with diverse, high quality products is emerging.
The Artisan Distilling Program was established over 15 years ago at Michigan State University by the late Professor Kris A. Berglund.
The Artisan Distilling Program, currently on hold, provided information, research, and training for those either in the artisan distilling business or interested in entering it.